Last updated on September 21st, 2023
Advertiser Disclosure
close ×
Advertiser Disclosure – BestCards is an independent, Florida-based credit card comparison platform. Many of the card offers that appear on this site are from companies from which BestCards receives compensation. This compensation may impact how and where products appear on this site (including, for example, the order in which they appear). BestCards does not include all card companies or all card offers available in the marketplace.
Editorial Disclosure
close ×
Editorial Disclosure – The opinions expressed on BestCards' reviews, blogs, and all other content on or relating to the website are solely those of the content's author. They are not reflective of any card issuer or financial institution and have not been reviewed or approved by these entities unless otherwise noted. Further, BestCards lists credit card offers that are updated daily with information believed to be accurate to the best of our knowledge.
SDCCU Share Secured Visa Classic
15%

Regular Purchase APR

15%

Balance Transfer APR

15%

Cash Advance APR
At a Glance
The SDCCU Share Secured Visa Classic credit card can help you build or repair your credit. It offers a flat, fixed APR for all transactions. Cardholders must submit a security deposit that is equal to 120% of their approved credit limit.
Best Benefits
Rates & Fees
Why Should You Apply?
One low fixed APR for all transactions

Build or repair your credit

Security Deposit ensures you wo't spiral into debt

Use your card just like a regular credit card
Regular Purchase APR: 15%
Balance Transfer APR: 15%
Balance Transfer Transaction Fee: Either $1 or 2% of the amount of each transfer, whichever is greater
Cash Advance APR: 15%
Cash Advance Transaction Fee: Either $1 or 2% of the amount of each cash advance, whichever is greater
Annual Fee: $20
Foreign Transaction Fee: 2% of the transaction amount in U.S. dollars
Late Payment Penalty Fee: Up to $10
Return Payment Penalty Fee: Up to $20
Minimum Deposit Required: See terms
You have no credit or bad credit

You don't qualify for an unsecured card

You deed to improve your credit report scores

You want a single fixed-rate interest for all your transactions

You prefer to build credit vs. using a prepaid card or debit card

You have the funds to pay the required security deposit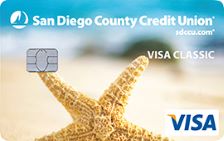 SDCCU Share Secured Visa Classic Review
The Share Secured Visa Classic Credit Card from San Diego County Credit Union  (SDCCU) is geared towards consumers who have poor credit or no credit, at all. Secured cards, like this one, don't feature minimum credit score requirements. As such, they are the perfect cards for bad credit.
However, there are a few things that cardholders sacrifice when they get a secured card. For one, very few secured credit cards offer any type of rewards. That means you won't be able to earn points with the Secured Visa Classic.
The SDCCU Share Secured Visa Classic has some features that are better and others that are worse than the average secured card.
On the positive side, this secured card features a competitively low APR for all transactions. On the negative side, his card requires applicants to pay a higher security deposit than a lot of other similar credit cards.
Besides these features, this credit card includes very little benefits or perks for cardholders. Even still, it can definitely be a big help for those who need to build their credit. Keep reading to learn more about this card's unique features.
Related Article: What Are the Easiest Credit Cards for Bad Credit to Get?
One APR to Rule Them All
One of the big pluses of having a secured card like the SDCCU Share Secured Visa Classic is that it offers the same APR to everyone. Typically, many non-secured cards offer applicants a range of interest rates. This is because a credit card issuer (such as a bank) will grant you a specific interest rate based on your creditworthiness.
Many times, this flat interest rate is significantly higher than the interest rates banks offer on their other credit cards. Many cardholders just swallow the bitter pill as part of the price of not having a good enough credit rating.
San Diego County Credit Union (SDCCU), however, differentiates itself from many other credit card issuers. Its secured card APR is one of the lowest in the industry. In fact, it's several points lower than the national average for regular credit cards.
What's also great about the SDCCU Shared Secured Visa is that the same APR applies to all transactions. Many secured cards will charge a higher interest rate for cash advances or balance transfers. A lot of secured cards won't even let you make those transactions.
Again, SDCCU is different in that regard. As such, you can use your secured card almost exactly like any other type of credit card. When you're trying to build your credit, those little details count.
Your Credit Limit (Almost) Equals Your Security Deposit
Typically, the security deposit equals the amount of your credit limit. The reason for such a deposit is to ensure that issuer that there is some way of paying off your credit card debt if you default.
With this Secured Visa Classic Card, SDCCU will approve you for a certain credit limit amount. You must then pay security that equals 120% of the credit limit amount. This is 20% higher than what a lot of other credit card issuers require.
Your deposit remains untouched until one of two things happens. If you decided to close your account after paying off your balance, SDCCU will return your deposit to you. The other situation that can occur is if you default on your credit card payments. In such a case, SDCCU will use your security deposit to pay off your existing debt and close the account.
However, if you default on payments and the credit union needs to use your deposit to cancel the debt, this can seriously hurt your credit score. Don't ever look at your security deposit as a free pass. It's always a last resort.
Should You Apply for the SDCCU Share Secured Visa Classic?
SDCCU requires credit card applicants to be a member and have a banks account with the CU.. Additionally, membership is restricted to residents of San Diego, Orange, and Riverside counties. Members of the Financial Fitness association are also welcome to join.
If you meet the requirements for membership, this secured credit card is one of the most competitive ones around. Most secured credit cards charge interest rates several percentage points higher than this card. Some charge up to 10 percentage points more. When you're trying to build your credit, that's like adding insult to injury.
This feature outweighs the additional 20% you must pay as part of your security deposit. With these low-interest rates and the flexibility you have when using your card, you can hold onto this financial product for a long time and build your credit to where you want it to be.
Browse Other Secured Credit Card Offers: