Advertiser Disclosure
close ×
Advertiser Disclosure – BestCards is an independent, Florida-based credit card comparison platform. Many of the card offers that appear on this site are from companies from which BestCards receives compensation. This compensation may impact how and where products appear on this site (including, for example, the order in which they appear). BestCards does not include all card companies or all card offers available in the marketplace.
Editorial Disclosure
close ×
Editorial Disclosure – The opinions expressed on BestCards' reviews, blogs, and all other content on or relating to the website are solely those of the content's author. They are not reflective of any card issuer or financial institution and have not been reviewed or approved by these entities unless otherwise noted. Further, BestCards lists credit card offers that are updated daily with information believed to be accurate to the best of our knowledge.
Last updated on June 14th, 2022
Regular Purchase APR

20.99% variable based on the Prime Rate

Annual Fee

None

Credit NeededBestCards.com uses a variation of FICO Score 8, which is one of many different types of credit scores. A financial institution may use a different score when deciding whether to approve you for a credit card.

Poor , No Credit Required

Processing Network

Mastercard
No annual fee

Earn 1% cash back on all purchases

Enjoy Amazon Prime Student for one year

Cell phone protection for up to $600 when you pay your monthly cell phone bill with your card

No foreign transaction fees
Regular Purchase APR: 20.99% variable based on the Prime Rate
Late Payment Penalty Fee: Up to $25
Return Payment Penalty Fee: Up to $37
Browse these credit card deals and thousands of other offers by becoming a Bestcards Member.
Join today!
The NJIT EDU Credit Card is a no annual fee student credit card that provides the ideal credit building base for New Jersey Institute of Technology (NJIT) students everywhere – including international students. The card provides unlimited 1% cash back on purchases, the chance at free Amazon Prime Student, and more.
Attend the New Jersey Institute of Technology
Want complimentary Amazon Prime Student (after spending $500)
Plan to use the card to pay their phone bill and want cell phone protection
Don't want to pay an annual fee
NJIT EDU Credit Card Review
The NJIT EDU co-branded version of the Deserve EDU Mastercard for Students is an excellent student credit card for those attending the New Jersey Institute of Technology (NJIT). The NJIT EDU card is especially ideal for international students since Deserve products don't require a Social Security Number (SSN) to apply.
Ideal for International Students
Student credit cards are generally much easier to receive than regular credit cards. This easier application requirement stems from the fact that they are designed towards those with limited – or no credit history. Deserve's student cards take this a step further by removing the need for an SSN, opening the world of unsecured credit to a broader selection of students.
No SSN requirement makes the card ideal for international students seeking to establish a US credit history but not wanting to pay a security deposit to open a secured credit card account. All international Highlanders students need to apply is their passport, US bank account information, and valid US student visa.
Earn Decent Cash Back Rewards
The NJIT EDU Mastercard offers cardholders unlimited 1% cash back on all eligible purchases. Those cash back rewards aren't exceptional, but they are a great addition to the overall package the card provides. All rewards are issued as automatic statement credits in increments of $25
Amazon Prime Student Bonus Offer
The complimentary Amazon Prime Student membership after students meet a minimum spending goal within the first three billing cycles is equally enjoyable. Students that spend $500 in the first three months receive that Prime Student membership. Prime offers free shipping, streaming videos and music, and more for members, meaning students enjoy real value with this bonus – a $59 value.
No Foreign Transaction Fees
Another great feature of the NJIT EDU Mastercard is that it charges no foreign transaction fees. Many credit cards feature foreign charge fees of up to 3% of the transaction cost, making them expensive to use outside the United States. This feature makes the Deserve EDU Card ideal for international ND students – or US students looking to travel abroad during their studies/ summer break.
Other notable features of the NJIT EDU Credit Card include:
 No annual fee
Generous starting credit limits
Mastercard features like Collision Damage Waiver, ID Theft Protection, and Zero Fraud Liability
Cellphone protection for up to $600
Three months of Text + Talk through Mint Mobile
Chase Freedom Student Vs. Deserve Edu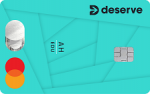 Earn 1% Cash Back on all purchases with your Deserve EDU Mastercard. Once approved, you'll automatically start earning cash back on all purchases

Receive one year of Amazon Prime Student on Deserve after spending $500 in the first three billing cycles with your EDU card (Lifetime Value of $59)

Feel secure with cell phone protection up to $600

No Social Security Number required for international students to apply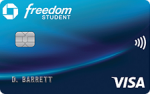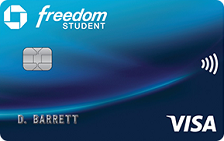 Chase Freedom® Student
Visa
Earn 1% in cash back for all of your purchases

Earn an annual $20 Good Standing Rewards bonus for 5 years when you keep your account in good standing

Earn a credit limit increase after making 5 monthly payments on time within 10 months from account opening when meeting credit criteria

Contactless pay and unlimited access to your monthly credit score

$50 Bonus earned after first purchase made within the first 3 months from account opening
Should You Apply for the NJIT EDU Mastercard Credit Card?
The NJIT EDU features all of the same features as the basic Deserve EDU, but with the added perks that come from the New Jersey Institute of Technology. These perks include 1% cash back on all purchases, Amazon Prime Student free for a year (after meeting spending requirements), and more.
The card doesn't differ from the standard Deserve EDU in any meaningful way – beyond the NJIT branding, which is sure to sway more than a handful of students to get the card and show their school pride at the same time. Still, for what is on offer, the NJIT EDU performs admirably.
Other Credit Card Options: