Last updated on February 21st, 2023
Advertiser Disclosure
close ×
Advertiser Disclosure – BestCards is an independent, Florida-based credit card comparison platform. Many of the card offers that appear on this site are from companies from which BestCards receives compensation. This compensation may impact how and where products appear on this site (including, for example, the order in which they appear). BestCards does not include all card companies or all card offers available in the marketplace.
Editorial Disclosure
close ×
Editorial Disclosure – The opinions expressed on BestCards' reviews, blogs, and all other content on or relating to the website are solely those of the content's author. They are not reflective of any card issuer or financial institution and have not been reviewed or approved by these entities unless otherwise noted. Further, BestCards lists credit card offers that are updated daily with information believed to be accurate to the best of our knowledge.
Macy's American Express® Card
31.49% variable based on the Prime Rate

Regular Purchase APR

31.49% variable based on the Prime Rate

Cash Advance APR
At a Glance
Macy's American Express® cardholders will enjoy the star treatment every time they shop at Macy's with automatic Silver status in the Macy's Star Rewards program. Cardholders will also earn points towards $10 rewards with 3% back (in points) on restaurants, 2% back at gas stations and supermarket, and 1% back per dollar spent everywhere else – in addition to shopping on Star Money days.
Best Benefits
Rates & Fees
Why Should You Apply?
Receive $10 Star Money reward for every 1,000 points

3% back at restaurants

2% back at gas stations and supermarkets

1% back for all other purchases

Automatic Silver status in Macy's Star Rewards

25% off all merchandise with Star Pass (1)

Free shipping with no minimum purchase

Annual birthday surprise

Special travel upgrades and savings on airfare, hotel bookings, cruises, and more

Entertainment Access: Priority tickets to Broadway, sporting events, and concerts
Regular Purchase APR: 31.49% variable based on the Prime Rate
Cash Advance APR: 31.49% variable based on the Prime Rate
Cash Advance Transaction Fee: Either $5 or 4% of the amount of each cash advance, whichever is greater.
Foreign Transaction Fee: 3% of the transaction amount in U.S. dollars
Late Payment Penalty Fee: Up to $41
Return Payment Penalty Fee: Up to $41
You shop at Macy's roughly once a month

You don't spend enough to earn Macy's Platinum status ($1,200 minimum)

You want at least one shopping day with 25% off all merchandise

You frequent Broadway shows and want early access to tickets

You have excellent credit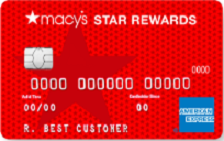 Macy's American Express® Card Review
The Macy's American Express® Card is a unique department store credit card—completely unlike the other retail cards offered by CitiBank—and will either delight or alienate loyal Macy's customers. The most surprising aspect is that the Macy's card does not provide bonuses for shopping at Macy's—which is likely the primary reason that potential cards would apply for this card in the first place. However, that is not to say that the card is without any usefulness.
The Macy's American Express card significantly improves the limitations of the Macy's Star Rewards loyalty program and allows cardholders to earn points towards $10 Star Money rewards without having to wait for Star Money Days. Restaurant, gas station, and supermarket bonus categories will earn up to 3X points per dollar – a huge benefit considering that the only other way to regularly earn points would require being a Platinum-level members (requires spending $1,200 at Macy's a year). 
For lower spenders that cannot comfortable spend upwards of a thousand dollars at a department store, this card provides much easier entry to getting the most out of the Macy's loyalty program—especially since the card has no annual fee. Additionally, cardholders will enjoy several travel and entertainment benefits provided by American Express which includes perks like early access to Broadway tickets, or discounts on Delta flights.
Macy's American Express® Card vs. Macy's Store Card
When applying for the Macy's credit card, applicants are automatically considered for the American Express version and if not approved, will be considered for the closed-loop version of the store card. Both cards have an above average APR so it highly recommended that potential applicants do not carry a balance and instead, pay in full ever y month.
Although the Macy's American Express credit card can be used (and earn points) anywhere that American Express is accepted, it does not have the full functionality of a typical credit card and cannot be used for balance transfers. It does allow for cash advances, however, which has an equally high APR.
Signup Bonus & Introductory Offers
New cardholders will not find any 0% APR promotion to help them finance a particularly big shopping trip. Instead, Macy's American Express credit card offers a unique 20% discount that can be used multiple times over the course of two days (begins the day the application was submitted and continues until the end of the following day) for a total savings of $100.
This two-day window takes a lot of pressure of a potential applicant who will not have to try and purchase everything they want in a single shopping trip and instead, can enjoy the 20% off as items come to mind (up to $500). For the sake of this discount, it is recommended that cardholders have a few items in mind at the time they submit the application.
Owning the Macy's American Express Card or the Macy's Store Card entitles individuals to automatic silver status within the Macy's Star Rewards program. There are four levels within this program – Bronze, Silver, Gold, and Platinum – with the highest three being available only to cardholders.
All four status levels will have access to Star Money Days, extra savings and offers at checkout, as well as an annual birthday surprise. Aside from these, each status level adds an additional perk as you move up the ranks:
Silver: Star Passes, 25% off any day of your choosing
Gold: Free standard shipping with no minimum
Platinum: 5% back in rewards on all merchandise
While being promoted to the second tier of membership may sound like a sweet perk, in actuality, any cardholder who made a single purchase (with or without their Macy's card) would be able to qualify for Silver status as it only requires spending $1. A much more beneficial perk would be if cardholders were automatically upgraded to Gold status (which would save them $500) or Platinum status (which requires a minimum $1,200 spend).
A perk that is exclusive to Macy's American Express card owner, Entertainment Access is a joint offering between AMEX and Ticketmaster to provide priority seating and pre-sale tickets for Broadway shoes, sporting events, and concerts. To take advantage of the special deals and/or pricing, the charges for tickets must be made on your Macy's card.
Offers are non-refundable and cannot be exchanged.
Thanks to the partnership of American Express with other merchants, cardholders can enjoy special travel savings and upgrades when the Macy's American Express is used for booking travel:
Up to 10% off Delta flights – Discount ranges between 2-10% on flights across U.S. and Canada
Up to 25% off qualifying car rentals
Up to 20% off for hotel bookings and an upgrade at check-in (subject to availability)
Complimentary amenities including daily breakfast for two at premium hotels
Earning Macy's Star Rewards Points
For non-cardholders, the only way to earn points towards Star Money is to be a Platinum-level member within the Macy's loyalty program (which requires spending $1,200 a year) or shopping during Star Money Days.
Since Star Money Days occur at Macy's discretion and can be few and far between, the American Express Macy's is a great option for smaller spenders. The card creates opportunities to earn points from every single transaction and offers the only other means to earn a significant amount of points on a regular basis. Macy's American Express bonus categories are as follows:
3X points per dollar at restaurants
2X points per dollar at gas stations and supermarkets
1X points per dollar spent on anything else
Shockingly, the Macy's card has absolutely no power to earn rewards on Macy's purchases—this ability is exclusively available to Platinum-level Macy's Star Reward members. Besides being inconvenient when it comes to trying to earn 1,000 points, it's a major disadvantage to the card's appeal. Additionally, the Macy's card will not earn rewards when used in a digital wallet so cardholders.
The one bright spot of the Macy's reward program is that points do not expire as long as you make a purchase once every year with your Macy's credit card.
When it comes to receiving your points, the process is relatively quick. Rewards from in-store purchaseswill be credited to your account immediately; points earned from orders being placed online or through the phone will be awarded once the items have shipped.
What are Macy's Star Money Days?
Star Money Days are an occasional set of days where Bronze, Silver, and Gold Star Rewards members will be able to earn points on their Macy's purchases (normally, this feature is only available to Platinum level members). For every 1,000 points accumulated, members will receive $10 worth of Star Money, which can be used at checkout to reduce total purchase amount.
Macy's credit card owners will earn at least 20 points per dollar (regardless of their status level) while non-cardholders are restricted to Bronze membership and will only earn 10 points per dollar. There is no set schedule for Macy's Star Money Days which makes it difficult to earn rewards on a regular basis. However, despite the unpredictability of Star Money Days, they present a very lucrative opportunity that cardholders should definitely take advantage of.
All cardholders must use their Macy's credit cards at the time of checkout or else they will earn bonus points at the Bronze level – regardless of their status level.
| | | |
| --- | --- | --- |
| Member Status | Points Earned Per Dollar | Spend Needed to Earn 1,000 Points |
| Platinum | 20 + 5 | $40 |
| Gold | 20 | $50 |
| Silver | 20 | $50 |
| Bronze | 10 | $100 |
There are a few exceptions of what will earn bonus points on Star Money Days: furniture, mattresses, rugs, tech, and Macy's Backstage purchases. The $10 rewards however can be redeemed with no merchandise restrictions.
Redeeming Macy's Points: How Star Money Works
Star Money is an automatically generated reward when an individual accumulates 1,000 points (recipients will be notified via email). These rewards are only available in $10 increments and can be used an almost all merchandise (with a few exceptions).
The biggest drawback of the Macy's reward program is that rewards expire 30 days from the date they were issued – an extremely short shelf life that could cause low spenders to feel pressured to shop at Macy's more frequently than they usually would.
Additionally, if your account is inactive for 12 consecutive months all unused points and rewards (Star Money) will be forfeited and lost.
How to Maximize Points with the Macy's American Express Card
Outfitted with some of most popular bonus categories, the Macy's card has the potential to be used as your primary credit card—but is doing so a good value?
When compared to a flat-rate cash back credit card, the efficacy of using your Macy's card diminishes as you move to the lower bonus rates. It would require spending $334 at a restaurant to earn enough points (1,000) for a $10 Star Money reward, this is greater than the return one would get from a 2% cash back card. The return breaks even for gas and grocery store purchases but falters when it comes to purchases that do not fall in one of those three bonus categories.
| | | |
| --- | --- | --- |
| Purchase Type | Minimum Needed for $10 Reward | Rewards from a 2% Cash Back Credit Card |
| Dining | $334 | $6.68 |
| Gas and groceries | $500 | $10 |
| Other | $1,000 | $20 |
As such, this card is best used at restaurants and at Macy's itself (despite the lack of store rewards) when Star Money Days are active.
What's the Macy's credit card like to live with? Here is a selection of ratings and reviews of the Macy's Card, including Citi as a lender:
Should You Apply for the Macy's American Express® Card?
Beyond the improved earning potential, the Macy's credit card has little else to offer and more strikes against it than positives.
Most of the shopping perks (like free shipping and Star Passes) are tied to the Macy's loyalty program which can only be earned from meeting specific spending requirements. Even for those at the highest status level, the Macy's Star Rewards Program itself is pretty-bare bones and does not provide make much of a difference in the shopper experience.
Further, there is the glaring hole in the card's earning structure due to the fact that the Macy's credit card does not earn points at Macy's. This is highly atypical for a retail credit card. Macy's wants to encourage shoppers to spend $1,200 to reach Platinum level and has short-changed their own credit card to do so.
The fact that rewards expire so quickly doesn't sit well either (a mere 30 days). This makes it far too likely that a cardholder would lose the chance to use their earnings. Besides being an incredibly short expiration window when compared to other reward programs, the amount needed to spend on the open-loop credit card is 3 times higher than what would be needed to generate the same reward elsewhere.
Despite this card having no annual fee, the Macy's American Express card is not recommended for casual shoppers (those who spend less than $500 at Macy's a year). Instead, this card is better used as a gateway by higher spenders to be eligible to move up the ranks within the Star Rewards program and to take advantage additional rewards from the Gold and Platinum status (regardless of how underwhelming they may be). Overall, the average Macy's shopper would be better suited with a credit card that offers bonuses on department stores such as the U.S. bank Cash+ Visa Signature Card.
The information related to Macy's American Express® Card has been collected by BestCards.com and has not been reviewed or provided by the issuer or provider of this product or service.
Browse Other Citi Credit Card Offers: