Last updated on September 8th, 2023
Advertiser Disclosure
close ×
Advertiser Disclosure – BestCards is an independent, Florida-based credit card comparison platform. Many of the card offers that appear on this site are from companies from which BestCards receives compensation. This compensation may impact how and where products appear on this site (including, for example, the order in which they appear). BestCards does not include all card companies or all card offers available in the marketplace.
Editorial Disclosure
close ×
Editorial Disclosure – The opinions expressed on BestCards' reviews, blogs, and all other content on or relating to the website are solely those of the content's author. They are not reflective of any card issuer or financial institution and have not been reviewed or approved by these entities unless otherwise noted. Further, BestCards lists credit card offers that are updated daily with information believed to be accurate to the best of our knowledge.
Amegy Bank® Elite Visa® Credit Card
19.49% to 27.49% variable based on creditworthiness and the Prime Rate

Regular Purchase APR

19.49% to 29.49% variable based on creditworthiness and the Prime Rate

Balance Transfer APR

28.49% to 29.49% variable based on the Prime Rate

Cash Advance APR
At a Glance
The Amegy Bank® Elite Visa® Credit Card markets itself as a mid-tier travel card that allows you to earn rewards at a faster rate. This is true in that it collects 3X points for dining and travel, with a higher base rate than most cards (at 1.5X points for other purchases). Add in the $100 yearly travel credit and Visa VIP perks and you might just make up for the annual fee this card throws at you.
Best Benefits
Rates & Fees
Why Should You Apply?
Earn 3% cash or 3X points on dining and travel expenses

Earn 1.5% cash or 1.5X points on all other expenses

No foreign transactions fees

$100 flexible travel credit

$300 or 30,000 points when you spend $5,000 in the first 3 months
Regular Purchase APR: 19.49% to 27.49% variable based on creditworthiness and the Prime Rate
Intro Balance Transfer APR: 0% for 6 months on transfers made within 60 days from account opening date
Balance Transfer APR: 19.49% to 29.49% variable based on creditworthiness and the Prime Rate
Balance Transfer Transaction Fee: Either $5 or 3% of the amount of each transaction, whichever is greater
Cash Advance APR: 28.49% to 29.49% variable based on the Prime Rate
Cash Advance Transaction Fee: Either $10 or 5% of the amount of each transaction, whichever is greater
Annual Fee: $195
Late Payment Penalty Fee: Up to $35
Return Payment Penalty Fee: Up to $35
You want to earn the most points on travel and dining, but also want the ability to redeem rewards toward any purchases regardless of category

You will take advantage of the Visa benefits, like luxury hotel perks, to make up for the annual fee

You're able to fulfill the $5,000 spending requirement in 3 months to earn bonus rewards

You prefer to bank with a smaller, more local financial institutio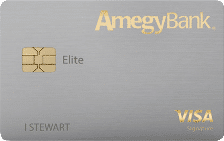 Amegy Bank® Elite Visa® Credit Card Review
This Visa Elite Credit Card from Amegy Bank of Texas sits between two other travel rewards cards, and as such, seeks to offer a middle ground of benefits when compared with its sister cards, the Premier and the Reserve. It does so by providing broader rewards on both travel and dining expenses, as well as a considerable travel credit, while increasing its annual fee.
Cash Back or Points Toward Purchases
Unlike the Premier Visa version, the Elite Visa Credit Card from Amegy offers higher rewards for both travel and dining out. It also bumps the 2X point rewards rate up to 3 points per dollar on these expenses, which include flights, car rentals, hotel rooms and travel agency bookings. However, the 1.5x points for all other purchases remains the same, which is how this card differs from the Reserve Visa.  Like the others, this card also provides you with the chance to earn bonus points. When you spend a whopping $5,000 in the first 90 days as a cardholder, you're eligible for either $300 in cash back, or 30,000 points. If that sounds like a high spending requirement, it's because it is. Most credit cards ask for much less when it comes to a bonus of this size. If you're able to manage the $1,660+ per month needed to earn the bonus, it will be added to your point total. From there, you can decide whether to redeem your rewards for cash, or apply them toward the cost of a purchase made in the last 90 days.
Balance Transfer APR Deals
Other similarities to the Premier and Reserve cards include the 0% introductory APR for balance transfers, and the fixed APR for balance transfers from other Zions Bancorporation accounts. The introductory period lasts 6 months and applies to transfers made within the first 60 days from account opening. Meanwhile, there is no limit to the fixed rate APR when you're moving funds over from a Zions account. Other Zions Bancorporation banks include California Bank & Trust, Vectra Bank Colorado, and The Commerce Bank of Oregon. This means if you move from another state bank like these, you can take advantage of this deal at any time.
Travel Credit vs Annual Fee
Another feature that makes this Amegy Bank credit card an upgrade from the Premier is the travel credit. Every year, you'll automatically receive up to $100 in statement credits when you make purchases in one of the following categories:
Airline and cruise line tickets
Hotel stays
Rental cars
Travel agencies
Global Entry and TSA PreCheck
In-flight Wi-Fi and airport terminal purchases
While other travel rewards cards offer a similar credit specifically for Global Entry or TSA PreCheck, this one is much more flexible. As a result, you can still utilize the credit even if you're not interested in these services. This also means that even if you do sign up for Global Entry, you can use the credit for something else in the years following (since you only apply for Global Entry and TSA PreCheck every 4 to 4.5 years).  Yet despite this travel credit, the Elite faces the same issue as its sister card, the Premier Visa. Namely, the credit only offsets a portion of the $195 annual fee. To make up for the rest of it, you'll need to take advantage of the perks from Visa as well.
Visa® Elite Credit Card Features
Premium Visa credit cards like this one offer many benefits for travelers, including travel cancellation, travel accident, and baggage delay insurance. You may not use this coverage very often, but it's nice to have in case of an emergency. Benefits that you can activate frequently, however, include the VIP Guest Status with the Visa Luxury Hotel Collection and the exclusive event access.  The Visa Luxury Hotel Collection has properties all over the world, and you can cash in on VIP treatment at just about any of them. Late checkout, complimentary breakfast and a dining credit are just some of the perks you can expect when you use this card to check in. The more often you stay at these properties and activate the benefits available, the more value you'll get out of this card.
Should You Apply for the Amegy Bank® Elite Visa® Credit Card?
At the end of the day, the Amegy Elite Visa is only as good as you make it. If you plan to spend most of your hotel stays at Visa Luxury properties, and sign up for Global Entry or TSA PreCheck with your travel credit, you may find the benefits of this card satisfactory. Likewise, if you're able to meet the hefty spending requirement, you can get a nice rewards boost up front. Plenty of smaller banks offer similar cards, so another benefit would be the locally based customer service connected with the card.  However, there are certainly travel rewards cards that offer more and better benefits at a similar cost to explore, if you're open to working with a larger bank. A similar card that stands out for its excellent benefits-to-fee ratio is the American Express® Green Card. To begin with, it offers a similar bonus with a lower spending requirement. On top of that, it offers the same 3x points on travel and dining, plus 2 annual $100 statement credits for LoungeBuddy and CLEAR membership.
Browse Other Amegy Bank Credit Card Offers: