Last updated on September 8th, 2023
Advertiser Disclosure
close ×
Advertiser Disclosure – BestCards is an independent, Florida-based credit card comparison platform. Many of the card offers that appear on this site are from companies from which BestCards receives compensation. This compensation may impact how and where products appear on this site (including, for example, the order in which they appear). BestCards does not include all card companies or all card offers available in the marketplace.
Editorial Disclosure
close ×
Editorial Disclosure – The opinions expressed on BestCards' reviews, blogs, and all other content on or relating to the website are solely those of the content's author. They are not reflective of any card issuer or financial institution and have not been reviewed or approved by these entities unless otherwise noted. Further, BestCards lists credit card offers that are updated daily with information believed to be accurate to the best of our knowledge.
Amegy Bank® AmaZing Rate® Credit Card
13.25% to 19.25% variable based on the Prime Rate

Regular Purchase APR

13.25% variable based on the Prime Rate

Balance Transfer APR

26.474% variable based on the Prime Rate

Cash Advance APR

0% for 6 months from account opening date

Intro Purchase APR
Best Benefits
Rates & Fees
Why Should You Apply?
0% intro APR on balance transfers made in the first 12 months

0% intro APR on purchases for 6 months

Low regular rate

Savings with AmaZing Deals

No annual fee
Intro Purchase APR: 0% for 6 months from account opening date
Regular Purchase APR: 13.25% to 19.25% variable based on the Prime Rate
Intro Balance Transfer APR: 0% for 12 months on transfers made within 60 days from account opening date
Balance Transfer APR: 13.25% variable based on the Prime Rate
Balance Transfer Transaction Fee: Either $10 or 4% of the amount of each transfer, whichever is greater
Cash Advance APR: 26.474% variable based on the Prime Rate
Cash Advance Transaction Fee: Either $2 or 2% of the amount of each cash advance, whichever is greater
Foreign Transaction Fee: 3% of the transaction amount in U.S. dollars
Late Payment Penalty Fee: Up to $35
Return Payment Penalty Fee: Up to $25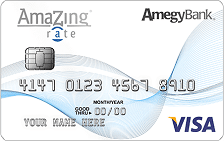 At a Glance
The Amegy Bank® AmaZing Rate® Credit Card lives up to its moniker by offering low, low APRs on your day-to-day balances. Moreover, it provides a 0% introductory APR on balance transfers for a solid year from the day you become a cardholder. Throw in the ability to earn some extra savings on your purchases and you have a card that may be worthy of carrying your balance.
Ideal for Those Who:
Have a balance to transfer that can benefit from the introductory APR and low regular rates
Want a simple balance transfer card that also offers savings, through an app
Will take advantage of the customization feature of the card
Enjoy the idea of banking with a local financial institution
Amegy Bank® AmaZing Rate® Credit Card Review
The AmaZing Rate Credit Card from Amegy Bank gives you the best of both worlds: a low everyday APR and the ability to save on some of your purchases. With no annual fee, you can focus on paying down your balance during the long introductory period and activating AmaZing coupons to get discounts on a variety of purchases.
Balance Transfers Welcome
Unlike many other 0% intro APR credit cards, the AmaZing Rate comes with a much longer introductory period for balance transfers than purchases. As a result, it's best described as a balance transfer credit card with some other perks thrown in.  You'll get 12 full months of no interest on balances transferred within 60 days of opening the account. Regular balance transfer fees still apply though, so make sure to include that in your calculations. For this card, the fee will come out to either $10 or 3% of the amount transferred, whichever is greater.  Meanwhile, the intro APR for purchases in this case lasts only for your first 6 months as a cardholder. This means if you plan to use your no-interest period to pay off a large purchase, you may want to look for a card with a longer offer.
Low, Low Rates
As the name implies, the AmaZing Rate Amegy credit card does offer pretty amazing everyday rates. These help you keep your interest accrual low if you carry a balance (past the introductory period, of course). While the best thing for your wallet – and your credit – is to not carry a balance, cards like this one can help you manage your debt until you're able to pay down the balance completely. This card provides one of the lowest APR ranges available, placing it among the best low APR credit cards around.
Cash Back Deals
With this card, you'll activate savings through the mobile Amazing Deals app filled with coupons, rather than a fixed rewards rate. This means you'll have to work a little harder to save on your purchases, since you won't automatically earn points or cash back. However, it also means you can save in more than just one or two categories. With the AmaZing Deals program, you'll have over 1,000 merchants to browse through in the app for the coupons you need. Of course, this only works if you'll actually use the particular coupons offered, so you'll want to keep that factor in mind.
Customize Your AmaZing Rate® Credit Card
One interesting feature the AmaZing Rate Credit Card includes is customization. Rather than sticking with a generic-looking card, you can provide a personal image to use on the card face instead. The bank provides the first one for free, and any alternate images cost $5.95. You'll need to make sure the picture you provide adheres to the required dimensions and restrictions, but you submit, you'll be one step closer to having your sweet furry friend's image judging you for every extraneous purchase you make.
Card Security and Other Features
Great rates aren't the only important tools this credit card offers when it comes to rebuilding your credit. It also provides a few security features to help you monitor account for fraud. First, you'll get and easy-to-use Mobile Fraud Alert system, which allows Amegy to let you know when it's detected potentially fraudulent activity. Simply send a text back to confirm the purchase as yours or to report the unauthorized use of your card. Not only that, the bank also has a Zero Liability policy, which means you won't be liable if there are unauthorized purchases on your account.
Should You Apply for the Amegy Bank AmaZing Rate® Credit Card?
One of the perks of working with a smaller bank like Amegy is that you're able to get significantly lower rates than many of the bigger financial institutions are able to offer. That makes this AmaZing Rate Credit Card a great option for those looking to transfer a balance to a low rate card. Not only that, the 0% introductory APR on balance transfers provides even more of an incentive since you can stop earning interest entirely for a whole year.
That being said, there are other balance transfer credit cards to consider if you aren't completely sold on Amegy's offer. For example, the PNC points® Visa® Credit Card provides the same introductory APR with a few additional perks. Namely, you'll earn 4 points for every dollar you spend, and even more if you connect a PNC bank account. That makes this a great option even after you've paid off your balance.
Browse Other Amegy Credit Cards: