United Airlines is rolling out seven new routes for travelers to enjoy. The airline, a founding member of the Star Alliance, is one of the world's largest carriers, meaning the new routes open an even more extensive selection of global destinations.
What Are United Airlines' New Routes?
So, what are the new destinations? The new United Airline routes are as follows:
From Washington-Dulles International Airport (IAD):
Accra, Ghana –  3X services per week, starting Spring 2021
Lagos, Nigeria – 3X services per week, starting Spring 2021
From Newark Liberty International Airport (EWR):
Johannesburg, South Africa – Daily, starting Spring 2021
Kahului, Hawaii – 4X per week, starting Summer 2021
From O'Hare International Airport (ORD):
New Delhi, India – Daily, starting Winter 2020
Kona, Hawaii – 4X per week, starting Summer 2021
From San Francisco International Airport (SFO):
Bangalore, India – Daily, starting Spring 2021
New Routes Follow Social Media Teases
The announcement of the new United routes comes after a series of teases on social media. United has issued a variety of tweets over the previous few days, hinting at new routes. The social media campaign appears to have been a success, with hundreds of comments, shares, and likes made on the popular social platform.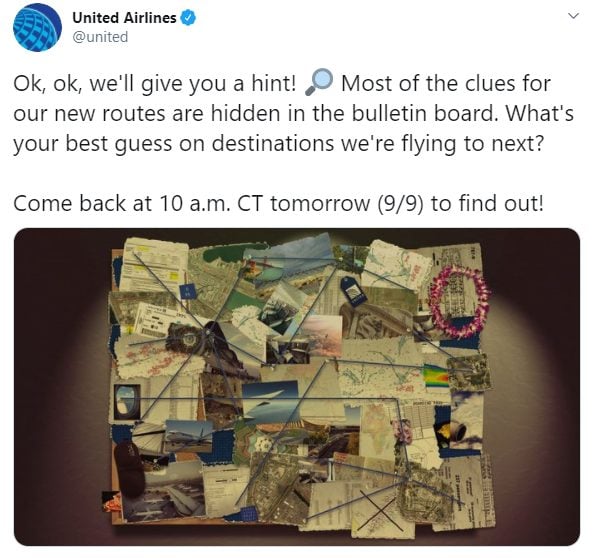 New Routes Provide Exceptional Value for MileagePlus Members
The additional service routes also significantly improve the reach of United, as well as the travel options for United co-branded airline credit cards. The addition of Kona, Hawaii, for example, provides greater integration with Hawaiian Airlines, a non-alliance partner with United Airlines. Other noteworthy United partners outside of the Star Alliance include Aer Lingus of Ireland, Air Dolomiti of Italy, an Azul, Brazil's low-cost carrier.
United Airlines Credit Cards
United Airlines currently features four personal credit cards: three with Chase Bank and one through First Hawaiian Bank:
There is also a small business credit card, the United℠ Business Card, through Chase.
Other Recent United Moves of Note
United Airlines is one of several U.S. carriers making the news during the coronavirus pandemic. The airline has made several significant moves designed to attract customers back to the fragile airline economy.
These moves include removing change fees on domestic travel, introducing bonus transfer values with other loyalty programs, and reinvigorating their credit card lineup.
Related Article: The Ultimate Guide to the United MileagePlus Program