Last updated on September 1st, 2023
Online systems allow credit cardholders to pay their rent and mortgage with their Visa, Mastercard, or even Amex card. With so much versatility with modern payments it seems like credit cards can do anything. But, can you pay off a credit card with a credit card? Here is what you need to know:
Can You Use a Credit Card to Pay Off Another Credit Card?
So, can you use a credit card to pay off another credit card? The answer is yes, and it is more common than you might think.
Balance Transfers
Consumers regularly pay off one credit card balance with a new credit card. This process is commonly known as a balance transfer. A balance transfer involves using one credit card to pay off the debt accumulated on another credit card, often at a much lower monthly payment due to reduced interest costs.
Balance transfers are an advantageous way of paying off another credit card balance because you can transfer the debt from a higher interest rate credit card to one with a lower rate or 0% intro APR period. Here's how the balance transfer process works:
Before considering a balance transfer, here are a few things to carefully consider:
How long does the intro APR period last? While no-interest introductory rates are great, they cannot last forever. What happens if you can't repay your entire balance during that window? Will you be able to meet the payments at the new regular balance transfer APR, or will you fall behind?
How long will it take to pay off the new balance? Before transferring any existing credit card debt, make sure you fully understand how long you will need to pay off the new debt.
What are the fees? Most balance transfers come with associated fees. These charges include a balance transfer fee (usually around 3% of the transaction cost or $5, whichever is greater) – always be sure to know all extra costs before making a balance transfer.
Related Article: Tips for Choosing a Balance Transfer Credit Card
Cash Advances
One unique way to pay off a credit card with another credit card is through a cash advance. A cash advance is a type of financing where you withdraw physical cash against your credit card balance to pay for a good or service that cannot be paid for directly with a credit card.
Using a cash advance can let a cardholder use their existing credit line to pay off some of another credit card. This, however, is not without its problems. Advances carry hefty fees (often around 5% of the advance or $10, whichever is greater) and feature interest rates significantly higher than purchases or balance transfers. Additionally, there is no grace period for a cash advance, meaning once you take money from one card to pay another, the first card will start accumulating interest immediately.
Online Payment Services
Another way you might think you'd be able to pay a credit card with a credit card is through online services that mask credit card payments as direct deposits or other banking transactions. Plastiq is one such unique service that individuals and businesses make payments with credit cards for various transactions not usually allowable with cards.
Services like Plastiq (others include Melio, GoCardless, and Thryv) let credit cardholders enter the information of the person (or company) they want to pay (including their direct deposit info) and their credit card and personal details.  The service then pays the recipient with the individual's credit card.
While services like Plastiq allow users to make payments "virtually anywhere," one area they do not allow users to use a credit card is for paying off another credit card. As the image below shows, Plastiq does not permit any credit card payments with other credit cards, just debit or prepaid cards: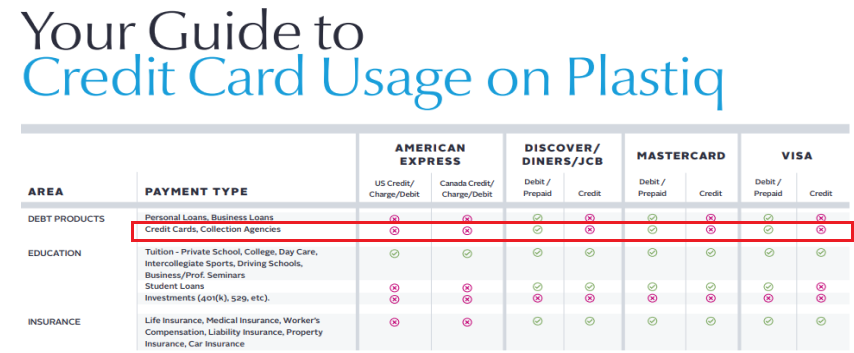 Conclusion
Can you use a credit card to pay another credit card bill? Yes, but it is much more complicated than that. Both cash advances and payment masking services might seem like ideal methods, but they cause significant problems, including huge repayment fees and interest charges.
Balance transfers are the most common way to pay off one credit card with another, newer credit card, but never rush into a balance transfer before weighing the costs carefully. Always consider the APR with the new card if there is any promotion APR on transfers – including zero interest charges for a set time – and fees for making such transactions.
Related Article: Can You Buy Cryptocurrency with a Credit Card?