Streaming services have become a welcome distraction – and essential part of life – during the coronavirus pandemic and lockdowns. These services – from Amazon Prime Video and Netflix, to HBO Max and Peacock – help us get away from the realities of the world and make life at home more enjoyable. Are you looking to save money or earn more rewards when paying for your streaming service subscriptions? Here are our top credit cards for paying streaming service bills every month.
The Five Best Streaming Service Credit Cards of 2021
Here are our top five credit cards for streaming in 2021:
The Blue Cash Preferred® Card features an annual fee, but for binge watchers who want excellent value every day, it's an easy charge to justify. The card earns a huge 6% back on eligible streaming subscriptions. That list includes over 30 services from the radio (iHeartRadio, SiriusXM); TV (Hulu, Peacock, Prime Video, Netflix, and more); music (Amazon Music Unlimited, Apple Music, Pandora, Spotify, etc.); and other categories.
Beyond 6% back on streaming services, the Blue Cash Preferred offers a lot more value for its $95 annual fee. These perks include 6% cash back on the first $6,000 in spending on U.S. groceries each year, 3% back on gas and transit (tolls, taxis, rideshare services, etc.), and 1% back on all other eligible purchases.
The Discover It Cash Back is a card that earns 5% back in a revolving set of categories each year. One of the great things about Discover versus other cards (like Chase Freedom Flex and ABOC Rewards Mastercard) is that Discover rarely makes major changes to its calendar. This allows existing cardholders to plan their spending well in advance to maximize their rewards.
This year, however, Discover made a few changes to its Cash Back Calendar. One of the changes to that calendar for 2021 is the addition of streaming services. Cardholders earn 5% cash back on the first $1,500 spent on gas stations, wholesale clubs (BJ's, Costco, etc.), and streaming services from April 1 through June 30, 2021. This 5% back on streaming makes the Discover It one of the best streaming service credit cards for the next three months.
The Wells Fargo Propel American Express® is another great, no-annual-fee rewards card that is ideal for streaming services. The card earns 3X points on streaming services and 3X on dining, travel, and gas station purchases.
While the 3X points on streaming are below what the Discover and Blue Cash cards provide, the card's value comes in various rewards categories. This variety makes the card an exceptional everyday rewards card and travel card – on par with the American Express Green Card (which features a $150 annual fee).
The Propel is a perennial award winner among users, and it is easy to see why. So if you want a versatile, no-annual-fee rewards card that can help on your commute, vacation, and when streaming at home – the Propel from Wells Fargo is a surefire choice.
The Citi Double Cash card does not offer a special rewards category for streaming services. Instead, Citi provides 2% cash back on all eligible purchases. The card earns a flat-rate 1% cash back on all eligible purchases – and another 1% back when the account holder pays off that balance.
Eligible purchases include pretty much everything you can imagine and exclude account services and other administrative fees (think balance transfers, cash advances, money orders, wire transfers, returns, etc.).
The lack of an annual fee, the 2% back on streaming service subscriptions (or any other purchases, for that matter), and the 0% introductory APR on balance transfers for the first 18 months make the Citi Double Cash Card the perfect everyday card that just happens to reward your streaming habits.
The PayPal Cashback Mastercard® and the Citi Double Cash have a lot in common. Both cards feature no annual fee, unlimited 2% cash back on all purchases, and the Mastercard payment network. Since the PayPal Card works everywhere PayPal is accepted, however, it serves as the ideal way to quickly signup – and pay – for streaming service bills.
The PayPal Cashback Mastercard syncs with a user's existing PayPal account and can be set as the default payment method. When this is done, paying for your Apple TV, Pandora, or HBO Max subscription is as easy as clicking on the PayPal icon and earning 2% cash back automatically.
The card also features EMV chip and contactless payment technology, Mastercard ID theft protection, and a whole lot more.
Honorable Mentions
Want some more credit card options for streaming services to consider? Here are two cards that just missed out on our top spots: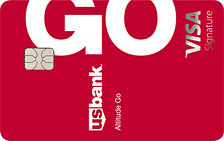 The U.S. Bank Altitude Go Visa Signature is an enticing rewards card geared towards those who like to eat out, fill up, or dine-in while binging their favorite shows. The card earns 4X on dining and 2X on groceries, gas stations, and streaming services – for no annual fee.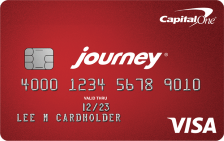 The Journey® Student Credit Card from Capital One® is a student credit card that offers up to $60 in statement credits for students during their first year of account membership. Students receive a $5 credit each month they pay their statement balance on time, for a grand total of $60. This is a great bonus for students looking to build their credit – and stream at the same time.