Last updated on January 25th, 2022
Spooky season is back upon us. With the return of fall, the air is full of pumpkin spice and chilling breezes. It's also time for Halloween – and that means stocking up on candy, decorations, costumes, and more. Before you hit the stores, check out our list of the best Halloween credit cards for 2021 – designed to ensure you get a frighteningly good deal when shopping!
The Best Credit Cards for Buying Halloween Candy, Decorations, Supplies, & More
Here are our top Halloween credit cards for 2021:
Part of the process of preparing for Halloween is realizing that you simply don't have enough candy. Maybe you "accidentally" ate it all before the first trick-or-treaters arrived, or perhaps you didn't purchase enough. Either way, a quick trip to the local store is usually on the cards.
The myWalgreens™ Mastercard® is the ideal partner for those last-minute runs to get more candy, extra decorations, or even drinks for Halloween guests. The card earns 10% cash back on Walgreens brand purchases (including candy), 5% back on other purchases at Walgreens or Duane Reade locations, and 3% back on grocery and health & wellness purchases outside of Walgreens.
Cash back with eh myWalgreens Mastercard takes the form of Walgreens Cash, which is useful for frequent shoppers at either Duane Reade or Walgreens. New accounts also earn a $25 bonus after making their first purchase with the card – ideal for those who plan of getting just a little bit more chocolate (for the kids, of course).
Sam's Club is another great retailer for stocking up on Halloween supplies in bulk. The Sam's Club® Mastercard® is the ideal credit card for the current Sam's Club member that wants to maximize their savings when buying their body weight in Halloween candy – or anything else for that matter.
The card earns 3% cash back on Sam's Club purchases for Plus members, 3% back on dining and takeout, and 1% back on everything else. Even better, the card also earns a bonus 5% cash back on gas anywhere Mastercard is accepted (on first $6,000 per year, then 1%).
The Discover It is a perennial favorite on pretty much every list of best credit cards – and it's easy to see why. The card earns 5% cash back in a rotating selection of quarterly categories, with Q4 2021 including the usual culprits: Walmart.com, Amazon.com, and Target.com.
All these 5% back categories offer plenty of options when it comes to Halloween, including an endless selection of candy, costumes, decorations, party supplies, and more. What makes the Discover such a great card, however, is the Cashback Match. Discover automatically provides a dollar-for-dollar match of the total amount of cash back earned in the cardholder's first year – with no cap on the total amount of cash rewards you can earn!
The Chase Freedom Flex is another excellent cash back credit card with 5% rotating categories. For Q4 2021, the Flex World Elite Mastercard earns 5% back on the first $1,500 in combined spending on purchases in-store at Walmart and on PayPal.
We've already talked about the excellent selection of Halloween supplies at Walmart, but PayPal is the real gem with the Flex. PayPal is an extremely useful online payment and mobile wallet tool – accepted at millions of retailers worldwide. This versatility makes the 5% category near-universal – especially if the retailer where you pick up your Halloween goodies features contactless payments.
Honorable Mentions
Want some more Father's Day credit card options to consider? Here are two cards that just missed out on our top spots: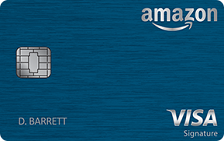 The Amazon Rewards Visa is the Prime-free version of the Amazon Prime Rewards Visa Signature. The card features no annual fees and does not need a prime account to open. It also comes with an instant $50 Amazon gift card upon approval.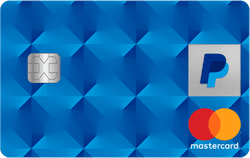 The PayPal Cashback Mastercard® is an excellent option for everyone who wants a no-hassle rewards credit card in their wallet. Accepted everywhere Mastercard is accepted, this card boasts 2% cash back on all purchases with no redemption threshold or complicated categories to worry about.