The Bilt Mastercard makes paying rent rewarding with 1X points per dollar earned on rent payments (up to $100,000 in payments per year). But Bilt's Rent Day promotion, on the 1st of each month, makes this top credit card doubly rewarding. Here's all you need to know about Bilt Rent Day.
Bilt Rent Day at a Glance
You can earn double points per dollar on all purchases (excluding rent). Here's the breakdown (all points are per $1 spent):
11X Bilt points on Bilt Dining
6X Bilt points on dining
4X Bilt points on travel (flights, hotels, and car rentals)
2X Bilt points on other purchases (excluding rent)
Other ways to earn include:
Point Quest™ trivia lets you earn Bilt points for answering questions.
The Rent Free game shows lets 1,000 Bilt Rewards members enjoy free rent by answering questions.
Rent Day Rides: Bilt Rewards members can book SoulCycle classes and receive a complimentary bike for a friend.
Rent Day is limited to 10,000 bonus points each Rent Day. You must use the Bilt Mastercard five (5) times each statement period to earn points.
On the first of every month, Bilt Members can maximize their earnings and rewards in various ways as part of Bilt's Rent Day Offers.
You must be a Bilt Rewards member to participate in Rent Day. Rewards members can participate in Rent Day by opening the Bilt app (available on Android and Apple devices) and clicking the "Rent Day" tab. Although the Bilt Rewards program is open to anyone with the card, it's most useful if you rent an apartment or house (which is part of the card's main appeal).
21.49%, 24.49%, or 29.49% variable based on creditworthiness and the Prime Rate

Regular Purchase APR

21.49%, 24.49%, or 29.49% variable based on creditworthiness and the Prime Rate

Balance Transfer APR

29.24% variable based on the Prime Rate

Cash Advance APR
At a Glance
The Bilt World Elite Mastercard is a unique rewards credit card from Wells Fargo that lets users earn 1X on monthly rent payments, 3X on travel, 2X on dining, and offers impressive perks including Lyft and DoorDash statement credits – all for no annual fee.
Best Benefits
Rates & Fees
Why Should You Apply?
No annual fee

No foreign transaction fees

Earn 1X points on rent payments (up to 50,000 points each calendar year)

Earn 2X points on travel

Earn 3X points on dining
Regular Purchase APR: 21.49%, 24.49%, or 29.49% variable based on creditworthiness and the Prime Rate
Balance Transfer APR: 21.49%, 24.49%, or 29.49% variable based on creditworthiness and the Prime Rate
Balance Transfer Transaction Fee: Introductory fee of either $5 or 3% of the amount of each balance transfer, whichever is greater, for 120 days from account opening. After that, up to 5% for each balance transfer, with a minimum of $5
Cash Advance APR: 29.24% variable based on the Prime Rate
Cash Advance Transaction Fee: Either $10 or 5% of the amount of each advance, whichever is greater
Late Payment Penalty Fee: Up to $40
You rent and want to earn rewards on your monthly rental payments

You're a member of Bilt Rewards

You don't want to pay an annual fee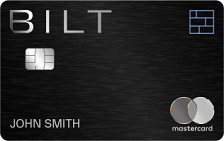 September 2023 Rent Day Specials
So, what does Bilt have in store for members during this month's Rent Day? How about free SoulCycle rides on the 1st, free rent via the 'Rent Free' game, or additional bonus points with Bilt's monthly Point Quest trivia game?
Rent Free Gameshow
There are few greater prizes in life than being able to avoid payments on housing. It can be a reality thanks to Bilt Rewards' game show called "Rent Free." In this show, Bilt will cover the rent for as many as ten lucky winners for a whole month. Here's how it works: Bilt asked some questions to 1,000 of their members, and the answers they got will be used to create the game – very much like the classic TV gameshow, "Family Feud." This month's edition of "Rent Free" is hosted by reality TV star Ryan Serhant.
Double Points with the Bilt Mastercard
As mentioned, Rent Day is extra rewarding if you have the Bilt Mastercard credit card.
That's because Bilt cardholders earn double the points on all purchases (excluding rent payments). The Bilt credit card earns an impressive 3X points per dollar on dining, 2X on travel, and 1X on all other purchases, meaning you'd earn the following on the first of each month:
| Category | Earning rate | Rent Day rate |
| --- | --- | --- |
| Rent | 1X (on up to $50,000 per year) | 1X |
| Dining | 3X | 6X |
| Travel | 2X | 4X |
| All other purchases | 1X | 2X |
You'll get even more points if you use Bilt Dining for dining out or eating at home. The Bilt Dining program allows Bilt Rewards members to earn points on select dining purchases – regardless of the credit card used to pay. Bilt Dining was made possible by adding a Bilt Wallet to the company's mobile app. Bilt members can earn up to 11X points per $1 spent when combining "Rent Day" and the Bilt Mastercard:
Action
Rewards
Total Points
Eating at an eligible Bilt Dining restaurant
5X per $1
5
Paying with the Bilt Mastercard
3X per $1
3
"Rent Day" bonus
Additional 2X on all purchases*
6
11X per $1
*Bilt Dining not eligible for "Rent Day"
The Points Quest trivia game lets you earn bonus Bilt Points that you can redeem towards travel, fitness classes, rent credits, and more. Members can access the game through the Bilt app on the first of every month and answer questions. For every correct answer, you'll instantly earn bonus Bilt Points. Answer five questions, and you'll earn yourself 150 Bilt points, with a sixth correct answer earning you a bonus of 100 points.
Bilt partners with SoulCycle for Rent Day for a unique "Bilt X SoulCycle" mashup. On the first of the month, all Bilt Rewards members can book a class and receive a complimentary bike for a friend on Bilt. SoulCycle rides start at 2,600 Bilt Points or you can earn 10X Bilt Points when you book through the Bilt app.
Does Bilt Make It Easier to Pay Rent?
The Bilt Mastercard makes paying rent a breeze if your rental property is managed by the Blackstone Group – the U.S.'s largest real estate group. But what if Blackstone doesn't manage your apartment? Are you out of luck?
Fortunately, the answer is you can pay rent to any landlord with Bilt. How? If your apartment doesn't accept credit cards or you rent outside the Bilt Rewards Alliance of landlords, simply make your payment through Bilt's mobile app, and Bilt will mail a physical check to your landlord. This process ensures your rent is paid in a streamlined manner while still earning double rewards points.
Just make sure that you pay your rent through the Bilt mobile app. Paying through the app allows you to earn a single rewards point per $1 spent on rent paid, up to 50,000 annual points. Even better, paying through the app means you'll pay no transaction fees. The Bilt Alliance typically charges a transaction fee of 3% for rent payments made through the mobile app, meaning Bilt provides even more value for no annual fee.
Why Pay Your Rent with a Credit Card?
What benefit does an individual get from paying their rent with a credit card? By paying with their Bilt Mastercard, users can build their credit twice as fast as normal. In addition, because Bilt reports monthly to the major credit bureaus (Experian, Equifax, and TransUnion), cardholders can raise their credit score simply by paying their rent on time.
And because landlords can report on-time rental payments to credit bureaus, cardholders can have their on-time rental payments count twice towards their credit score. Simply ask your landlord to report your rental payments to the credit bureaus through services like RentReporters, LevelCredit, or others.