No annual fee

Credit Limits from $375 to $2,000

Uses funds from your VyStar savings account as collateral
Regular Purchase APR: 13.5% variable based on the Prime Rate
Balance Transfer APR: 13.5% variable based on the Prime Rate
Cash Advance APR: 13.5% variable based on the Prime Rate
Late Payment Penalty Fee: Up to $25
Return Payment Penalty Fee: Up to $25
Minimum Deposit Required: $375
VyStar Platinum Visa Card
Regular Purchase APR

9.1%, 10.5%, or 13.5% variable based on creditworthiness and the Prime Rate

Balance Transfer APR

9.1%, 10.5%, or 13.5% variable based on creditworthiness and the Prime Rate

Cash Advance APR

9.1%, 10.5%, or 13.5% variable based on creditworthiness and the Prime Rate

Annual Fee

None

Credit Needed

Excellent , Good

Processing Network

Visa
No annual fee

Low interest rate

Introductory APR on balance transfers for the first year

Set and remove your own travel notices
Regular Purchase APR: 9.1%, 10.5%, or 13.5% variable based on creditworthiness and the Prime Rate
Intro Balance Transfer APR: 0%, 1.99%, or 2.99% for 12 months based on creditworthiness
Balance Transfer APR: 9.1%, 10.5%, or 13.5% variable based on creditworthiness and the Prime Rate
Cash Advance APR: 9.1%, 10.5%, or 13.5% variable based on creditworthiness and the Prime Rate
Late Payment Penalty Fee: Up to $25
Return Payment Penalty Fee: Up to $25
Earn 3% cash back on gas, 2% on groceries, and 1% on all other purchases

Redeem for statement credits or in the Cash Back Mall

No annual fee

Visa Signature Concierge
Regular Purchase APR: 9.5% variable based on the Prime Rate
Intro Balance Transfer APR: 0% for 12 months
Balance Transfer APR: 9.5% variable based on the Prime Rate
Cash Advance APR: 9.5% variable based on the Prime Rate
Late Payment Penalty Fee: Up to $25
Return Payment Penalty Fee: Up to $25
Earn 3 rewards points for every $1 spent on gas; 2 points for every $1 spent on groceries; 1 point for every $1 spent on other qualified purchases

No annual fee

Visa Signature Concierge
Regular Purchase APR: 9.5% variable based on the Prime Rate
Intro Balance Transfer APR: 0% for 12 months from account opening date
Balance Transfer APR: 9.5% variable based on the Prime Rate
Cash Advance APR: 9.5% variable based on the Prime Rate
Late Payment Penalty Fee: Up to $25
Return Payment Penalty Fee: Up to $25
About VyStar Credit Union
VyStar is a Florida-based credit union. The bank has its headquarters in Jacksonville, where it also houses many of its branches.
The bank traces its roots back to the Jax Navy Federal Credit Union, opening with just 12 members and $60 in assets in April 1952. Since its humble origins at the Jacksonville Air Naval Station, the credit union now known as VyStar has grown to be Northeast Florida's largest mortgage lender.
To date, the bank has over $9 billion in assets and 700,000 members, making it the 16th largest credit union in the nation.
The bank also offers a variety of credit lines and credit cards for everyday use. VyStar Visa credit cards offer credit building, excellent APR, and rewards points through the UChoose Rewards program. The VyStar Savings Secured Visa is one of the best credit union credit cards for people with bad credit or no credit history at all.
Branch Locations
VyStar Credit Union currently operates 59 full-service branches in and around the Jacksonville area. The credit union also has 16 high school branches.
The bank offers approximately 230 owned and operated ATMs in Northern and Central Florida, plus an additional 20,000 charge-free ATMs throughout North America. These surcharge fee ATMs operate under the CO-OP ATM banner, uniting credit union members through the U.S. and Canada.
Who Can Join VyStar Credit Union?
Membership is open to anyone who lives, works, worships, or attends school in several Florida and South Georgia counties. Membership is also open to businesses, churches, clubs, or organizations within those same counties, as well as blood relatives of existing VyStar members.
The following Florida counties are eligible for membership: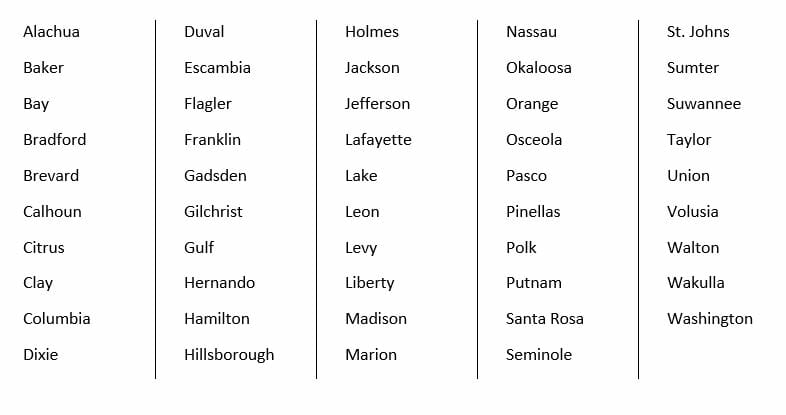 The following Georgia counties are eligible for VyStar membership:

Frequently Asked Questions
Is VyStar only in Florida?
Yes and no. VyStar physical branches are located solely in Florida, but membership is open to some GA residents. These residents can use mobile and online banking service, or visit an affiliated CO-OP ATM.
Is Vystar a good credit union?
Yes. The bank is the 4th largest lender in NE Florida, with over 700,000 happy members. It's also the largest mortgage lender in the area. In addition,  VyStar money market accounts perform 59% better than the national average.
Can I join if I don't live in Florida?
If you live in Camden, Charlton, Glynn, or Ware county GA, you can join.
Is VyStar FDIC insured?
Like other credit unions, VyStar is not FDIC insured. Instead, the bank is insured through the National Credit Union Share Insurance (NCUSIF). The NCUSIF) is part of the National Credit Union Administration (NCUA). This organization provides up to $250,000 in insurance for the member's accounts.
More Information
For more information on credit unions like VyStar, visit our dedicated Credit Unions Credit Cards listing page. This page provides easy access to in-depth card reviews from leading unions across the country.
This page also offers more information about the value credit unions offer. These perks include some of the lowest interest rates you'll pay nationwide, rewards like gas, grocery and restaurant rewards, and travel perks.
For those interested secured credit cards, like the VyStar Savings Secured Visa, we also have excellent resources on building your credit and managing your credit score These resources are found on our Credit Needed landing pages: particularly Bad Credit and No Credit, plus our dedicated Secured Credit Cards listings page.