Last updated on February 24th, 2023
Advertiser Disclosure
close ×
Advertiser Disclosure – BestCards is an independent, Florida-based credit card comparison platform. Many of the card offers that appear on this site are from companies from which BestCards receives compensation. This compensation may impact how and where products appear on this site (including, for example, the order in which they appear). BestCards does not include all card companies or all card offers available in the marketplace.
Editorial Disclosure
close ×
Editorial Disclosure – The opinions expressed on BestCards' reviews, blogs, and all other content on or relating to the website are solely those of the content's author. They are not reflective of any card issuer or financial institution and have not been reviewed or approved by these entities unless otherwise noted. Further, BestCards lists credit card offers that are updated daily with information believed to be accurate to the best of our knowledge.
14.24% variable based on the Prime Rate

Regular Purchase APR

14.24% variable based on the Prime Rate

Balance Transfer APR

14.24% variable based on the Prime Rate

Cash Advance APR
At a Glance
The USF Secured Visa® gives those with bad credit (or no credit) the financial freedom of a full-fledged credit card. Cardholders can enjoy a low, fixed-rate APR for purchases, balance transfers, and cash advances for no annual fee.
Best Benefits
Rates & Fees
Why Should You Apply?
Digital-wallet compatible

No penalty APR

Travel and accident Insurance

Travel and emergency assistance

Auto rental insurance
Regular Purchase APR: 14.24% variable based on the Prime Rate
Balance Transfer APR: 14.24% variable based on the Prime Rate
Cash Advance APR: 14.24% variable based on the Prime Rate
Cash Advance Transaction Fee: Either $10 or 2% of the amount of each cash advance, whichever is greater
Foreign Transaction Fee: 1% of the transaction amount in U.S. dollars
Late Payment Penalty Fee: Up to $30
Return Payment Penalty Fee: Up to $25
Minimum Deposit Required: $500
You have bad credit but want a large credit limit (potentially over $10,000)

You're unable to qualify for balance transfers due to your credit score

You may need to carry a balance

You need a card that's understanding of an inconsistent financial situation

You want a card with no annual fee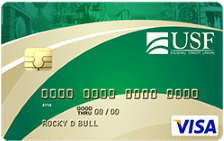 ​
USF Secured Visa® Review
The USF Secured Visa® was designed to help rebuild credit or build credit for the first time. Thanks to a strong card structure, it's equally suitable for college students as it is for more established alumni and faculty. It is virtually identical to the USF Federal Credit Union's low APR card, the USF Green and Gold Visa®, both in appearance and in functionality. As such, USF's secured card can do everything an unsecured card can –including having the possibility of a credit limit upwards of $10,000. The USF Secured Visa® can be used for purchases, balance transfers, cash advances, and even foreign transactions. Even better, it boasts a competitive fixed-rate APR which hovers around 10% which makes it financially feasible to take advantage of all the card's capabilities. Such a great rate can be hard to come by for those with Excellent credit, and someone with negative or no history would be hard-pressed to encounter a rate like this outside of a credit union card. There is no annual fee and the minimum security deposit is $300–an amount on par with the required deposit amount of most other secured cards from major card issuers.
Related Article: What Are the Easiest Credit Cards for Bad Credit to Get?
How to Make the Security Deposit
Securing a credit line requires a minimum of $300. Potential cardholders will need a USF Federal Credit Union savings account (Secured Visa Savings) in order to open a secured card account, which, of course, requires one to be a member of the USF FCU prior to applying. Savings accounts are interest-bearing and yield a modest .20% return, which roughly comes out to about 1¢ per year per $500. Although the return is nominal at best, it is comparable to savings rates from major lenders like Chase or Wells Fargo.
Determining Your Credit Limit
If you are looking for a secured card with a large credit limit – look no further. Unlike most secured cards, which usually have a firm maximum, the USF Secured Visa® is much more flexible when it comes to determining your credit line. Instead of a hard-and-fast cutoff, this secured card's credit limit is determined in a similar manner to unsecured cards (income, debt-to-income ratio, repayment history etc.) and can range up to $25,000. Upon approval, you will receive your new credit limit, however, this is merely an indication of how much you can borrow. As a secured card, you'll still be on the hook for securing your credit line via security deposit, therefore, your credit limit is still ultimately determined by how much cash you are willing and able to use towards your deposit. While you may have been approved for tens of thousands of dollars, you are not obligated to match that in your security deposit.
No Penalty APR
The USF Secured Visa® has foregone a penalty APR to instead offer peace of mind to applicants. For those still amid tricky financial situations that might prevent them from making consistent payments, this small benefit could result in significant savings down the line. Cardholders should keep in mind that although they may not face immediate financial consequences, their credit scores may still be affected by a late or missed payment.
Digital-Wallet Compatible & Security Features
The USF Secured Visa® is compatible with Apple Pay, Google Pay, and Samsung Pay – perfect for the mobile-centric user. Aside from the convenienceof digital wallets, this ability creates an added level of security, reducing the risk of the card being subjected to skimmers or other fraudulent technology. Other security features include EMV chip card technology and Visa credit card transaction alerts.
Visa Protections & Insurance
The USF Secured Visa® has limited Visa protections:
Roadside Dispatch
Zero Liability
Auto Rental Collision Damage Waiver
Emergency Card Replacement & Cash Disbursement
The more advanced of Visa benefits (Travel & Emergency Assistance Services) is reserved for Platinum and Signature Visa cardholders.
Should You Apply for the USF Secured Visa® Card?
One of the main benefits of rebuilding credit through a smaller, customer-centric credit union is that they often make more allowances than larger lenders would. As a credit card for bad credit, the USF Secured Visa® does a phenomenal job; it offers those with marred credit scores the full range of functionality of an unsecured card as well as the utility of a full-fledged credit limit. As a tool for building credit, however, the USF Secured Visa® is not nearly as impressive. This isn't to say that it isn't capable of building or improving credit, but in comparison to other cards designed specifically for this purpose, it lacks the built-in accommodations to put cardholders at an advantageous credit situation. The only sure-fire credit improvement will come from time (and responsible card usage) rather than a direct impact from a particular card feature.
Still, regardless of how this card is used, it would provide a powerful and capable tool for handling all of life's expenses –both expected and unexpected ones. The low APR is suitable for those who need to carry a balance; the large credit line could accommodate big-ticket items; and the full-functionality of the ability to conduct balance transfers and cash advances is sure to be appreciated by those who find themselves looking for assistance in particularly trying financial situations. There is plenty to like about this card and for no annual fee, is a great credit card to keep in one's financial toolkit.
Browse Other Credit Card Offers: