Last updated on February 24th, 2023
Advertiser Disclosure
close ×
Advertiser Disclosure – BestCards is an independent, Florida-based credit card comparison platform. Many of the card offers that appear on this site are from companies from which BestCards receives compensation. This compensation may impact how and where products appear on this site (including, for example, the order in which they appear). BestCards does not include all card companies or all card offers available in the marketplace.
Editorial Disclosure
close ×
Editorial Disclosure – The opinions expressed on BestCards' reviews, blogs, and all other content on or relating to the website are solely those of the content's author. They are not reflective of any card issuer or financial institution and have not been reviewed or approved by these entities unless otherwise noted. Further, BestCards lists credit card offers that are updated daily with information believed to be accurate to the best of our knowledge.
14.49% to 17.99% variable based on creditworthiness and the Prime Rate

Regular Purchase APR

14.49% to 17.99% variable based on creditworthiness and the Prime Rate

Balance Transfer APR

14.49% to 17.99% variable based on creditworthiness and the Prime Rate

Cash Advance APR
At a Glance
The USF Rewards Visa® is a straightforward credit union rewards card with a surprising aptitude for travel – specifically, airfare bookings. An unremarkable 1X bonus rate is made up for with a moderate signup bonus and a below-average APR range.
Best Benefits
Rates & Fees
Why Should You Apply?
1X point per dollar

No balance transfer fee

No annual fee

Digital wallet compatible

Choose from 3 card designs
Regular Purchase APR: 14.49% to 17.99% variable based on creditworthiness and the Prime Rate
Balance Transfer APR: 14.49% to 17.99% variable based on creditworthiness and the Prime Rate
Cash Advance APR: 14.49% to 17.99% variable based on creditworthiness and the Prime Rate
Cash Advance Transaction Fee: Either $10 or 2% of the amount of each cash advance, whichever is greater
Foreign Transaction Fee: 1% of the transaction amount in U.S. dollars
Late Payment Penalty Fee: Up to $30
Return Payment Penalty Fee: Up to $25
You're a USF student, alumni, or faculty member

You will spend at least $1,500 within the first 90 days

You want rewards in the form of airfare

You want a long-term balance transfer card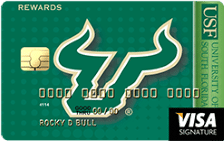 ​
USF Rewards Visa® Review
Show off your Bull pride and earn rewards with the USF Rewards Visa®, one of three credit card options offered by the USF Federal Credit Union. It carries no annual fee and is the only option within the USF FCU where cardholders can earn points on purchases; points that can then be redeemed for cash, travel, gift cards, or merchandise. Minimum point thresholds are high, and applicants will have to spend at least $6,000 before they're able to reap the fruits of their purchasing labors. Except for individuals who are unable to earn rewards elsewhere, the USF Rewards Visa® is better thought as a low APR, balance transfer tool than a means for earning kickbacks from purchases.
Choose Your Signup Bonus
The USF Rewards Visa® gives new cardholders two signup bonuses to choose from. Deciding which offer is the most valuable comes down to finding the bonus that fits your spending style – or upcoming purchase plans.
Receive 10,000 Bonus Points after spending $3,000 within the first 90 days
Earn 3X points on all purchases during the first 90 days
The lump-sum bonus is better suited to small spenders (individuals who would find it difficult to rack up $1,000 in purchases a month); since points have a below-average value, the 10,000-point offer has an approximate value of $89, a low return for such a high spend. The Triple Points option is best for anyone who plans on spending at least $3,333 within the three-month timeframe. But while this offer has the greater earning potential, it likely won't be feasible for USF students who may have limited income. This situation for students isn't helped by the fact that the USF Rewards Visa® does not offer an introductory APR period to help absorb the $3,000 spending minimum. Although USF's APR range is reasonable, those who are adamant about not paying interest or carrying a balance will find that the lack of promotional financing puts both signup bonuses out of reach. For this reason, students should be strategic with the timing of their application and do so at the beginning of the semester; using the USF Rewards Visa® to cover tuition, meal-plan, housing, or textbook costs and then using loan disbursements to pay off their credit card balance.
Earning Points with the USF Rewards Visa®
The USF Rewards Visa® has a limited earning potential, offering a flat rate of 1 point per dollar spent regardless of purchase category and the possibility of earning up to 10X points on purchases from specific retailers through their online shopping portal. While not unusual for a card of its type, the USF rewards card does little to make a compelling case for applying for it over no-annual-fee rewards cards from major issuers. Instead, the main incentive to opt for an otherwise lackluster rewards card is the opportunity to earn rewards while enjoying a low APR. For context, the high range of USF's range is where interest rates from major issuers (like Chase and Capital One) would begin. Typically, the golden rule for anyone dipping their toes into the world of credit cards is to never carry a balance. However, cards such as the USF Rewards Visa® offer a combination of both worlds, giving cardholders to earn a little something back from their purchases, but while giving them the competitive rates that credit unions are known for. Points expire five years from the end of the calendar year that they were earned.
Redeeming USF Rewards Visa® Points
The USF Rewards Visa® offers a surprisingly lucrative rewards program for a credit union card. Cardholders have a wide range of redemption options to choose from and can earn an unlimited number of points from every single purchase. Unfortunately, earning potential is quite limited as the card only earns 1X points and has no bonus categories. The USF Federal Credit Union reward program is called 'Rewards for U' (operated by CURewards which operates many other credit union reward programs). There are 4-point redemption methods available to USF Rewards Visa® cardholders, however, only one provides a worthwhile value.
Redeeming for Cash
Cash is often the most preferred method of point-redemption as it tends to be the most straight-forward – but this is far from the case through the USF FCU program. Point transference to cash can only be done four times a year and can only be deposited into a (USF FCU) savings account. The minimum redemption amount of $50 requires 5,882 points, resulting in a sub-par individual value of $0.006 each.
Redeeming for Gift Cards
Redemption values (and thus, point values) fall even further when redeemed for gift cards. Although the CURewards program boasts gift cards from popular major retailers such as Walmart, Target, and Amazon, there are only two gift card amounts and the number of points needed is high.
$50 gift card = 7,700 points (individual point value of $0.006)
$100 gift card = 13,600 points (individual point value of $0.007)
Redeeming for Merchandise
CURewards gives cardholders the opportunity to purchase items ranging from electronics to cooking appliances to kid's toys, directly through their online catalog. While the exact amounts of points needed can vary (and aren't viewable by non-members), redemption amounts through these types of catalogs are at very undesirable rates.
Redeeming for Travel
The most (and truth be told, the only) worthwhile redemption method of USF Rewards Visa® points are for travel. Cardholders have three options, and while they all require a substantial amount of points, they have the potential to offer an impressive value even when compared to some of the most popular travel cards from major issuers.
Option 1: A roundtrip ticket anywhere booked at least 21 days in advance and with a Saturday night stay
The value of individual points when redeemed through this travel method can vary based on the distance, airline, and time of year. Naturally, this option would be much more valuable to someone flying from Tampa to Los Angeles than from Tampa to Fort Lauderdale.
Option 2: Receive an airline credit for bookings made with less than 21 days in advance
Airline credits start at values of $325 and can be applied towards any flight. There is a total of three unrestricted airline options that cardholders can choose from, however, they all virtually have the same point value (1.3¢ so there is no particular benefit to hoarding points for the larger redemption intervals:
$325 airline credit – 25,000 points
$525 airline credit – 40,000 points
$750 airline credit – 57,000 points
Option 3: Redeem points for car rentals, hotels, cruises, or other vacation packages. 
There is no clear redemption model for these other types of travel bookings, but it can safely be assumed that cardholders would need at least 25,000 points. Travel rewards are provided by Montrose Travel and can be booked online or over the phone via travel agent at 1-877-219-4988. The other two types of travel reward redemptions can also be booked using this number.
Approved for Carrying Balances
While the rule for a rewards card is to never carry a balance, an exception can be made for the USF Rewards Visa®. It has a modest APR range compared to those of rewards cards from major lenders like Chase or Capital One, and even those with APRs at the higher end of the scale will still be able to enjoy a competitive offer.
No Balance Transfer Fee
Those looking to pay down debt may find a long-term solution with the USF Rewards Visa®. The combination of a low balance transfer APR and permanent lack of a balance transfer fee makes this card a decent option for those who want a safety net when it comes to minimizing interest payments from future debt. The lack of an introductory balance transfer APR, however, makes this card far less effective for those with existing debt who are looking for an immediate payoff solution.
Customizable Card Design
Cardholders can show off their Bull pride and choose from three iconic card designs:
A picture of the bronze Bull statue
A green USF logo on a green backdrop
A picture of the USF sign (located at the school's entryway)
Should You Apply for the USF Rewards Visa® Credit Card?
The USF Rewards Visa® doesn't have much to offer – especially as a rewards card. The APR is standard compared to other credit unions, but there is no introductory APR period and the signup bonus requires far too high a spend for such a low return. The rewards program adds fuel to the unappealing fire, awarding a meager 1 point per dollar for all purchases with no bonus categories – not even for USF-based transactions. Although there is a decent array of redemption methods to choose from, the actual redemption process is laden with restrictions or quirky point requirements. The result? Points are hard to use and they have a disappointing value.
The only worthwhile redemption method, travel, requires a steep number of points: 25,000. Keeping the 1X bonus rate in mind, cardholders would have to spend $25,000 – an unreasonably high spend to expect of students, alumni, or faculty. due to the below-average point value, which makes the rewards an unworthwhile endeavor.
Overall, the USF Rewards Visa® tries to be a rewards card and a low APR card but falls short of achieving either. It has too-few perks to make it worthwhile for those with an established credit history and not enough financial fail-safes for students who are likely to be first-time card owners. The unique reward redemption structure of the USF Rewards Visa® turns this credit union card into a surprisingly viable for travel–particularly airfare–but only for those who will be spending several tens of thousands of dollars. Even then, owning this card would be hard to justify as that spend would generate significantly more rewards with another card.
Browse Other USF CU Credit Card Offers: