Last updated on February 24th, 2023
Advertiser Disclosure
close ×
Advertiser Disclosure – BestCards is an independent, Florida-based credit card comparison platform. Many of the card offers that appear on this site are from companies from which BestCards receives compensation. This compensation may impact how and where products appear on this site (including, for example, the order in which they appear). BestCards does not include all card companies or all card offers available in the marketplace.
Editorial Disclosure
close ×
Editorial Disclosure – The opinions expressed on BestCards' reviews, blogs, and all other content on or relating to the website are solely those of the content's author. They are not reflective of any card issuer or financial institution and have not been reviewed or approved by these entities unless otherwise noted. Further, BestCards lists credit card offers that are updated daily with information believed to be accurate to the best of our knowledge.
10.9% variable based on the Prime Rate

Regular Purchase APR

10.9% variable based on the Prime Rate

Balance Transfer APR

10.9% variable based on the Prime Rate

Cash Advance APR
At a Glance
The SLFCU Visa Signature from Sandia Laboratory Federal Credit Union is a premium, low APR credit card that offers a yearly 1% rebate on purchases. The card also features no annual membership fee, no fee for balance transfers, and the benefits and protections that come from a Visa Signature product.
Best Benefits
Rates & Fees
Why Should You Apply?
No annual fee

High credit limits and exclusive benefits

1% end-of-year rebate on purchases
Regular Purchase APR: 10.9% variable based on the Prime Rate
Balance Transfer APR: 10.9% variable based on the Prime Rate
Cash Advance APR: 10.9% variable based on the Prime Rate
Cash Advance Transaction Fee: $5
Foreign Transaction Fee: 1% of the transaction amount in U.S dollars
Late Payment Penalty Fee: Up to $25
Return Payment Penalty Fee: Up to $25
Over Limit Penalty Fee: Up to $25
You already bank with Sandia Labs FCU or qualify for membership

You like the idea of a great low APR on everything

You want a 1% yearly cash back bonus

You don't want to pay an annual fee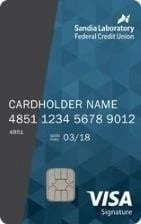 SLFCU Visa Signature Card Review
The SLFCU Visa Signature is a decent cash back rewards card that hides its true purpose behind talk of a yearly "rebate."
Receive a 1% Rebate Each Year on Purchases
SLFCU's Visa Signature Card offers what It classifies as a 1% rebate on purchases at the end of the year. While this may seem impressive and unique, it amounts to nothing more than just cash back. But how does 1% cash back compare with other similar credit cards?
One=percent cash back is a fairly common reward rate with credit union cards that offer the perk, but it pales in comparison to the 1.5% cash back that comes with the Chase Freedom Unlimited, AmEx Cash Magnet Card, or Citi's Double Cash Card.
All these cards, however, feature an APR that is considerably higher than what Sandia Labs offers for their SLFCU Visa Signature Card. In the case of the Freedom, the APR for purchases is almost 4% higher. These cards also charge higher interest rates for balance transfers and cash advances, something SLFCU does not.
One of the nice things about the SLFCU Visa Signature is that everyone approved gets the same great rate. While the rate will vary depending on the current Prime Rate, the typical rate will be around 12.5%. Other cash back credit cards from larger lenders – including those mentioned previously – start around 15% to 16%, with those with less-than-stellar credit scores getting interest rates that may rise in the 20 to 24% range. For SLFCU members, however, that rate is always excellent.
Large Credit Limits
The SLFCU Signature Card is a premium product, and as such, comes with premium credit limits to match. Whereas Sandia does not have a minimum credit line for the SLFCU Platinum Value Card, minimum credit limits with the Visa Signature start at $5,000.
Five thousand dollars might not sound like a huge amount to those accustomed to credit limits in the tens-of-thousands of dollars, but it is a solid amount and one that sets out the intent of this card – as an everyday credit card that is equally at home financing a large purchase as it is using to pick up a snack on the go.
Visa Signature Perks and Benefits
As this is the pinnacle of the Sandia LABROATRY Federal Credit Union range of credit cards, this is a Visa Signature product. Visa Signature is behind only Infinite in the pantheon of Visa card products, offering holders enhanced protections and privileges over a standard visa credit card. Beyond typical Visa security features, such as Zero Liability, fraud protection, and 24/7 customer service, Signature cardholders can expect the following improved services:
Auto Rental Collison Damage Waiver: Visa Signature offers additional insurance for rental cars when using the Cash Rewards Card to pay for a rental car and waiving additional coverage at the rental counter.
Roadside Dispatch: Pay-per-use 24/7 toll-free referral dispatch should cardholders suffer a vehicular break down on the side of the road.
Travel Accident Insurance: Visa Signature cardholders receive up to $250,000 in travel accident insurance for any accidents or injuries that may occur on travel booked with their Family Security Visa Signature Cash Rewards Card.
Lost Luggage Reimbursement: Visa will recompense cardholders should their luggage booked through a trip paid for with the Visa Signature card go missing.
Access to Luxury Hotel Bookings: Visa's Luxury Hotel Collection offers exclusive deals and bookings at some of the world's most prestigious hotel brands, including Park Hyatt, Shangri-La, and more.
Who Can Join the Sandia Laboratory Federal Credit Union?
Sandia Laboratory FCU is the largest credit union in the state of New Mexico in terms of assets, and the second-largest in membership – with over 84,000 members across both New Mexico and California.
Membership in the credit union is currently open to current and retired employees of any of the over 1,000 companies and associations that partner with Sandia Labs FCU. For a complete list of all the available partner companies, call the credit union's toll-free number at 1-800-947-5328.
Membership is also open to:
Members of the National Museum of Nuclear Science & History (New Mexico residents only)
Members of the Albuquerque International Association
Immediate family members or householder members of any of the above-listed individuals
Should You Apply for the SLFCU Visa Signature Card?
Overall, there is nothing to hate all that much about the SLFCU Visa Signature Card. The APR is a flat rate that is well below what you would normally expect from some of the bigger names in the industry and the credit limits are sizeable enough for both everyday use and financing significant purchases.
The 1% rebate on purchases at the end of each year may be a clever way of phrasing cash back, but it is still a respectable reward rate when compared to other similarly packaged credit union cards. Sure, other cards from lenders like Chase, American Express, and others may offer more cash back with every purchase, but those cards also feature significantly higher APRS – and that's at the very low end of the spectrum.
Browse Other credit Card Offers from SLFCU: