by BestCards Team | Last updated on November 13th, 2023
SLFCU Visa Platinum Value
11.90% variable based on the Prime Rate

Regular Purchase APR

11.90% variable based on the Prime Rate

Balance Transfer APR

11.90% variable based on the Prime Rate

Cash Advance APR
At a Glance
The SLFCU Visa Platinum Value Card is a low APR and balance transfer credit card from leading New Mexico credit union, Sandia Laboratory Federal Credit Union. The card features a great low-interest rate on purchases, balance transfers, and cash advances, as well as no annual fee or fees for balance transfers.
Best Benefits
Rates & Fees
Why Should You Apply?
No annual fee

No minimum credit line

Visa platinum benefits
Regular Purchase APR: 11.90% variable based on the Prime Rate
Balance Transfer APR: 11.90% variable based on the Prime Rate
Cash Advance APR: 11.90% variable based on the Prime Rate
Cash Advance Transaction Fee: $5
Foreign Transaction Fee: 1% of the transaction amount in U.S. dollars
Late Payment Penalty Fee: Up to $25
Return Payment Penalty Fee: Up to $25
Over Limit Penalty Fee: Up to $25
Youi plan to carry a balance

You want to pay down existing credit card debt with one, low-interest payment each month

You do not want to pay an annual fee

You're looking for a simple credit card with a great APR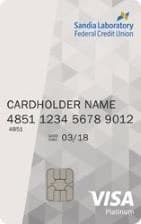 SLFCU Visa Platinum Value Card Review
The SLFCU Visa Platinum Value Card is Sandia Laboratory's lowest rate credit card and is ideal for anyone looking to pay down existing credit card balances or finance a significant purchase.
Enjoy Sandia Laboratory FCU's Lowest Rates
Like other credit unions, Sandia Laboratory Federal Credit Union issues credit cards that feature ever day low APRs that are significantly lower than what you would normally receive from larger lenders, such as Bank of America, Wells Fargo, or American Express (amongst others). The SLFCU Visa Platinum Value is no different.
The card boasts a normal APR on purchases, balance transfers, and cash advances that are below 11%. The national average APR for low-interest credit cards, for comparison, is 14%. Additionally, other cards usually have a much higher APR for either cash advances and balance transfers – or both – making the Sandia Labs Visa Platinum an excellent value.
The Benefits of a Low APR Credit Card
While a low interest rate is not a big deal for people who plan to pay off their entire statement balance each month, it is a critical feature for those who plan to carry a balance. Carrying a balance isn't the best option but can help individuals pay with their card for significant purchases and then pay down that purchase over time. The low interest rates with the SLFCU Visa Value makes this a much easier proposition than with a card with a significantly higher APR.
Low APR credit cards are also great for balance transfers. Transferring existing credit card balances to a one with a lower interest rate is a reliable way to pay down existing debt with lower fees quickly. The sub-12% APR with the SLFCU Value Visa makes this a good option for this process, as does the lack of any fees for conducting balance transfers.
No 0% Intro APR on Balance Transfers
The card lacks a 0% introductory APR on balance transfers, which is a real let down. Most quality balance transfer cards offer an intro 0% period of at least six months, with many extending that to a year or longer. While the lack of such a period is a detriment to the SLFCU Visa, it must be tempered with the fact that the card still enjoys a regular APR on transfers that is considerably lower than what many other competitive cards provide.
Credit Limits to Fit Every Budget
The SLFCU Visa Signature is Sandia Labs' premium credit card, with premium credit limits to match. The Value Visa, on the other hand, aims to provide credit limits to suit every budget. There are no minimum credit limit with the card, meaning the credit union won't penalize applicants who don't qualify for the Visa Signature's $5,000+ spending limits – instead offering a limit to suit their particular needs and budget.
Visa Platinum Benefits
Visa Platinum benefits are not anything spectacular – in fact, they are fairly common protections offered by other credit card lenders, including Mastercard, Discover, and American Express. That is not to say they should be overlooked, however.
Visa Platinum perks and protections add an additional layer of security to credit card purchases and offer dedicated support should anything go wrong. These features include emergency card replacement and emergency cash disbursement in the event of a lost card, Visa's Zero Liability fraud protection, and travel benefits, such as Roadside Dispatch and Auto Rental Collision Damage Waiver.
Should You Apply for the SLFCU Visa Platinum Value Card?
The SLFCU Visa Platinum Value Card is a versatile, low APR credit card that is equally suited for balance transfers as it is financing larger purchases. The low interest rates the card features is significantly lower than what you can expect from a national bank – despite Sandia Laboratory Federal Credit Union being the largest credit union by asset size in all of New Mexico.
While the card lacks a 0% intro APR period for balance transfers, the lack of balance transfer fees (as well as an annual fee) makes up for this shortcoming and makes it a reliable choice for carrying a balance.
There might be better interest rates available from other credit unions in New Mexico, but those APRs will not be significantly lower than what Sandia Labs offers with he SLFCU Value Visa. That fact, combined with the financial power of the credit union, makes this a good option for those who qualify for SLFCU membership and want a useful tool in the back pocket to pay down balances or carry interest – but without the hard interest payments found elsewhere.
Who Can Join the Sandia Laboratory Federal Credit Union?
Sandia Laboratory FCU is the second-largest credit union in the state of New Mexico in terms membership – with over 84,000 members across both New Mexico and California.
Membership is currently open to current and retired employees of any of the over 1,000 companies and associations that partner with Sandia Labs FCU. For a complete list of all the available partner companies, call the credit union's toll-free number at 1-800-947-5328.
Membership is also open to:
Members of the National Museum of Nuclear Science & History (New Mexico residents only)
Members of the Albuquerque International Association
Immediate family members or householder members of any of the above-listed individuals
Browse Other Credit Card Offers from SLFCU:
Editorial Disclosure – The opinions expressed on BestCards.com's reviews, articles, and all other content on or relating to the website are solely those of the content's author(s). These opinions do not reflect those of any card issuer or financial institution, and editorial content on our site has not been reviewed or approved by these entities unless noted otherwise. Further, BestCards.com lists credit card offers that are frequently updated with information believed to be accurate to the best of our team's knowledge. However, please review the information provided directly by the credit card issuer or related financial institution for full details.