Last updated on February 24th, 2023
Advertiser Disclosure
close ×
Advertiser Disclosure – BestCards is an independent, Florida-based credit card comparison platform. Many of the card offers that appear on this site are from companies from which BestCards receives compensation. This compensation may impact how and where products appear on this site (including, for example, the order in which they appear). BestCards does not include all card companies or all card offers available in the marketplace.
Editorial Disclosure
close ×
Editorial Disclosure – The opinions expressed on BestCards' reviews, blogs, and all other content on or relating to the website are solely those of the content's author. They are not reflective of any card issuer or financial institution and have not been reviewed or approved by these entities unless otherwise noted. Further, BestCards lists credit card offers that are updated daily with information believed to be accurate to the best of our knowledge.
9.99% 12.99%, 14.99%, or 19.99%, based on creditworthiness

Regular Purchase APR

13.99%, 16.99%, 18.99%, or 23.99%, based on creditworthiness

Balance Transfer APR

13.99%, 16.99%, 18.99%, or 23.99%, based on creditworthiness

Cash Advance APR
At a Glance
The SDCCU Visa Platinum is the most basic credit card offer available with San Diego County Credit Union. Offering no rewards or miles, it keeps the focus on low APRs so you can pay off your balance quickly and efficiently. Its non-variable rates make it easy to calculate out potential interest accrual and build the best payment plan for tackling your debt.
Best Benefits
Rates & Fees
Why Should You Apply?
Low APRs for purchases, balance transfers, and cash advances

No annual fee

Visa credit card protections
Regular Purchase APR: 9.99% 12.99%, 14.99%, or 19.99%, based on creditworthiness
Balance Transfer APR: 13.99%, 16.99%, 18.99%, or 23.99%, based on creditworthiness
Balance Transfer Transaction Fee: Either $1 or 2% of the amount of each transfer, whichever is greater
Cash Advance APR: 13.99%, 16.99%, 18.99%, or 23.99%, based on creditworthiness
Cash Advance Transaction Fee: Either $1 or 2% of the amount of each cash advance, whichever is greater
Foreign Transaction Fee: 2% of the transaction amount in U.S. dollars
Late Payment Penalty Fee: Up to $10
Return Payment Penalty Fee: Up to $20
You live or work in San Diego, Orange, or Riverside County and prefer credit unions to big banks

You prefer a fixed APR for purchases, cash advances, and balance transfers

You want low-to-no fees, including annual, foreign transaction, and late fees

You need low rates to help pay down a large balance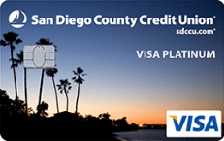 SDCCU Visa Platinum Credit Card Review
If your mind is on low rates rather than rewards, the SDCCU Visa Platinum might have just what you're looking for. Other SDCCU cards focus on rewards rates, while this offer keeps it simple with non-variable APRs in the single digits. The result is a card that fits into any wallet with relative ease, as long as you live in San Diego, Riverside, or Orange County. 
Low, Non-Variable Rates
Many credit unions offer cards with low rates to help members manage a large balance. What makes this SDCCU Visa Platinum stand out is that its rates are not only in the single digits, but they're also non-variable. In other words, you'll get a fixed rate when you apply that will stay the same for the life of your account.  
This not only applies to the APR for purchases, but also for the balance transfer and cash advance APRs as well. SDCCU will assign one of four possible rates for each type of transaction to your account based on your creditworthiness. 
The biggest advantage of this is that you don't have to worry about the Prime Rate affecting your APRs. This can give you a better idea of how long it will take to pay off your balance if you carry one. It's worth noting, however, that this is not SDCCU's only card that offers these non-variable low rates, so others may suit your needs better. 
No Annual Fee
This card is one of two SDCCU credit cards that have no annual fee attached. The other is the SDCCU Cash Rewards Visa Platinum, which likely has higher credit requirements. No annual fee combined with these low rates means you won't have to worry about adding extra costs onto your current balance.  
Aside from that, this card also charges relatively low additional fees. The foreign transaction fee, for example, is one flat rate with no minimum. Cash advances and balance transfers also have fees that sit several dollars/percentage points lower than those of low rate cards from bigger banks. This helps make up for the fact that the SDCCU Platinum doesn't offer introductory APRs – but not by much.  
Another detail about the SDCCU Visa Platinum credit card worth noting is the late fee grace period. It's important to avoid missing payments or paying your bill after the due date, as this has negative impacts on your credit. However, this card is forgiving in that it won't activate its late fee for the first 10 days. After that, you'll need to pay this fee or the minimum payment required, whichever is less. This can be helpful in cases of emergency, though taking advantage often is not advisable.  
SDCCU Visa Platinum Protections
As Visa credit cards, all SDCCU offers come with certain protections that boost the value of the cards. No matter whether you choose this card or another from this credit union, you'll get access to these features. Namely, you'll get: 
Full protection from any unauthorized purchases made on the card

 

Online banking capabilities

 

Free access to your FICO credit score

 

$500,000 worth of travel accident and car rental insurance

 
While you may not use these features often, they'll certainly come in handy in case of an emergency. However, restrictions do apply so it's important to read the full disclosure of your Visa benefits upon approval.  
Should You Apply for the SDCCU Visa Platinum?
Despite the low, low non-variable rates, the SDCCU Visa Platinum credit card isn't the best card this credit union has to offer. In fact, this is one of three Visa Platinum cards you can choose from; the other two offer the exact same rates, but with rewards included.  
Ultimately, you might be better off looking into the SDCCU Cash Rewards or the SDCCU Visa Platinum with Fly Miles Plus. Though, that last one throws in a small annual fee.) If you would rather not fuss around with rewards rates and redemption, this pared-down card could fit easily into any wallet. It also likely has easier credit requirements to meet, since there are no rewards involved.
Browse Other Credit Card Offers from SDCCU: