Last updated on February 23rd, 2023
Advertiser Disclosure
close ×
Advertiser Disclosure – BestCards is an independent, Florida-based credit card comparison platform. Many of the card offers that appear on this site are from companies from which BestCards receives compensation. This compensation may impact how and where products appear on this site (including, for example, the order in which they appear). BestCards does not include all card companies or all card offers available in the marketplace.
Editorial Disclosure
close ×
Editorial Disclosure – The opinions expressed on BestCards' reviews, blogs, and all other content on or relating to the website are solely those of the content's author. They are not reflective of any card issuer or financial institution and have not been reviewed or approved by these entities unless otherwise noted. Further, BestCards lists credit card offers that are updated daily with information believed to be accurate to the best of our knowledge.
At a Glance
The Focus Gold Merchandise Card (formerly the Principal Platinum) is a no-frills store card offer from Horizon Financial Services. Focus Card is ideal for anyone looking to build or rebuild their credit score. This card features a 0% APR on purchases, a credit limit of $500, roadside assistance, Credit Hawk credit monitoring, discounts on prescription meds, and no credit check.
Best Benefits
Rates & Fees
Why Should You Apply?
Instant Approval / $750 Credit Line

No Employment or Credit Check

Reports to Major Bureau

Bad Credit, No Credit - OK

Always 0.0% APR
You have bad credit or no credit history at all

You want a credit card that does not require a credit check or employment check

You're okay with a $14.95 monthly fee for an online merchandise and catalog card

You want extra perks, like credit monitoring or roadside and legal assistance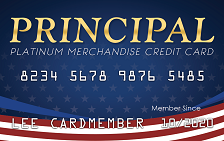 The Focus Gold Card is an introductory unsecured credit card for exclusive with Horizon Outlet. The Horizon Outlet is an online marketplace with various products for purchase, including toys, clothing, and other gifts.
Approval for the Focus Gold Card does not require a credit check or an employment check. This ease of application makes the card an excellent option for someone struggling to find a traditional credit card. One thing Horizon does require, however, is an active US credit card, debit card, checking or savings account.
This card's spending limit is $500 – a healthy credit limit that dwarfs the starting limits with cards like the Fingerhut Card. However, the Principal Card, like the Group One Platinum, only works at the Horizon Outlet, meaning the card is a merchandise card account and not a traditional credit card.
How do merchandise cards – also known as catalog cards – differ from traditional credit cards? Catalog cards are also known as "closed-loop" cards, meaning they only work at the store that issues them – in this case, the Horizon Outlet. Additionally, they cannot be used at the ATM, as a traditional credit card can.
One of the unique features of cards from Horizon Services is that they offer a "risk-free" trial period. During this period, new accounts can use their Principal Platinum Merchandise Card to make purchases at the Horizon Outlet. If they are unsatisfied, however, they can cancel their membership and only owe the cost of their purchases – not any monthly membership fees or activation costs.
While it is not a traditional credit card, Focus Card reports directly to the major credit bureaus each month. This timely reporting is crucial for helping build a solid credit history.
The online application is simple thanks to no credit check. Once the monthly subscription of $14.95 is paid, cardholders gain access to perks and benefits, including:
My Privacy Protection: Cardholders receive access to unlimited privacy protection when using their Focus Merchandise Card with the online portal from Horizon Outlet.
My Roadside Protection: Members have access to up to three service calls or towing requests per year, up to 15 miles, and not to exceed the operator cost of $50, free of charge.
Universal RX: Cardholders get unlimited access to discounts at participating local pharmacies; members receive up to 40% in discounts on all covered prescription medications.
My Legal Assistance: Enjoy toll-free phone and Internet access to leading legal resources; Cardholders receive one free 30-minute consultation with a specialized legal professional in your area (excluding criminal defense).
Cardholders also have access to 24/7 credit monitoring through Credit Hawk. Credit Hawk is a monitoring service associated with Horizon Financial Services and can help you keep track of your credit score and build a positive credit history.
For more information on all the card's benefits, check out the terms and conditions on the Horizon website.
The lack of a purchase APR is another attractive offer for potential applicants. This 0% APR perk means cardholders do not have to worry about additional monthly costs. Only a minimum payment is required to keep an account active – either $25 or 10% of the monthly balance due, whichever sum is greater.
As mentioned, the Focus Gold Card features a monthly subscription fee of $14.95. However, this accompanies the benefits plan. This monthly charge adds up to the equivalent of a $179.40 annual fee.
The benefits plan membership fee auto debits monthly and shows on bank statements as Horizon Card Services. Members can also cancel their card account at any time by calling Horizon Member Services at 1-800-251-6144.
What is the Focus Gold (formerly the Principal Platinum) like to live with? Before deciding if the card is right for you, here's what our readers and members think about the card: Alfie
BestCards Reader
Usually, store cards can be used at physical locations too, but not this one. In fact, it's not even a card, but a line of credit, which will likely report your activity to only one credit bureau.
Should You Apply for the Focus Gold Card?
Perhaps the biggest letdown with the former Principal Platinum, now the Focus Gold Merchandise Card, is that you can only use it at the Horizon Outlet. In this regard, the card is very similar to other options, like the Group One Platinum or the discontinued Horizon Gold Card. Other card options, like the Mercury Mastercard or OpenSky Visa Secured, can be used to make purchases anywhere.
Overall, the Focus Gold Card is an excellent option for anyone seeking to build their credit. Although it does not work like a traditional credit card, the Focus Card is not a scam – it's a real deal that will attract folks want to build their credit score via shopping at the Horizon Outlet. If you're looking for an exclusive marketplace to shop at often, the card is likely a great fit.
There are no credit checks, meaning you will not see a hard inquiry hit your credit report after you apply. Remember, even with secured cards, there is no guarantee of approval – so if you're struggling with your credit, the Focus Merchandise Card may be a good first step in the right direction.
Browse Other Card Offers: