Last updated on September 21st, 2023
Advertiser Disclosure
close ×
Advertiser Disclosure – BestCards is an independent, Florida-based credit card comparison platform. Many of the card offers that appear on this site are from companies from which BestCards receives compensation. This compensation may impact how and where products appear on this site (including, for example, the order in which they appear). BestCards does not include all card companies or all card offers available in the marketplace.
Editorial Disclosure
close ×
Editorial Disclosure – The opinions expressed on BestCards' reviews, blogs, and all other content on or relating to the website are solely those of the content's author. They are not reflective of any card issuer or financial institution and have not been reviewed or approved by these entities unless otherwise noted. Further, BestCards lists credit card offers that are updated daily with information believed to be accurate to the best of our knowledge.
Green Dot Visa® Secured Credit Card
19.99%

Regular Purchase APR

19.99%

Cash Advance APR
At a Glance
The Green Dot Visa Secured Credit Card is a basic credit card intended for people who need to build credit or repair bad credit. This credit card doesn't require a credit check in order to get approved. Additionally, applicants can know exactly how much their credit limit will be before they apply. Keep reading to learn more about the features of this card.
Best Benefits
Rates & Fees
Why Should You Apply?
Ideal for establishing or building a strong credit history

Good credit or a bank account is not required to apply for a card

Enjoy the convenience of making security deposits at retail stores

Use your card everywhere Visa is accepted
Regular Purchase APR: 19.99%
Cash Advance APR: 19.99%
Cash Advance Transaction Fee: Either $5 or 5% of the amount of each transaction, whichever is greater
Annual Fee: $39
Foreign Transaction Fee: 3% of each transaction in U.S. dollars
Late Payment Penalty Fee: Up to $27
Return Payment Penalty Fee: Up to $27
Minimum Deposit Required: $200
You have no credit or bad credit

You need to build or rebuild your credit

You want a credit card with some security so as not to fall into debt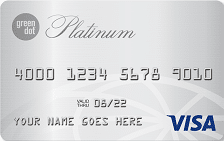 Green Dot Visa® Secured Credit Card Review
The Green Dot Secured Card is an ideal credit card for consumers who may not be able to qualify for other types of unsecured credit cards. Applicants don't need good credit to apply for this card, and they can set their own credit limits. However, there are certain strings attached to the benefits of this card. Review the sections below for a clearer picture of what this card offers.
No Credit, No Problem
Most credit cards require that you have a certain type of credit rating before getting approved. This is so the issuer can be assured that you will be able to pay off your credit card debt. If you are new to credit or have bad credit and are trying to pick yourself back up, this can present a big challenge.
Secured credit cards, however, provide a viable solution until you have established good credit history and can get approved for credit cards with bigger perks. You don't need any type of credit rating to open a Green Dot Secured account.
What's more, Green Dot doesn't perform a credit check when you apply for the card. Too many credit checks can affect your overall credit score. If you don't have the best credit, this can add insult to injury.
Related Article: What Are the Easiest Credit Cards for Bad Credit to Get?
Your Security Deposit = Your Credit Limit
Even though Green Dot doesn't require a credit check to approve you for the Visa Secured Card, it still needs some sort of assurance from you that you will be able to pay off any credit card balance s you accumulate. Because of this, cardholders are required to make a minimum security deposit when they get approved for a card.
Cardholders are required to provide at least $200 as a deposit in order to receive credit from Green Dot. The amount of money that you put down as your deposit becomes your credit line on this card. So, if you deposit $1,300, you will have a credit limit of $1,300. In the event that you cannot pay your credit card debt, Green Dot uses this deposit to cover any debt.
You can deposit a maximum of $5,000, which will give you the same amount of credit. Your deposit is refundable, and Green Dot will return it to you when you close your account and if you have no outstanding balance.
Avoid Paying Interest
The Green Dot Secured Card does charge a fixed APR on purchases and cash advances. You cannot transfer a balance from another credit card to this card, so keep that in mind if you are looking for a balance transfer card. Of course, Green Dot does offer a lower APR on two other cards: the Green Dot primor Gold and Green Dot primor Classic. Both of these options provide an excellent low-interest rate, plus a deposit that earns interest.
Cardholders can avoid having to pay interest on their charges if they pay their monthly credit card bills in full and on time. At the end of each billing cycle, cardholders have at least 25 days to pay their credit card bills. After this grace period, any remaining balance will accrue interest, which you will be responsible for paying in addition to the statement balance.
It's advisable to use this credit card almost like a debit card and not charge more than you can payback. Although your security deposit ensures that you won't fall into major debt, you still want to avoid having to pay more money than you have to.
Build Your Credit
You may wonder why you should get a secured credit card instead of just using a prepaid credit card or debit card. The thing to keep in mind is credit card issuers report your spending and repayment track record to the leading credit bureaus, which are in charge of determining your credit ratings. This is an aspect of secured cards that doesn't occur with prepaid cards or debit cards.
If you need to build your credit up, then a secured credit card, like the Green Dot credit card, is a better choice for you. You should note that building or repairing your credit takes time, though.
Additionally, make sure to pay your bills on time. Not only will you save having to pay interest, but the major credit bureaus will look favorably on this, which can lead to a better credit score and access to better credit cards in the future.
Should You Apply for the Green Dot Visa® Secured Credit Card?
As a basic secured credit card, the Green Dot Visa Card is a standard, but an effective, choice. The security deposit requirement ensures that you don't end up piling on debt if you can't make your payments. The fact that you don't need to undergo a credit check to get approved is definitely a plus, although this is a feature of most secured cards.
The APR is on the higher side for this type of credit card, however. Additionally, you have to pay an annual fee in order to use it. There are some secured credit cards that do not require any annual fees. While you can use your card to make all sorts of purchases, this may not be a good match for frequent travelers, as Green Dot charges a 3% foreign transaction fee.
Overall, this card may be a good fit for people who cannot qualify for a regular credit card and need to build their credit over time. If you already bank with Green Dot, this may seem more attractive to you than if you are not a member. Regardless, you can take advantage of the Green Dot Visa Secured Credit Card to provide you with a path towards building a strong credit foundation, a higher credit score, and responsible borrowing habits.
For more information on secured credit cards, visit our Comprehensive Secured Card Reference Page, featuring the best-secured card offers, detailed advice, and tips to help you build your credit history.
Browse Other Secured Cards:
Browse Other Green Dot Credit and Prepaid Cards: