Last updated on August 17th, 2023
Advertiser Disclosure
close ×
Advertiser Disclosure – BestCards is an independent, Florida-based credit card comparison platform. Many of the card offers that appear on this site are from companies from which BestCards receives compensation. This compensation may impact how and where products appear on this site (including, for example, the order in which they appear). BestCards does not include all card companies or all card offers available in the marketplace.
Editorial Disclosure
close ×
Editorial Disclosure – The opinions expressed on BestCards' reviews, blogs, and all other content on or relating to the website are solely those of the content's author. They are not reflective of any card issuer or financial institution and have not been reviewed or approved by these entities unless otherwise noted. Further, BestCards lists credit card offers that are updated daily with information believed to be accurate to the best of our knowledge.
First Latitude Platinum Mastercard® Secured Credit Card
24.49% (Variable)

Regular Purchase APR

29.49% (Variable)

Cash Advance APR
At a Glance
The First Latitude Platinum Mastercard is a secured credit card from Synovus Bank and First Progress. The card can help you build a positive credit history with financial responsibility and regular payments, all for a $25 annual fee.
Best Benefits
Rates & Fees
Why Should You Apply?
1% Cash Back Rewards on payments • Choose your own fully-refundable credit line - $100 to $2000 – based on your security deposit • Build your credit score.¹ Reports to all 3 credit bureaus • No minimum credit score required for approval! • ¹Cardholders who keep their balance low and pay their credit card bill on time every month typically do see an increase in their credit score. • *See Important Disclosures for complete offer details
Regular Purchase APR: 24.49% (Variable)
Cash Advance APR: 29.49% (Variable)
Cash Advance Transaction Fee: Either $10 or 3% of the amount of each cash advance, whichever is greater
Annual Fee: $25 for the first year, after that $35 annually
Foreign Transaction Fee: 3% of the transaction amount in U.S. dollars
Late Payment Penalty Fee: Up to $41
Return Payment Penalty Fee: Up to $30
Minimum Deposit Required: $100
You have little-to-no credit history and struggle to get approved for other credit cards

You want to establish a credit history or improve your credit score

You can submit a minimum of $100 for the security deposit

You don't intend to carry a balance from month-to-month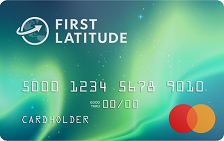 First Latitude Platinum Mastercard Secured Credit Card Review
The First Latitude Platinum Mastercard is a secured credit card designed for anyone who may have had credit issues in the past and who wants to rebuild credit while earning cash back rewards. The First latitude Platinum Mastercard is serviced by First Progress (itself an issuer of three secured cards) and Synovus Bank, First Progress' parent company.
Cash back rewards typically aren't found in credit cards for rebuilding or establishing a positive credit history. Fortunately, First Latitude is looking to reward cardholders as committed to building their credit as First Progress is, by offering 1% cash back rewards with the card.  While 1% back isn't industry-leading, very few secured credit cards provide rewards, making this offer tempting.
How Does a Secured Card Work?
You might think all credit cards act the same: you are given a line of credit, and you can make purchases off of that line, which you must repay. Yes, this is how all credit cards operate, but how that line of credit is opened differs dramatically based on card type.
Secured credit cards, like the First Latitude Platinum Mastercard, require collateral to "secure" the loan. This collateral takes the form of a cash deposit. The amount you deposit equals the credit line, which in turn acts like any other credit card would, by making purchases and then paying those purchases off by the due date (plus interest, if applicable), thus replenishing the credit line. Should you close your account, you receive your security deposit back (minus any outstanding charges or fees).
Because these card types require a deposit, they often come without needing a credit check. This means that when you apply for a secured credit card, there is no hard inquiry on your credit report.
Like other secured credit cards, the First Latitude Platinum Mastercard requires a refundable deposit to open. The card has a refundable credit limit of between $100 and $2,000. Your deposit must be from $100 to a $2,000 maximum – you decide how much to deposit. If your application is approved, your credit limit will equal your deposit amount (less the $25 annual fee for year one. Once paid, your credit limit will match your deposit amount).
A $100 credit line may sound meager. Still, for someone with limited resources, it can be a lifeline that can help them build credit towards renting an apartment, getting a loan, or another financial event. Many secured cards feature a minimum deposit of $200, making the $100 minimum with First Latitude much more accommodating.  
Because First Latitude prefers cardholders have a bank account to make monthly payments, using your primary checking account might be a good idea with the card. This can streamline the credit-building process with the addition of autopay.
Here is how the First Latitude Mastercard stacks up with two rival secured cards:
How to Build Credit with First Latitude
The easiest way to build credit with a secured card is by making small purchases and paying them off before the statement due date. Payment history is the most critical factor in a person's credit score, followed closely by credit use – or credit utilization.
Credit utilization refers to how much of your available credit you are using. Say you get the First Latitude Card, for example, and make a $100 deposit; A $30 purchase would amount to 30% of your total credit use.
Lenders prefer borrowers to use 30% of their credit or less, as it shows that your finances aren't stretched. Because of this, it is crucial to keep your credit use low – even with a secured card with a small deposit. Don't worry – you can still use your card as usual, ensure you consistently make payments to refresh the credit limit – and make sure your credit use is never more than 30% overnight – just in the off chance the lender might report your credit file that evening.
These basic steps can help you build credit quickly with First Latitude. The card reports all usage and payment activity to all three national credit bureaus every month (Experian, Equifax, and TransUnion), meaning as few as six months with the card can yield impressive results.
Despite what you might think, secured cards don't feature extremely high-interest rates. The deposit requirement of secured cards makes them less risky to lenders, meaning cardholders can expect a decent, fixed APR.
The First Latitude Platinum has an annual fee of $25 for the first year. After that, the annual fee for the card is $35, which is on-par for cards of this type. The card also requires a one-time program fee of $19.95, payable when applying.
The First Latitude Platinum Secured is a full-feature Mastercard credit card. This means cardholders can expect the following basic Mastercard protections:
| | | |
| --- | --- | --- |
| Zero Liability Protection | Mastercard Global Services | ID Theft Protection |
First Latitude Card Ratings
How does the First Latitude Secured Card stack up? Here is a selection of expert reviews for the card:
FAQs About First Latitude
Here you will find commonly asked questions about the First Latitude Platinum Secured Mastercard, as well as the answers:
Should You Apply for the First Latitude Platinum Mastercard® Secured Credit Card?
Overall, the First Latitude Platinum Secured Mastercard hits many of the right notes while avoiding some of the missteps with other similarly marketed credit cards. The annual fee with the card is modest, the minimum-security deposit is lower than with most other cards, and the everyday APR is highly competitive.
Some applicants might seek rewards card options, with the Surge Platinum Secured Mastercard a good choice in that area. While earning rewards and enjoying the exact APR as First Latitude might sound appealing, the Surge also features an annual fee of $69 – considerably higher than First Latitude.
Browse Other Card Offers: