Last updated on September 18th, 2023
Advertiser Disclosure
close ×
Advertiser Disclosure – BestCards is an independent, Florida-based credit card comparison platform. Many of the card offers that appear on this site are from companies from which BestCards receives compensation. This compensation may impact how and where products appear on this site (including, for example, the order in which they appear). BestCards does not include all card companies or all card offers available in the marketplace.
Editorial Disclosure
close ×
Editorial Disclosure – The opinions expressed on BestCards' reviews, blogs, and all other content on or relating to the website are solely those of the content's author. They are not reflective of any card issuer or financial institution and have not been reviewed or approved by these entities unless otherwise noted. Further, BestCards lists credit card offers that are updated daily with information believed to be accurate to the best of our knowledge.
Blaze Mastercard® Credit Card
See Terms*

Regular Purchase APR

See Terms*

Cash Advance APR
At a Glance
The Blaze Mastercard is an unsecured credit builder card from First Savings Bank. The card features a fixed-rate APR on purchases and cash advances, reasonable credit lines (with the chance at increases), and a $75 annual fee.
Best Benefits
Rates & Fees
Why Should You Apply?
No hidden fees

No security deposit required

Convenient and easy to use

Build credit with on-time payments

*See Pricing & Terms details on the Blaze secure website
Regular Purchase APR: See Terms*
Cash Advance APR: See Terms*
Cash Advance Transaction Fee: See Terms*
Annual Fee: See Terms*
Late Payment Penalty Fee: See Terms*
Return Payment Penalty Fee: See Terms*
You don't want to pay a security deposit

You have poor credit and want a fresh start

You plan to repay your statement balance in full each month

You're serious about repairing your credit score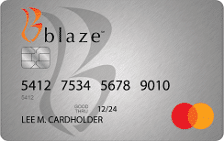 Blaze Mastercard Review
The Blaze Mastercard is a basic, unsecured credit card designed for people looking to establish a good credit history. The card, from First Savings Bank in South Dakota, offers a reliable route to better credit through on-time payments and responsible use.
Fixed-Rate APR
Credit cards for people with bad credit scores greatly interest transactions like purchases and cash advances. In this regard, the Blaze Mastercard is no different.
The card features a fixed APR of 30%, which is at the higher end of the range for these types of cards. Fortunately, however, that APR is fixed, meaning users won't have to worry about fluctuations due to Fed rate cuts or an unstable economy.
It is also critical to note that while cards, like the Blaze Card, have high interest rates, they are not designed for carrying a balance. These cards are for building credit, which means paying on-time and paying your balance in full (where possible). If you subscribe to this game plan, the APR with cards like the Blaze Mastercard is nothing to worry about.
Credit Limits
Credit limits with the Blaze Card vary, depending on the creditworthiness of the applicant. Limits start from at least $350 but may rise to $1,500. As with other credit rebuilding credit cards, Blaze cardholders that pay on-time and demonstrate financial responsibility may be subject to credit limit increases over-time.
Blaze Mastercard Fees
Like other bad credit credit cards, the Blaze comes with an annual fee. While the $75 annual fee may sound off-putting, it is lower than some other cards on the market – especially catalog cards. Plus, there are no hidden fees with the Blaze Mastercard.
The Blaze Mastercard has no application fees, no account set-up fees, no monthly maintenance fees, or other hidden charges that come with some credit building cards. The card's only additional costs are late payment or returned payment fees, plus fees for adding an authorized user or conducting a cash advance. These charges, however, are standard with most credit cards – regardless of credit score.
PREMIUM Club Membership
Part of the Blaze Mastercard experience is enrollment in the PREMIUM Club. This club offers cardholders discounts on a variety of goods and services, including:
Prescriptions
Dining
Hotels
Car Rentals
Entertainment
The cost of a PREMIUM Club membership is $4.95 and is viewable on Blaze Mastercard billing statements. If a new account wants to opt-out of the membership, they can request cancellation at any time by telephone at 877-827-5828 or writing The PREMIUM Club at PO Box 84634, Sioux Falls, SD 57118-4634.
Should You Apply for the Blaze Mastercard?  
The Blaze Mastercard is one of many credit rebuilding card offers on the market today. While the Blaze Mastercard doesn't stand out amongst the competition, that's not necessarily a bad thing.
Bad credit credit cards are not about flash and gimmicks – they are about building credit. Here, the Blaze performs competently.
The Blaze Card features a fixed-rate APR, few fees, and a yearly charge that isn't excessive. Sure, there are plenty of cards without an annual fee, but for people with bad credit, they might struggle to find offers they can get approved for at first.
That's where the Blaze steps in. The Blaze Mastercard provides a great first step on the road to financial growth and recovery. It might not be a long-term credit option, but it is a decent starting point – and one you should consider carefully.
Browse Other Card Offers: