Spirit Airlines is an ultra low-cost U.S. carrier known for its "bare fares." The airline specializes in extremely low fares and no-frills flights to over 75 destinations across North, South, and Central America, as well as the Caribbean. The airline's new loyalty program, Free Spirit, offers perks and provides value for frequent Spirit passengers. Here is everything you need to know in BestCards' Ultimate Guide to the Free Spirit frequent flyer program.
What Is Free Spirit?
Spirit Airlines is the eighth-largest carrier in the United States and flies to 77 destinations in the U.S., Mexico, Central and South America, and the Caribbean.
Like other frequent flyer programs, Free Spirit is free to join, with the airline offering an easy signup process on its website. While Free Spirit isn't as luxurious or robust as other loyalty programs, those who prefer to fly with the low-cost carrier – especially those flying to Spirit's international destinations – will still find significant value with the program.
How Much Are Free Spirit Miles Worth?
How to Earn Free Spirit Miles
Earning Miles with Spirit Airlines Flights
Unlike other carriers that base miles on fares, Spirit bases Free Spirit miles on the number of physical miles flown. The loyalty program has three distinct tiers, two of which earn 100% of the total miles flown:
Somebody
50% of miles flown
Earn Miles with Credit Cards
Spirit Airlines currently offers only one co-branded credit card, the Spirit Airlines World Mastercard. Issued by Bank of America, the airline card earns 2X miles for every dollar spent – making it one of the easiest ways to amass a haul of Free Spirit frequent flyer miles quickly. The card also comes with a 5,000 bonus miles anniversary gift, after the account holder spends at least $10,000 on purchases within the calendar year.
Current Free Spirit Credit Cards
Earn Miles with Spirit Airlines Partners
Free Spirit members can also earn miles by spending money with select Spirit partners. Spirit offers a wide range of partner brands and companies, including:
Spirit Cruises
Free Spirit Dining
Free Spirit Online Mall
Choice Hotels
Avis Car Rental
Budget Rental Cars
Dollar Car Rental
Hertz
Payless Car Rental
Thrifty Car Rental
Ticket Club
Mags for Miles
Miles for Thoughts
PointsHound
Vinesse Wine Club
The best value with Spirit partners comes from the in-house airline companies. These include Spirit Cruises, which offers up to 10,000 miles when booking cruises. Spirit Dining, the airline's in-house dining rewards program, offers a 1,000 miles bonus when signing up and using the service within 30 days.
Booking with Choice Hotels provides excellent value, as well – especially for those who frequently travel and want to keep their frequent flyer miles active. Free Spirit members can earn 250 miles per day when staying at eligible Choice properties.
Related Article: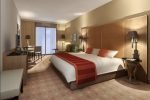 View our Ultimate Guide to the Choice Privileges Rewards Program to learn about all the perks and points that you can earn as a member!
Read Guide»
However, Free Spirit miles expire after three months of account inactivity.
Fortunately, there are several ways to keep a Free Spirit account active:
Earn at least one mile every three months
Use one of Spirit's partner services via the airline's website at least once every three months
Make at least one transaction with the Spirit Airlines World Mastercard each month
How to Redeem Miles with Spirit
Redeeming Free Spirit miles for award flights is somewhat tricky. This difficulty stems from the various ways reward flights break down in the program.
Types of Award Flight
Spirit Airlines offers four types of mileage on award flights:
Off-Peak Flights: Only available when booking award flights with the Spirit Airlines World Mastercard
Standard Flights: The primary tier of award flights. These flights are only available on certain days of the week and at select points in the year.
Peak Flights: Offers more availability than Standard fares, but still subject to blackout dates.
Premium Flights: The most expensive mileage tier offering the best award flight options.
Award Flight Regions
After determining the award tier, the Spirit award chart breaks down into four regions:
Region 1: 0 – 1,249 miles
Region 2: 1,250 – 1,749 miles
Region 3: 1,700 – 2,499 miles
Region 4: 2,500+ miles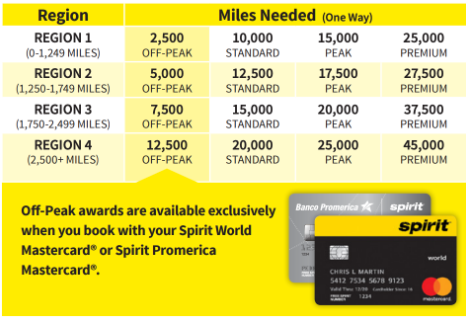 Free Spirit Elite Membership Tiers
The Free Spirit program has three tiers of membership:
Somebody
Somebody is the entry-level tier in the Free Spirit program. Joining the program entitles members to this basic tier, which provides 50% miles earned per miles flown.
Elite
The next tier in the program is Elite. Reaching Elite level requires:
Earning at least 12,000 miles within the last six months
Spending at least $1,200 on base fares within the last six months
Being a Spirit Airlines World Mastercard credit cardholder
Free Spirit Elite members earn 100% of their miles flown – double that of Somebody tier. Elite tier members also enjoy priority boarding before Somebody tier and non-member passengers.
VIP
The highest tier in the Free Spirit program is VIP. Reaching VIP with Spirit requires either:
Earning at least 24,000 miles within the last six months
Spending at least $2,400 on base fares within the last six months
While VIP status members earn 100% of their miles flown and enjoy first access when boarding Spirit flights, other aspects of the program are less noticeable. Typically, VIP members can expect the same treatment as Elite members, but with a more hands-on customer service feel.
Browse Our Ultimate Airline Alliance Guides
Browse Our Frequent Flyer Program Guides
Featured photo by cc by-nc-sa 2.0 / Creative Commons