by Cory Santos | Last updated on October 4th, 2023
Journey Student Rewards from Capital One
29.99% variable based on the Prime Rate

Regular Purchase APR

29.99% variable based on the Prime Rate

Balance Transfer APR

29.99% variable based on the Prime Rate

Cash Advance APR
At a Glance
The Journey Student Rewards from Capital One card is a student credit card that offers individuals with average credit a straightforward 1% cash back on all purchases. Where the card stands out, though, is its ability to increase your cash back to 1.25% each month that you pay it off on time. With this card, it literally pays to be responsible.
Best Benefits
Rates & Fees
Why Should You Apply?
Earn 1% cash back on all your purchases. Pay on time to boost your cash back to a total of 1.25% for that month

Earn unlimited 5% cash back on hotels and rental cars booked through Capital One Travel, where you'll get Capital One's best prices on thousands of trip options. Terms apply

Enjoy no annual fee and no foreign transaction fees

You can help build your credit with responsible use of a card like this

Set up Autopay for your account and your payments will be made automatically every month

Pick the monthly due date that works best for you

Be automatically considered for a higher credit line in as little as 6 months

$0 fraud liability if your card is ever lost or stole
Regular Purchase APR: 29.99% variable based on the Prime Rate
Balance Transfer APR: 29.99% variable based on the Prime Rate
Balance Transfer Transaction Fee: 3% of the amount of each transferred balance that posts to your account at a promotional APR that we may offer you. None for balances transferred at the Transfer APR.
Cash Advance APR: 29.99% variable based on the Prime Rate
Cash Advance Transaction Fee: 3% of the amount of the cash advance, but not less than $3
Late Payment Penalty Fee: Up to $40
You have average credit (requires an existing credit history)

You want to increase your credit score (even if you aren't a student)

You want access to free credit monitoring tools

You plan on spending a semester abroad

You can pay pay your balance in full each month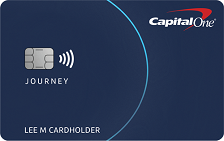 Journey Student Rewards from Capital One Review
Unlimited cash back rewards can by hard to come by if you have anything less than stellar credit, but the Journey Student Rewards from Capital One helps bridge that gap. It is one of the few student cards that offers up to 1.25% cash back on all purchases and has built-in credit improving features that automatically provide eligibility for an increased credit line. This card has no annual fee or foreign transaction fee, making it perfect for students with limited income or who plan on studying abroad.
However, these bells and whistles could end up costing you, as carrying a monthly balance could result in substantial interest fees due to a high purchase APR. Although this product is marketed towards students, this is a card that should not be considered by anyone who cannot bay their balance in full each and every month.
Misconceptions about the Journey Student Rewards from Capital One
First off, don't let the name fool you. The Journey Student Rewards from Capital One credit card is available to anyone looking to increase their credit score, not just students.
Secondly, whereas most other student cards expect their applicants to have a limited or nonexistent credit history, Capital One's student card requires 'Average' credit, meaning at least 3 years of either having a card in your name or having been an authorized user. This isn't uncommon to see in credit cards with rewards so if you have absolutely zero credit history to your name, you may need to look for a student card with fewer frills.
Earning & Redeeming Rewards
One of the features that makes this card so attractive is that every purchase will earn at least 1% cash back with (no cap on earnings). And with this card, it literally pays to be responsible as your cash back earning rate can be boosted to 1.25% each month after making your monthly payment on time. The boosted rate will retroactively apply to all of your month's purchases.
Captial One, as a whole, has one of the most flexible and user-friendly earning redemption methods of major card issuers – a huge plus for first-time owners of a rewards card. Redeem your earnings for cash back via statement credit or check (you can also set automatic redemptions when your earnings reach a specific amount), use them directly on a previous purchase (no need to worry about it increasing your card balance), or for gift cards.
Credit Building Card Perks
On-time payments could also pay off by qualifying you for a higher credit line – which would give any credit beginner (or a recovering score) a much-needed boost. The main benefit of an increased credit line is that it can lower your credit utilization ratio as long as your spending stays the same.
Knowing where your credit score stands at all times is important, and certainly more so to people trying to build up their credit score with the Journey Student Rewards from Capital One credit card. As such, the free tools available via CreditWise from Capital One® are invaluable as they grant unlimited access to your score so you can remain vigilant and proactive about your spending habits.
Should You Apply for the Journey Student Rewards from Capital One?
If you don't have any credit history to speak of, you'll probably be better off springing for a student card that either allows for a cosigner or has more lenient application requirements. Sadly, this may mean sacrificing cash back and other rewards.
Another reason to take caution with this card is that the purchase APR is particularly high (for both student cards and rewards cards) making it a risky endeavor for any student that has limited or irregular income and may not be able to pay a balance in full .
Overall, this is a solid option for any individual looking to improve their credit while earning modest rewards. There's no annual fee (which is expected of any card branded for students) but the rewards structure and credit building tools are not unique to Capital One and there are several other student cards that offer similar benefits.
The main reason to choose this card over its peers would be for the ease of cash back redemption options and to build credit history with the issuer of some of the most popular credit cards.
Browse Other Capital One Credit Card Offers:
Editorial Disclosure – The opinions expressed on BestCards.com's reviews, articles, and all other content on or relating to the website are solely those of the content's author(s). These opinions do not reflect those of any card issuer or financial institution, and editorial content on our site has not been reviewed or approved by these entities unless noted otherwise. Further, BestCards.com lists credit card offers that are frequently updated with information believed to be accurate to the best of our team's knowledge. However, please review the information provided directly by the credit card issuer or related financial institution for full details.