Last updated on April 7th, 2023
Advertiser Disclosure
close ×
Advertiser Disclosure – BestCards is an independent, Florida-based credit card comparison platform. Many of the card offers that appear on this site are from companies from which BestCards receives compensation. This compensation may impact how and where products appear on this site (including, for example, the order in which they appear). BestCards does not include all card companies or all card offers available in the marketplace.
Editorial Disclosure
close ×
Editorial Disclosure – The opinions expressed on BestCards' reviews, blogs, and all other content on or relating to the website are solely those of the content's author. They are not reflective of any card issuer or financial institution and have not been reviewed or approved by these entities unless otherwise noted. Further, BestCards lists credit card offers that are updated daily with information believed to be accurate to the best of our knowledge.
Fortiva® Mastercard® Credit Card with Cashback Rewards
*See Terms

Regular Purchase APR

*See Terms

Balance Transfer APR

*See Terms

Cash Advance APR
At a Glance
Earning up to 3% cash back while building credit is an enticing possibility with The Fortiva® Mastercard® Credit Card with Cashback Rewards. The card, from the Bank of Missouri, earns unlimited 3% cash back on gas, grocery, and utility purchases and 1% back on all other eligible purchases made with the card.
Best Benefits
Rates & Fees
Why Should You Apply?
Earn a 3% Cash Back Reward on Gas, Groceries and Utilities‡

Earn a 1% Cash Back Reward on all other eligible purchases‡

Up to $1,000 credit limit subject to credit approval*

Pre-qualify without affecting your credit score

No security deposit

Good anywhere Mastercard® is accepted

Free access to your credit score †

$0 fraud liability**

*Pre-qualified means that information in your credit report indicated that you met certain pre-established credit criteria. Final approval is not guaranteed if you do not meet all applicable criteria (including adequate proof of ability to repay). Income verification through access to your bank account information may be required.

† Your credit score will be available in your online account 60 days after your account is opened. (Registration required) The free VantageScore 4.0 credit score - provided by TransUnion® is for educational purposes only and may not be used by The Bank of Missouri (the issuer of this card) or other creditors to make credit decisions.

‡You will earn a 3% cash back reward on eligible gas, grocery, and utility purchases/payments and you will earn a 1% cash back reward on all other eligible purchases, which are for goods and services minus returns and other credits. Rewards will be earned when the transaction posts to your account and will remain as long as the purchase is not returned. Purchases do not include fees or interest charges, balance transfers, cash advances, or purchases of other cash equivalents. Rewards are not earned for pending transactions

**Fraud liability subject to Mastercard® rules
Regular Purchase APR: *See Terms
Balance Transfer APR: *See Terms
Balance Transfer Transaction Fee: 3% of the amount of each transfer
Cash Advance APR: *See Terms
Cash Advance Transaction Fee: Either $5 or 5% of the amount of each cash advance, whichever isgreater
Annual Fee: As low as $85
Foreign Transaction Fee: 3% of each transaction amount in U.S. dollars
Late Payment Penalty Fee: Up to $40
Return Payment Penalty Fee: Up to $40
You want to build credit while spending on monthly utilities and purchases

You plan to pay your balance in full each month

You want $0 fraud liability protectio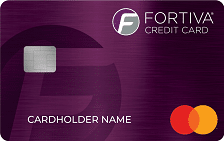 Fortiva® Mastercard® Credit Card with Cashback Rewards Review
Pre-Qualify with No Impact on Your Credit Score
Many banks offer credit card pre-qualification. When applying for a credit card, the issuer will inspect your credit report and put a small ding on your credit score. This "small ding" is a hard inquiry on your credit report, meaning the bank has pulled your full credit report to check your suitability for the credit card.
Credit card issuers use pre-qualified or pre-approved offers to target applicants based on credit score, borrowing history, and other easily obtainable personal information. Typically, your approval odds with pre-approved offers are good if you receive an offer and your credit profile has changed recently.
Fortiva offers a simple pre-qualification process requiring basic personal information such as name, address, housing situation, monthly bills, employment status, and annual income.
Earn Up to 3% Cash Back on Purchases
A new feature of the Fortiva Mastercard is cash back. The Fortiva® Mastercard® Credit Card with Cashback Rewards earns an impressive (up to) 3% cash back on select purchases – a rewards rate on par with many excellent cash back cards for applicants with good or excellent credit scores.
Fortiva cardholders earn the following rewards with their credit card:
Earn 3% Cashback reward on Gas, Groceries, and Utility Payments
Earn 1% Cashback rewards on all other eligible Purchases
There are no limits to the total amount of rewards earnable in the 3% bonus category – which is a great feature for those who plan to place some of their utilities on the credit card. Rewards are automatically applied to the cardholder's account and applied as statement credits.
The lack of other redemption options may sound frustrating. Still, the Fortiva card isn't about lavish travel funded by countless grocery trips – it's about building credit, paying your balance on time, and keeping credit utilization low. The cash back rewards structure with the Fortiva Cashback does just that – and does it well.
Be Careful About Balances
The rewards structure with the Fortiva® Mastercard® Credit Card with Cashback Rewards is an excellent addition mainly because of a pitfall commonly seen in credit cards like Fortiva: higher than average interest rates.
Having an APR that's more than double the national average, this card could significantly add to the fees without careful use. These rates are also mirrored in the balance transfer and cash advance APR – which should not be undertaken lightly.
Up to $1,000 Starting Credit Limit
The Fortiva credit card comes with generous starting credit limits (subject to credit approval and offer). Fortiva credit limits vary from $350 to $1,000, to begin with, with each offer featuring an annual fee of between $29 and $49. These annual fees apply for year two, with your first year's annual fee being as high as $175.
Beyond the starting credit limits, Fortiva conducts periodic account reviews for credit limit increases. You may qualify for a higher credit limit with on-time payments and responsible credit use.
Other fees associated with the Fortiva credit card include an account maintenance fee (charged after the first year, billed monthly, and varying between $7.25 to $12.50 per month), fees for cash advances, balance transfers, and foreign transactions. These latter fees are common with credit cards of all varieties – and not just credit builder cards.
Other notable features of the Fortiva® Mastercard® Credit Card with Cashback Rewards include:
Free VantageScore 3.0 (provided by Equifax)
Reports to all three major credit bureaus
Mobile app available in Apple Store and Google Play
Fortiva cardholders also enjoy Mastercard Platinum features, including:
| | | |
| --- | --- | --- |
| Zero Liability Protection | Mastercard Global Services | ID Theft Protection |
Should You Apply for the Fortiva® Mastercard® Credit Card with Cashback Rewards?
While rebuilding credit can be challenging, it doesn't have to be unrewarding. The Fortiva® Mastercard® Credit Card with Cashback Rewards supercharges its rewards program, offering up to 3% back, whereas others cap rewards at 1%.
Those 3% back categories (gas, groceries, and utilities) provide exceptional value for cardholders. Even better, there is no cap on the total amount of awards earnable.
The big drawbacks with the Fortiva Card are the fees and the APR, both of which the cash back rewards program addresses (to an extent). Earning rewards to offset your balance is a great way to recoup some costs while building your credit with Fortiva.
Overall, the Fortiva® Mastercard® Credit Card with Cashback Rewards is a decent cash back rewards credit card for those looking to establish a positive credit history, want a card with pre-qualification, and a simple, fast application process, and spend regularly on utilities, groceries, and gas.