Last updated on July 18th, 2023
Advertiser Disclosure
close ×
Advertiser Disclosure – BestCards is an independent, Florida-based credit card comparison platform. Many of the card offers that appear on this site are from companies from which BestCards receives compensation. This compensation may impact how and where products appear on this site (including, for example, the order in which they appear). BestCards does not include all card companies or all card offers available in the marketplace.
Editorial Disclosure
close ×
Editorial Disclosure – The opinions expressed on BestCards' reviews, blogs, and all other content on or relating to the website are solely those of the content's author. They are not reflective of any card issuer or financial institution and have not been reviewed or approved by these entities unless otherwise noted. Further, BestCards lists credit card offers that are updated daily with information believed to be accurate to the best of our knowledge.
14.24% to 24.24% variable based on creditworthiness and the Prime Rate

Regular Purchase APR

14.24% to 24.24% variable based on creditworthiness and the Prime Rate

Balance Transfer APR

26.24% variable based on the Prime Rate

Cash Advance APR
Best Benefits
Rates & Fees
Why Should You Apply?
Earn 2,500 points and $50 Fandango promo code after spending $500 within the first 90 days

3X points on entertainment

2X points on dining & gas

1X points on everything else

Customizable card design

No annual fee

10% off purchases at shopdcentertainment.com

10% off purchases at shopdcentertainment.com

20% off WB Studio Tour Hollywood and merchandise
Regular Purchase APR: 14.24% to 24.24% variable based on creditworthiness and the Prime Rate
Intro Balance Transfer APR: 0% for 12 months on transfers made within 60 days from account opening date
Balance Transfer APR: 14.24% to 24.24% variable based on creditworthiness and the Prime Rate
Balance Transfer Transaction Fee: $15 or 3% of the amount of each balance transfer, whichever is greater
Cash Advance APR: 26.24% variable based on the Prime Rate
Cash Advance Transaction Fee: $15 or 3% of the amount of each cash advance, whichever is greater
Foreign Transaction Fee: 2% of the transaction amount in U.S. dollars
Late Payment Penalty Fee: Up to $38
Return Payment Penalty Fee: Up to $38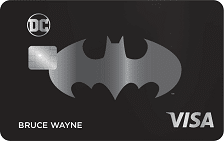 At a Glance
The DC Power Visa® Card is an exciting new retail card that celebrates comic lovers. It includes rewards on movie theaters, entertainment subscription services, and DC merchandise, as well as dining and gas. Redeem points for once-in-a-lifetime experiences like being drawn into a DC comic or for tickets to a DC movie premiere. Customize the card face with your favorite superhero and enjoy no annual fee.
Ideal for Those Who:
Frequent movie theaters and want rewards for tickets and concessions
Subscribe to multiple digital entertainment services
Subscribe to The DC Universe streaming subscription service
Collect Pop! figurines
DC Power Visa Review
Put the power of the DC Universe in your pocket with the DC Power Visa®. UMB Bank and DC have teamed up to bring comic book lovers a card that matches with all things super. Earn points on entertainment, dining, and gas. Also, enjoy exclusive discounts on the DC digital subscription service as well as DC merchandise. Other exclusive cardholder benefits include 10% off DC Universe annual subscription and purchases at shopdcentertainment.com. 
Plus, get 20% off WB Studio Tour Hollywood and merchandise – the ultimate heroes reward! There are multiple stunning card designs to choose from, and cardholders will only find themselves with both an introductory offer and a signup bonus. This DC Visa card features no annual fee and an average purchase APR for a retail credit card. These tend to be higher than average so carrying a balance from month to month is strongly advised against.
Signup Bonuses & Introductory Offers
New cardholders will receive a signup bonus of a $50 Fandango credit. All they need to do is spend $500 within the first 90 days of opening an account. A Fandango credit isn't as versatile as cash, but the spending requirement isn't something you should have to go out of your way to achieve. It's also very doable (think of it as a free trip to the movies just for paying your bills). Note, however, that it may take up to 45 days for your bonus to arrive.
Surprisingly, the DC Visa has an introductory 0% APR for balance transfers for a year. However, to qualify for this special rate all balance transfers must be made with 60 days from the account opening. After this window has passed, the regular balance transfer APR will apply.
Choose Your Perfect Superhero Credit Card Design
The DC Power Visa's most enticing feature is easily the card itself. Featuring iconic imagery of fan-favorite DC characters, cardholders can customize their card and choose between seven stunning designs. Among those included are Batman, Superman, Wonder Woman, Harley Quinn, the Green Lantern, the Flash, the Justice League, and a limited edition 80th anniversary Batman card face.
Exclusive DC Perks & Discounts
10% Off DC Universe Subscription – This offer is only valid on an annual subscription payment and when using your DC Power Visa Card as payment. This discount will be applied in the form of a statement credit. This offer cannot be combined with any other offers for a DC Universe subscription. 
10% Off Orders on ShopDCEntertainment.com – This discount on DC merchandise only applies to full-priced items. It excludes gift wrap/boxes, gift cards, media (physical items such as DVDs and CDs), video games and video game accessories, as well as Sideshow Collectibles. This discount cannot be applied to the cost of shipping or handling, either. To use this promo code, enter the first six digits of your DC card into the promo field at checkout. 
20% Off Warner Bros Studio Tour Hollywood & Merchandise – This offer is good for the cardholder and up to 7 guests (cardholder must be present) and includes the following tours: Standard Studio Tour, Deluxe Tour, and Classics Tour. Any retail or food purchases made in the WB Studio Store are also eligible for the 20% discount (excluding Starbucks). However, this discount is not applied automatically (even when paying with your DC card). In addition, cardholders will have to request a 20% discount.
Earning Reward Points with the DC Credit Card
When it comes to rewards for your everyday spending, the DC credit card will fuel your fandom. The card features a fitting 3X bonus category on all qualifying entertainment purchases. While their entertainment bonus category isn't as comprehensive as the Savor® Rewards from Capital One®, it offers a great value for those whose primary forms of entertainment are centered around watching TV and movies.
Motion Picture Theaters (MCC Code 7832)
Cable and other Television Services (MCC Code 4899)
Digital Goods: Media, Books, Movies, Music (MCC Code 5815)
Additionally, the DC credit card offers 2X points on purchases on restaurants (includes fast food) and gas – perfect if most of your free time revolves around dinner and a DC movie. Points expire 3 years from the date that they were earned.

Redeeming DC Power Rewards
Wondering what you can do with your earnings? Points can be redeemed for exclusive DC-related rewards through the UltimateHero Rewards portal. Use your points for merchandise, movie theaters (includes concessions), travel, theme parks, a statement credit, or even towards your Ultimate DC subscription. Each point has an average value of 1 cent (unless redeemed for cash value in which they are worth about $0.008).
 If you're not already convinced why the DC Power Visa would be your new favorite card, points can also be redeemed towards one-of-kind DC experiences aptly named "Money Can't Buy". While they'll require a considerable number of points, hardcore DC fans can redeem their points for incredible rewards such as:
Tickets to advanced screenings (2 tickets)
Tickets to movie premiers (2 tickets)
Getting drawn into DC Comic Art
Private WB Studio Tour
Ultimate 'DC Day' Experience
McFarlane Batman 100 B&W Lithograph
Should You Apply for the DC Power Visa?
Overall, there's a lot to love about the DC credit card whether you're a fan of DC or not. It's an extremely strong retail card that aims to reward its fan-base with perks and bonus categories rooted in entertainment. In the pursuit, they do so quite well. And the card remains practical by awarding bonus points for dining and gas. 
Keeping in mind that this card has no annual fee, DC fans will get their money's worth from owning this card from the everyday dining and gas categories alone.
While the bonus categories barely hold this card back from primary card status, the one-of-a-kind DC perks in the 'Money Can't Buy' category serve as a compelling reason to keep this card at the forefront of your wallet.
Keep in mind, however, that the card isn't like many other retail cards. By that's we mean it isn't for fair credit scores. Instead, it is aimed at those with an excellent or good credit score.
Browse Other UMB Bank Card Offers: