by Cory Santos | Last updated on September 11th, 2023
15.74% to 26.74% variable based on creditworthiness and the Prime Rate

Regular Purchase APR
At a Glance
You don't need to need to be a die-hard fan to fall in love with the intelligently designed Apple Card. Designed for digital use in conjunction with Apple Pay (spoiler: an iPhone is required), this card boasts no annual fee – or any fees for that matter – up to 3% cash back for Apple and other popular retailers, automatic cash back rewards, a gorgeous interface for monitoring your spending, and innovative security features to make credit card theft a worry of the past.
Best Benefits
Rates & Fees
Why Should You Apply?
No annual fee

Earn cash back with every purchase

No hidden fees

Get a detailed breakdown of your spending from your iPhone
Regular Purchase APR: 15.74% to 26.74% variable based on creditworthiness and the Prime Rate
You own an iPhone (or are planning to buy one)

You're loyal to the Apple ecosystem

You frequently use your mobile device for making purchases (a.k.a. your digital wallet)

You do't want to worry about carrying your wallet everywhere you go to make purchases

You do't want the hassle of deciding how to redeem rewards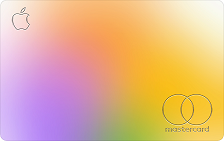 Launched August 2019 in conjunction with Goldman Sachs, the Apple Card has set out to be "different kind of credit card." It offers instant cash back (referred to as 'Daily Cash') from bonuses in atypical reward categories:
3% cash back at Apple and other specific retailers
2% cash back when using Apple Pay
1% cash back anywhere else
While it might not be as groundbreaking as the hype may lead you to believe, it has plenty of practical user-friendly features that were designed with Apple's trademark minimalist elegance (and it doesn't hurt that there's no annual fee). For a card with perks of its caliber, the Apple Card is surprisingly accessible with plenty of reports of applicants with Fair credit scores in the mid-600s being approved.
Not Just for Apple Fanatics
You actually don't need to be deep into the Apple ecosystem to make this card worth your while (although you will need an iPhone in order to take advantage of the card's mobile-based features, sorry Android users) – simply having an iPhone is enough of an 'in' to make the Apple Card worth it.
If you can't remember the last time you physically swiped your credit cards – you'll find it incredibly easy to make use of this card thanks to the emphasis on digital wallets. Plus, the lack of fees, and straight-forward bonus categories, and automatic cash back make it an extremely easy credit card to fit into your current credit card lineup regardless of which rewards cards you already own.
Earning Cash Back with Apple Card Bonus Categories
Apple has a standard 3/2/1 cash back bonus structure which earns an unlimited 3% cash back on purchases, 2% on purchases made through Apple Pay, and 1% on all other purchases.
Initially, Apple only offered 3% cash back for purchases of Apple products and other related purchases, but since their launch they have expanded what will qualify for the top 3% cash back bonus category and have since added new retailers. The full list of purchases that will earn 3% cash back with the Apple Card are:
Rewards
Category/Merchant
3% cash back
Apple stores (including Apple.com), Apple subscription services, iTunes, the App Store, and in-app purchases
T-Mobile (in-store via Apple Pay)
Panera (via Apple Pay)
Nike (in-store US, on the Nike app, or Nike.com via Apple Pay)
ExxonMobil gas stations (via Apple Pay)
Walgreens and Duane Reade (via Apple Pay)
Ace Hardware (in-store, on the Ace Hardware app, or AceHardware.com via Apple Pay)
Uber and Uber Eats (via Apple Pay)
2% cash back
All other purchases made using Apple Pay
1% cash back
All other purchases made with the physical Apple Card
The most common way that the majority of Apple cardholders will be earning rewards will probably (and should be) the use of Apple Pay – Apple's digital wallet. It is this requirement that restricts the card to only being eligible for iPhone users. This bonus category may be modest, but for the modern mobile-based shopper, this will likely prove to be a highly lucrative ___. Not only does Apple reward users for utilizing the ultra-convenience of mobile wallets, but the 2% cash back rate makes it more competitive than some of the most popular flat rate cash back cards currently on the market.
All other purchases made with the card will earn a standard 1% return. Shopping at a place that doesn't accept Apple Pay? You can still earn Daily Cash thanks to Apple's stunning physical card (available upon request). The card is just as sleek as Apple interfaces and features titanium, laser etched details, and a card number that is purposefully absent for security reasons. There was quite a bit of controversy going on when it was revealed that Apple's beautiful credit cards at a critical vulnerability and couldn't make contact with leather or denim, so users should plan on primarily using this card on a digital-only basis.
Apple Pay is the digital payment method of Apple and is accepted at an ever-growing number on online and brick-and-mortar locations worldwide. When a purchase is made with the card, the cash back is instantly applied to the user's wallet – meaning there is no need to wait for quarterly redemption windows, or until a cashback threshold is reached.
(If you're unsure of how to link your credit card with Apple Pay, read Digital Wallets 101: How to Add a Credit Card to a Digital Wallet)
One of the best features about the Apple Card is the simplicity of reward redemption and how quickly you can actually use your earnings. Cardholders will be able to use their cash nearly as quickly as they earn it, making it easily the most pragmatic cash back card available.
Here's how it works: At the end of each day (hence, the 'Daily' part of Daily Cash) your total earnings are tallied and deposited to your account, immediately are available for use – no minimum redemption requirement, no tricky earnings-to-point conversions, no waiting. From there, those earnings can either be applied towards your current balance as a statement credit or the funds can be deposited to your Apple Cash Card.
Apple Cash is a peer-to-peer payment system comparable to Venmo and Cash App, and an entirely separate entity from the Apple credit card. The main benefit of Apple Cash is that that you can send/request money using voice commands, thanks to its integration with Siri, or directly via iMessage in your text conversations. Any money that is added to your Apple Cash Card can be applied to your credit card statement or transferred into a bank account.
| | | | |
| --- | --- | --- | --- |
| Card | Apple Card | Citi Custom Cash℠ Card | Citi® Double Cash Card |
| Top rewards | Earn 3% Daily Cash at Apple and other specific retailers (including Exxon, Mobil, Nike, T-Mobile, Uber, and more) | Earn 5% cash back on purchases in your top eligible spend category each billing cycle, up to the first $500 spent, 1% cash back thereafter (including dining, gas, travel, transit, groceries, and more) | Earn 2% on every purchase with unlimited 1% cash back when you buy, plus an additional 1% as you pay for those purchases. |
| Other Rewards | Earn 2% Daily Cash on all other Apple Pay purchases; 1% Daily Cash on purchases with physical Apple Card | Earn unlimited 1% cash back on all other purchases | N/A |
| Welcome offer | N/A | Earn $200 cash back after you spend $1,500 on purchases in the first 6 months of account opening. This bonus offer will be fulfilled as 20,000 ThankYou® Points, which can be redeemed for $200 cash back. | N/A |
| 0% Intro APR | N/A | 15 months on purchases and balance transfers | 18 months on balance transfers |
| Annual fee | None | None | None |
| Payment network | Mastercard | Mastercard | Mastercrd |
No Fees of Any Kind (Seriously)
Apple Card isn't the first credit card to boast a complete lack of fees, but that doesn't make it any less desirable.
No annual fee
No late payment fee (or penalty rate)
No over-the-limit fee
No returned payment penalty fee
No foreign transaction fees
Since the card doesn't allow balance transfers or cash advances you won't need to worry about fees for those either. When it comes to traveling abroad, the Apple Card will still earn cash back rewards on your international purchases but if those purchases were made in a different currency, all earnings will be converted into U.S. dollars without consideration of a foreign exchange rate.
It is important to note that have no fees does not mean that the Apple Card will not charge if you don't pay your balance within the grace period. Interest charges will still apply to any amounts owed after the 28-day grace period has passed.
Spending Monitoring Tools
The Apple Card has several spending monitoring tools built into the card's functionality. This free feature is great for the person who isn't used to budgeting app and wants a better understanding of their spending habits. If you already use a personal finance app such as Mint, you're out of luck. The Apple Card isn't able to share its data with these third-party tracking sites, so you'll have no choice but to rely on the card's monitoring features.
Still, the capabilities the Apple Card has, it performs them well. Individual transactions show the location of where each one took place via Apple Maps, which is super handy when you're concerned that your card has been compromised. Every purchase is automatically sorted into beautifully color-coded charts for an easy visual representation of your weekly spending:
| | | | |
| --- | --- | --- | --- |
| Shopping | Dining | Entertainment | Health |
| Travel | Transit | Services | |
Apple's Payoff Calculator
Looking for more features to help you manage your budget? One of the most unique account management features of the Apple Card is that it actively encourages members to pay less interest. Using an interactive display, users can use a sliding scale to see how much interest they would incur at every dollar amount. Seems counterintuitive for a credit card discourage it' constituents from paying interest fees (that's how most credit card companies make their money after all), which is why Apple's motto for this credit card is "Created by Apple, not a bank."
Apple Card Weaknesses & Shortcomings
| | |
| --- | --- |
| No introductory offers | Despite the many positives of the Apple Card, it isn't perfect. For starters, the card lacks the starter perks that most credit card applicants would expect; there are no signup bonuses or introductory offers to kickstart cash back earnings or help bear the burden of a large financial purchase. The Apple Card also doesn't have balance transfer or cash advance capabilities which doesn't make it a great financial too if you're trying to improve your credit score or get out of credit card debt. |
| Physical card | While the titanium Apple Card is very cool, but its prone to scuffs, scrapes, and scratches. That's fine with a normal credit card, but with Apple Card, the physical card is often more about looks than performance. The issue with the usability of the physical Apple Card is a nuisance, sure, but less of a weakness and is more an inconvenience. If you have to rely on using the physical titanium card in the first place, you're likely only going to receive 1% anyways so you wouldn't be sacrificing much if you just use a different credit card. |
| Apple only | The biggest downside of the Apple credit card is that it only works with Apple and iPhone. That seems obvious, but it excludes a huge portion of the adult population. You also need iOS 12 or higher for your iPhone – probably not an issue, but still. |
| | |
| | |
The Apple Card is available in all 50 U.S. states and the District of Columbia.
How does the Apple Card stack up? Here are a selection of expert reviews for the card and Marcus by Goldman Sachs – the card's issuer:
Should You Apply for the Apple Card?
This card is an obvious fit if you're already a dedicated Apple user that plans on buying the new MacBook, Apple Watch, or iPhone when it comes out, but the card's appeal goes a lot further than just using when buying Apple products. One of its biggest draws is that earning and redeeming cash back is the simplest and most straightforward we've ever seen in a credit card. Pair that with the card accepting applicants with 600's scores (rare for cash back rewards cards) and the user-friendly features and this card makes for one of the most consumer-centric credit cards out there.
This bonus categories are robust enough that it would serve well as someone's first credit card, someone's primary credit card, or simply as the catch-all for those in between purchases. While the earnings may not be substantial from the 2% for Apple Pay alone, it does a great job of filling a previously unrecognized niche. By rewarding users with 2% cash back on all mobile wallet purchases, these purchases transcend traditional MCC codes and users can earn 2% at those vendors who never seem to fall in any of the typical categories. This card is a natural fit for modern consumers who do a significant amount of online shopping.
The easiest way to determine whether the Apple Card is a good fit or not is keep in mind that owning this card means that you'll be tied into Apple for at least a few more years (or else risk having your account closed and potentially damaging your credit score). If you opt to own the Apple Card, you're unofficially agreeing to stay in the Apple ecosystem. Someone who frequently bounces between phone manufactures is a bad fit for this card. While the card itself doesn't necessitate the annual purchase of new Apple products, potential applicants should have the utmost certainty that their next phone will be an iPhone.
Browse Other Card Offers:
Editorial Disclosure – The opinions expressed on BestCards.com's reviews, articles, and all other content on or relating to the website are solely those of the content's author(s). These opinions do not reflect those of any card issuer or financial institution, and editorial content on our site has not been reviewed or approved by these entities unless noted otherwise. Further, BestCards.com lists credit card offers that are frequently updated with information believed to be accurate to the best of our team's knowledge. However, please review the information provided directly by the credit card issuer or related financial institution for full details.