Last updated on July 22nd, 2021
VOILÀ Rewards might not be the most famous hotel loyalty program out there, but it is an excellent option for fans of boutique and independent hotels. VOILÀ unites over 600 independent hotels worldwide, allowing rewards members to earn points with eligible nights and stays at all brands. If you have questions about VOILÀ Rewards, look no further. Here is your ULTIMATE VOILÀ Rewards guide.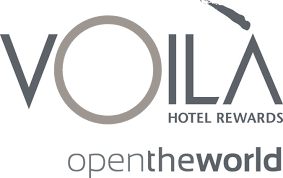 What is VOILÀ Rewards?
VOILÀ Rewards is a hotel loyalty program unlike any other. Whereas rewards programs like Hilton Honors, Marriott Bonvoy, and Radisson Rewards consist of the biggest names in the industry, VOILÀ Rewards comprises independent hotels and resorts.
VOILÀ prides itself on uniting – and helping – four- and five-star independent boutique hotels and resorts around the world. These assets include an eclectic array of properties in its global network, including on six continents and various islands across the world. No matter where you are looking to stay, VOILA probably has a luxurious property to suit your needs.
Joining VOILÀ is simple: Visit the VOILÀ website (www.VHR.com) and click "Join". Joining is free and members can start earning rewards points right away.
VOILÀ Brands
The VOILÀ collection of hotels consists of hundreds of independent hotels located across the globe. While many of the properties within the loyalty program are small, independent, boutique properties, there are 17 distinct brands also within the VOILÀ Rewards range of properties:
Accra City Hotel
Atlantica Hotel Halifax
Capital Plaza Hotel
Cobblestone Hotels (Cobblestone Rewards)
Hearthstone Hospitality
E. Hotels (LUXE Hotels Rewards)
Luzeiros Hotels
Othon
Park Hotel (Park Perks)
Redac Hotels (Redac Rewards)
Regis
Swiss International Hotels & Resorts
Time Hotels
Victor Hotels
Villa Morra
VOILÀ Direct
XPerience Hotels
VOILÀ Direct is by far the largest of the brands within the VOILÀ portfolio. The VOILÀ Direct brand comprises over 600 properties as of 2020.
For a complete listing of current VOILÀ properties worldwide, please visit the program's dedicated Hotel List page.
How to Earn Rewards with VOILÀ Rewards
Earning rewards in the VOILÀ loyalty program is very straightforward. Members earn VOILÀ points for every eligible dollar they on stays at any participating VOILÀ hotel. They also earn reward points on all purchases at those participating hotels.
Earning Points with VOILÀ Credit Cards
Rewards members can earn even more points through VOILÀ credit cards. The program currently offers two co-branded credit cards issued by Commerce Bank:
The VOILÀ Hotel Rewards Card earns 5X points per $1 on stays at participating hotels within the VOILÀ portfolio. Those 5X points per dollar spent are in addition to what members earn through their current program tier status (more on that below). Every other purchase with the card earns a single point per dollar spent. Cardholders also receive a 50% bonus on their purchases after they make $10,000 in purchases in a calendar year.
The LUXE Hotel Rewards Card differs from the VOILÀ Card in that stays at LUXE Hotels (part of the VOILÀ program) earn 5X points. Cardholders only earn 1X points on VOILÀ stays in general, but they can still enjoy additional points through their VOILÀ membership tier.
What Are VOILÀ Rewards Points Worth?
How to Redeem Points with VOILÀ Rewards
Rewards points apply to the VOILÀ Rewards program. The program offers limited redemption options but does provide excellent value for members and frequent guests.
Redeem Points for Free Nights
The most popular redemption method is stays with VOILÀ brands. Free nights start as low as 12,000 points, though there are restrictions with award nights. To redeem a free night, a VOILÀ Rewards member must have one eligible stay at a participating property within two years.
This requirement means that even though the 20,000-point signup bonus is enough for a free night, it isn't redeemable right away.
Redeem Points with Partners
Points are also redeemable for gift cards with select partners. These partners include airlines like Virgin, American Airlines, and Ethiopian Airlines, plus major retailers. Redemptions for gift cards start as low as 1,000 points, though members will find better value through hotel stays.
VOILÀ Partners
Airline Partners
American Airlines (AAdvantage)
Ethiopian Airlines (Sheba Miles)
Virgin Atlantic (Flying Club)
Virgin America
Digital Music Partners
Charity Partners
Breast Cancer Research Foundation
KIVA
Kula
Retail Partners
VOILÀ Has a wide variety of retail partners. Members can redeem their rewards towards gift cards with over 30 leading brands, including:
Whole Foods
Amazon
Uber
Nike
Walmart
Visa
Under Armour
Target
Starbucks
Macy's
Bass Pro Shops
And more
VOILÀ Membership Tiers
VOILÀ offers three tiers of membership in its rewards program: Silver, Gold, and Platinum. Each tier has differing requirements – and benefits:
Silver
VOILÀ Silver tier is the basic level of membership in the VOILÀ Rewards program. Silver members earn points at the base rate of ten points per dollar spent. Silver tier requires zero nights to qualify, with your membership card mailed to you after your second eligible night.
Other benefits of VOILÀ Silver tier membership include:
Ability to purchase and transfer points
Access VOILÀ account info online
Make online reservations at any VOILÀ property
Priority check-in
Free weekday newspaper during stays
Gold
Gold tier is the next level in the VOILÀ Rewards program. Reaching Gold VOILÀ status requires at least ten nights in a consecutive 12-month period. For the ten nights, Gold status members receive a 25% bonus on points. This means Gold VOILÀ members receive 12.5 points per dollar spent at eligible properties.
Beyond 25% more points, Gold members also enjoy the following perks (in addition to Silver benefits):
Early check-in (10 am)
Late check-out (4 pm)
Complimentary room upgrade to the next best level
Complimentary access to the fitness center during stays
Platinum
VOILÀ Platinum is the highest membership tier in the loyalty program. Reaching the Platinum tier requires 20 nightly stays within a consecutive 12-month period.
Platinum members enjoy 50% more points per dollar spent than basic members. This means that Platinum members earn 15 points for every dollar they spend at eligible VOILÀ Hotels.
In addition to 15 points per dollar spent, VOILÀ Platinum members enjoy the following:
No blackout dates
Priority reservations
24-hour guaranteed room availability
Complimentary executive lounge access (where available)
Special welcome gift or amenity when checking in