The newest edition of the J.D. Power Customer Service Satisfaction Survey is out – and it doesn't provide much good news for major credit card issuers. Customer satisfaction with credit cards is dropping across the board, with most respondents unhappy with rewards, credit limits, and customer service. Here are the findings of the J.D. Power 2021 U.S. Credit Card Satisfaction Study:
J.D. Power 2021 U.S. Credit Card Satisfaction Study Findings
Credit card customer service satisfaction is falling, according to the J.D. Power 2021 U.S. Credit Card Satisfaction Study. The new report shows mid-sized lenders suffering the biggest decline in customer satisfaction – with those banks and lenders experiencing a double-digit decline in several key metrics, including satisfaction with terms and benefits, lower credit limits, and rewards.
Not all mid-sized lenders saw a drop in customer satisfaction, however. The issuer of the ever-popular Apple Card, Goldman Sachs, saw a jump in customer satisfaction – receiving an overall score of 864 out of 1,000. That score is 47 points higher than the nearest issuers, BB&T, Huntington National Bank, and PNC Bank – all of which earned a score of 817 out of 1,000.
Overall, American Express led the way in customer satisfaction among national issuers, with a score of 838. Discover, known for its customer service, came second at 837, with Capital One coming third on a score of 815.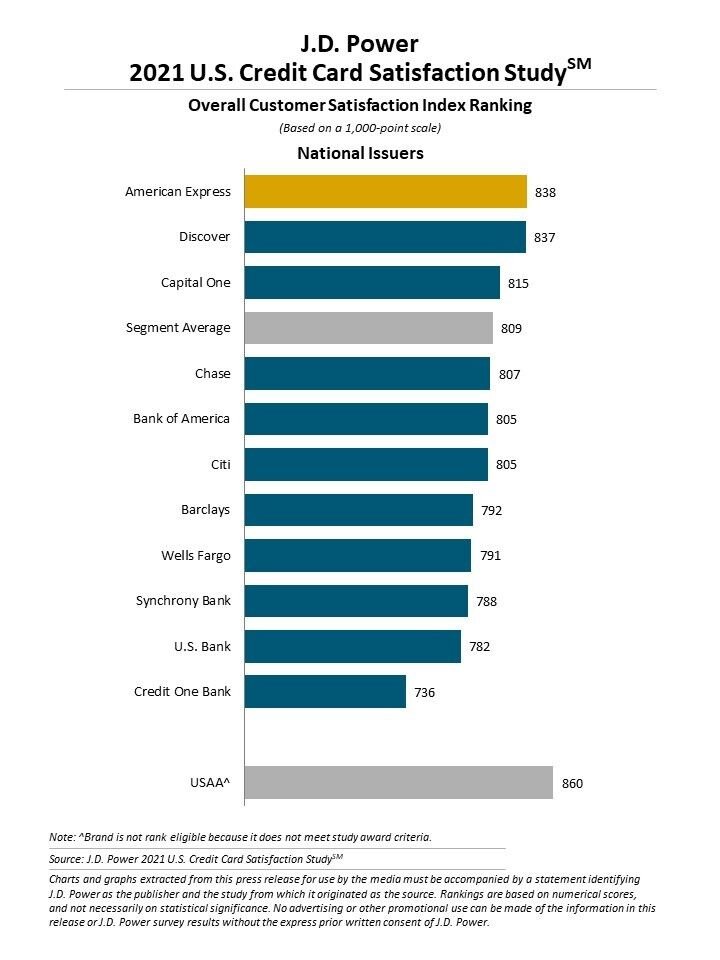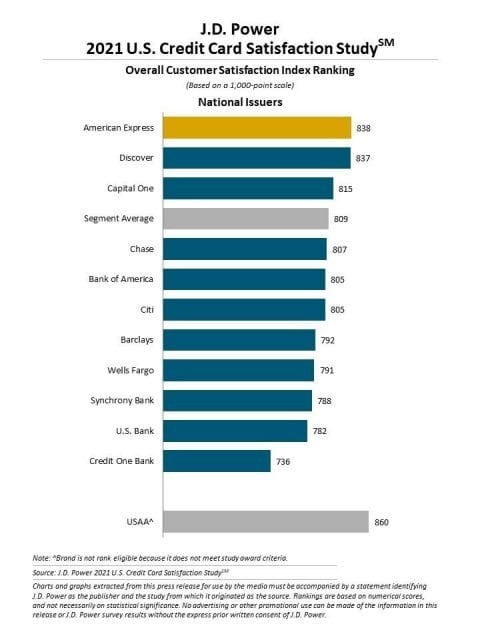 Fintech Experiencing Increased Popularity and Satisfaction
Fintech credit card issuers saw the highest levels of customer satisfaction in the J.D. Power 2021 U.S. Credit Card Satisfaction Study. Satisfaction among fintech cardholders was 39 points higher than cardholders that sued mobile banking options with traditional credit card issuers. Most fintech cards use a mobile-centric approach that resonates with customers – something bigger issuers are hoping to capitalize upon moving forward.
Other Findings
Other notable findings in the recent J.D. Power 2021 U.S. Credit Card Satisfaction Study include:
Consumer Have the Wrong Card
Misalignment between rewards programs and spending patterns saw an average of $756 in lower monthly spending, a seven-percentage-point higher likelihood of switching cards, and a four-percentage-point higher likelihood of noting an issue, the study says. This misalignment in cards and rewards is more common among the 53% of cardholders struggling to pay bills.
Rewards Satisfaction Falling
Despite major issuers refreshing rewards programs, overall satisfaction with earning rewards declines to a level equal to that in 2019's study. The only category of cards that shows improvements in rewards satisfaction is retailer co-branded cards, which respondents use for everyday and online shopping.
Lower Credit Limits
About 2% of survey respondents had their credit limit decrease in 2021 – a number that jumps to 3% in the most recent months of the study. Overall, customer satisfaction scores are 141 points lower than those experiencing a credit line reduction than those without any reduction. That effect is nearly triple the drop in satisfaction due to credit limit issues in the 2020 J.D. Power study.
You can view the full findings of the study here.
"The Industry Missed the Mark"
Speaking on the U.S. Credit Card Satisfaction Study findings, John Cabell, director of banking and payments intelligence at J.D. Power, highlighted the need for credit card companies better to address consumer's needs in the coming year:
"While there are some bright spots this year among individual issuers, the pandemic really broke a multi-year trend of improving satisfaction," he said. "The industry missed the mark on supporting customers' changing needs when many were facing significant financial challenges. Whether through blunt actions, such as tightening credit limits at the very moment when customers were most reliant on their cards as a source of short-term funding, or through lack of customer service accessibility, credit card issuers experienced declines in overall satisfaction, trust, brand perception and Net Promoter Scores® 1 this year."
About J.D. Power
J.D. Power is a global leader in consumer insights, advisory services, and data and analytics. A pioneer in the use of big data, artificial intelligence (AI), and algorithmic modeling capabilities to understand consumer behavior, J.D. Power has been delivering incisive industry intelligence on customer interactions with brands and products for more than 50 years.
Related Article: Credit Card Customer Service Is Critical to Attracting Customers Says New Study
Editorial Disclosure – The opinions expressed on BestCards.com's reviews, articles, and all other content on or relating to the website are solely those of the content's author(s). These opinions do not reflect those of any card issuer or financial institution, and editorial content on our site has not been reviewed or approved by these entities unless noted otherwise. Further, BestCards.com lists credit card offers that are frequently updated with information believed to be accurate to the best of our team's knowledge. However, please review the information provided directly by the credit card issuer or related financial institution for full details.