If you find yourself drowning in credit card debt, you may have considered transferring your balance in order to eliminate your existing debt. While they can be a good idea if used responsibly, balance transfer credit cards come with a few caveats that could put you even further in debt over time if you don't go into the process with a clear plan to pay off your debt. Here's how the credit card balance transfer process works, and how you can use it to get out of debt.
What Are Balance Transfers?
Anyone carrying hefty credit card balances from month to month may start having balance transfer offers from credit card issuers filling their email and physical snail mail inboxes. Though the idea of paying reduced card charges may be very enticing, knowing how a balance transfer works is paramount to pulling yourself out of the hole that is financial debt so that you can clearly see your goals ahead of you.
A balance transfer is a process of using one credit card to pay off the debt accumulated on another credit card, often at a much lower monthly payment due to reduced interest costs. The best way to begin going about this process is to compare the introductory period balance transfer APRs of credit cards you are considering.
There are databases and intuitive tools available online to help you do so, such as those available at BestCards.com. When reading the terms and conditions of these credit cards, it's also important to note the balance transfer fee that these cards charge in addition to the intro balance transfer APR rate, the length of this introductory period, and standard interest rate that applies after that.  All of these details and others are clearly listed in the Schumer Box found within the terms and conditions.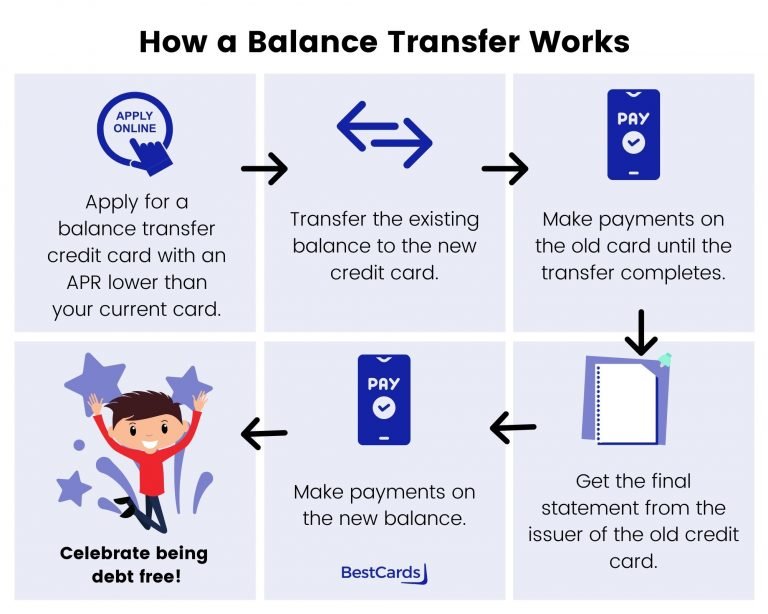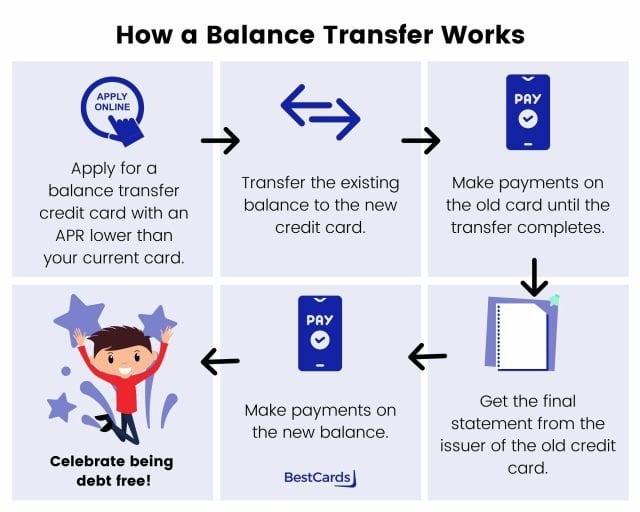 Consistency consistently equals results. Spending hours examining credit card T&Cs or paying your financial planner to do so and determining a plan to get out of debt is worthless if you don't stick to it. As easy as it is to become dependent on them, opening up multiple credit cards in order to put off paying off other credit cards only makes things worse if you don't have a plan and follow through.
Miss a payment, and you'll cause a chain reaction that will put your credit score in worse condition than it was before. Do your research, determine your best course of action, and stick to your plan, and you should be out of debt thanks to your balance transfer credit card in no time.
Here are some helpful tips to streamline the balance transfer process:
Maxing out the credit limit on your cards, signing up for a balance transfer card, and making minimum payments until the introductory APR period ends isn't a solid plan to get out of debt. It's not even 12% of a plan. In fact, that kind of behavior will show up on your credit report and make it far more difficult to qualify for a balance transfer card or any credit card. Instead, before signing up for a single balance transfer credit card, it is recommended that you devise a clear financial plan to get out of debt.
As described earlier on, it is critical that you read your prospective credit card's terms and conditions, paying extra attention to the information found in the Schumer Box. There, you'll find the intro and standard balance transfer interest rates for the card, as well as the fee you may have to pay for transferring a balance.
Additionally, this is the time to assess your personal monthly budget and figure out a few financial truths. Realistically speaking, how much of your debt can you afford to pay each month? Are there frivolous expenses that you can cut back on in order to pay down this debt faster? What are you willing to compromise on now in order to avoid paying interest for years to come? After answering these tough questions and determining the numbers you can work with, you can begin devising a plan.
With a balance transfer credit card, the ideal goal is to pay off your debt in its entirety before your introductory period ends. Aside from fast-tracking you to the land of financial freedom, this also gets rid of the standard balance transfer interest rate payments that you'd otherwise be paying after the fact in addition to your original debt.
The trick is to find the balance transfer credit card with the longest balance transfer period, lowest balance transfer fee (if any), and lowest standard balance transfer APR. You may have to compensate one of those perks for another, but with the knowledge of what each card offers and what you can realistically pay each month, you'll be able to eliminate your options until the best one emerges. Calculators can be found online to help you figure out these factors, as are financial planners that will do the legwork for you for a fee. Now comes the tricky part.
Related Article: The Best Balance Transfer Credit Cards
Editorial Disclosure – The opinions expressed on BestCards.com's reviews, articles, and all other content on or relating to the website are solely those of the content's author(s). These opinions do not reflect those of any card issuer or financial institution, and editorial content on our site has not been reviewed or approved by these entities unless noted otherwise. Further, BestCards.com lists credit card offers that are frequently updated with information believed to be accurate to the best of our team's knowledge. However, please review the information provided directly by the credit card issuer or related financial institution for full details.