College is a time for learning and growing: socially, culturally, educationally, and financially. The latter often takes place outside the classroom, where students living far from home learn to budget for textbooks, food, and nights out. Part fo the financial education of the college years comes from credit cards – which can have an impact for several years after. Learning to use these tools is essential for getting the most out of your budget – and building your credit score. Here's our comprehensive guide to building credit during college: Credit 101.
What Is a Good Credit Score for a Student?
Students tend to have a shorter credit history than other credit card users. Because of this inexperience, student credit scores usually fall within the "fair" credit score range. A fair credit score is a credit score between 630 and 689 on the FICO scoring model. This model ranges from 300 to 850, with higher scores being better than lower ones.
FICO Credit Score Range
Many students fall into the "fair" category, as their credit experience is limited or non-existent (no credit history). Typically, the only experience with credit most students have is through student loans, which are a form of installment loan. But since they probably have not made payments towards those loans, their payment history is limited, hence the "fair" score, and not "bad."
Average Credit Score by Age
As students tend to be younger than other credit card users, they typically have lower credit scores. Statistically, those under the age of 34 have the lowest average credit scores, at around 629. Those over the age of 55 have the highest credit score on average, at about 696.
The breakdown of average credit scores by age is as follows: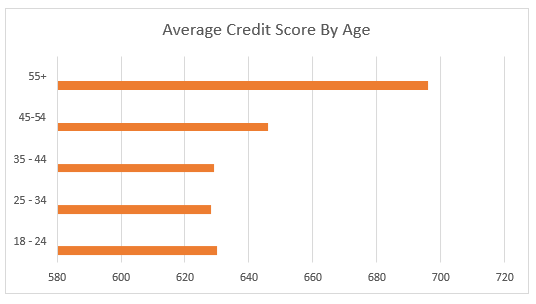 So, while the average student doesn't have a "bad" credit score, their inexperience with credit makes them less attractive to lenders. And, while the above chart seems to indicate that students have better credit than those in the 25-to-44 age range, this is likely because those individuals have a more extensive credit portfolio. More credit means larger debt from things like mortgages, student loans, and other installment loan products.
What Factors Impact Your Credit Score?
Building a good credit score starts with educating yourself on what factors impact your FICO Score. FICO is the most popular credit scoring method and it allows lenders to gauge how much of a risk an applicant poses financially.

FICO's scoring model emphasizes an individual's payment history. Payment history accounts for 35% of a person's FICO score, as this is the biggest indicator of a person's ability to repay any new credit they borrow. Nearly as important is the amount of available credit a person uses, which makes up 30% of the total score.
Related Article: How Bad Is My Credit Score?
How To Build Good Credit As a Student
Once you understand what influences your credit score, you can start building your credit throughout your college years – and beyond.
Find the Right Credit Card
Most students will have a limited credit history comprising of student loans only. Because of their limited payment history, many students won't qualify for most traditional credit cards. Fortunately,  there are two types of credit cards available to those with no credit history or a very narrow credit history: student cards and secured cards.
Student Cards
Student credit cards are a subset of traditional credit cards designed with college students in mind. Student cards have lower credit requirements, making them easier for students with limited credit to receive. These cards have smaller credit limits but sometimes offer incentives, such as good grade discounts or rewards.
For more information, advice, and a list of some of the best student cards of 2020, check out our Student Credit Cards page.
Secured Cards
While student cards are more accessible than many traditional credit cards, not all students will qualify. Those students with no credit history might struggle to find a student card, which is where secured credit cards come in.
Secured cards require a deposit that acts as security for the line of credit and as the credit limit itself. Because of this deposit, lenders are more willing to approve those with no credit history. Make your payments on time and keep your account in good standing, and you'll get the deposit back when you close the account.
The security deposit with these cards opens a range of possibilities for students. Because the deposit acts as the credit limit, students can set their credit line as high – or low – as they choose. Additionally, some cards, like the First Progress Platinum Prestige Mastercard, feature interest rates below anything a student card can provide.
For more information, advice, and a list of some of the best secured cards of 2020, check out our Secured Credit Cards page.
Become an Authorized User
Becoming an authorized user allows you to build your credit score through your loved ones. If they have a good credit score, ask to become an additional user on their account. This practice lets you build credit when they make their payments on time. Being an authorized user is an excellent way to boost credit in conjunction with your own credit card.
Use Credit Sparingly
Once you have a credit card, it's essential to avoid the urge to splurge and treat yourself. A credit card is a financial tool, and this is undoubtedly the case with a student credit card. Use your credit card to make smaller purchases or to buy essentials. Textbooks, groceries, and the occasional night out are fine – just don't go overboard.
Pay Off the Balance Every Month
Payment history is the most significant factor of the FICO scoring model. This means paying your balance on time each month is the best way to boost your credit score in college. Missed payments stay on a credit report for seven years, meaning even one slip-up now can impact your future credit applications – potentially into your 30s.
Part of paying on time each month is paying the statement balance in full. Paying in full eliminates the need to pay interest on the card, saving you time and building your credit score simultaneously.
Keep Credit Utilization Low
Sometimes campus life is tough, and you can't pay in full. Purchasing textbooks at the start of a semester may require several months to pay off, for example. In these instances, always try to pay off as much of the balance as possible. Doing this can help reduce your credit utilization. Credit utilization, or usage of your available credit lines, accounts for 30% of a FICO Score. Ideally, you want to keep your credit use below 10%, as this is the fastest way to improve your credit score. If that isn't possible, however, aim for less than 30% usage.
Don't Open Multiple Accounts at Once
With most things, bigger is better – and the more, the merrier. With credit card applications, however, this isn't the case. Most credit cards require a credit check, also known as a "hard inquiry." A hard inquiry means the bank or lender pulls your credit report, and this check is noted on the report, causing your credit score to drop slightly. Too many credit applications in a short period make you appear like a credit risk to lenders, as you may be financially desperate. Keep your credit applications at a minimum to build your credit score in college.
Don't Close Accounts Unnecessarily
Since college students are new to credit, their average age of credit is already very low. Because of this, try to avoid closing any open credit accounts, as this will further decrease the average age of your credit history.
Conclusion
The college years are the foundation for many aspects of life – and credit is one. Making the right credit moves in your school days can set you up for a lifetime of lower interest rates, impressive signup bonuses, and the financial know-how to navigate the treacherous waters of daily life.
The process of building credit during college starts with a quality starter credit card, such as a student credit card or a secured card. Using those cards responsibly – and paying your balance on time – can quickly build up your credit score and lead to better opportunities down the line. Irresponsible spending and poor payment history, however, can lead to significant problems for years to come.
Related Article: 4 Tips for Building Credit In Your 20