College is a time for learning and growing: socially, culturally, educationally, and financially. The latter often takes place outside the classroom, where students living far from home learn to budget for textbooks, food, and nights out. Part fo the financial education of the college years comes from credit cards – which can have an impact for several years. Learning to use these tools is essential for getting the most out of your budget – and building your credit score. Here's our comprehensive guide to building credit during college: Credit 101.
What Is a Good Credit Score for a Student?
Students tend to have a shorter credit history than other credit card users. Because of this inexperience, student credit scores usually fall within the "fair" credit score range. A fair credit score is a credit score between 630 and 689 on the FICO scoring model. This model ranges from 300 to 850, with higher scores being better than lower ones.
Here's the FICO Score range:
Excellent Credit
720 – 850
Good Credit
690 – 719
Fair Credit
630 – 689
Bad Credit
300 – 629
Many students fall into the "fair" category, as their credit experience is limited or non-existent (no credit history). Typically, the only experience with credit most students have is through student loans, which are a form of installment loan. But since they probably have not made payments towards those loans, their payment history is limited, hence the "fair" score, and not "bad."
Average Credit Score by Age
As students tend to be younger than other credit card users, they typically have lower credit scores. Statistically, those under the age of 34 have the lowest average credit scores, at around 629. Those over the age of 55 have the highest credit score on average, at about 696.
So, while the average student doesn't have a "bad" credit score, their inexperience with credit makes them less attractive to lenders. And, while the above chart seems to indicate that students have better credit than those in the 25-to-44 age range, this is likely because those individuals have a more extensive credit portfolio. More credit means larger debt from things like mortgages, student loans, and other installment loan products.
What Factors Impact Your Credit Score?
Building a good credit score starts with educating yourself on what factors impact your FICO Score. FICO is the most popular credit scoring method and it allows lenders to gauge how much of a risk an applicant poses financially.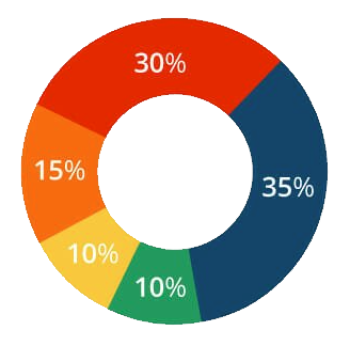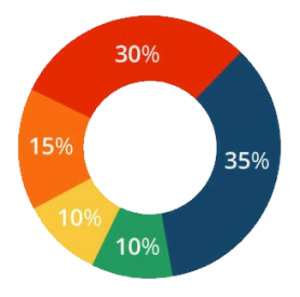 | | |
| --- | --- |
| FICO Scoring Factor | % of Score |
| Payment history/ late payments | 35% |
| Total amount owed on credit accounts | 30% |
| Average length of credit history | 15% |
| Types of credit accounts | 10% |
| New credit applications (hard inquiries) | 10% |
FICO's scoring model emphasizes an individual's payment history. Payment history accounts for 35% of a person's FICO score, as this is the biggest indicator of a person's ability to repay any new credit they borrow. Nearly as important is the amount of available credit a person uses, which makes up 30% of the total score.
Related Article: Smart Ways To Manage Your Credit Card

Tips for Building Good Credit As a Student
Once you understand what influences your credit score, you can start building your credit throughout your college years – and beyond.
① Check and review your credit reports
Ⓐ Check your credit reports from all three of the nationwide consumer reporting agencies: Equifax, Experian, and TransUnion.
Ⓑ Check for negative credit information, like potential fraud or ID theft, accounts in collection, or unpaid balances.
② Pay your bills on time
Ⓐ Automatic payments are a great way to avoid accidentally missing a payment.
Ⓑ Splitting monthly payments into two smaller payments can help stretch budgets while ensuring you pay on time.
③ Keep credit use low
Ⓐ Credit utilization accounts for roughly 30% of your credit score, so aim to keep credit use as low as possible.
Ⓑ Consider a balance transfer credit card if your credit use is creeping up and you want to consolidate that debt into one new account, typically at 0% Intro APR.
④ Limit new applications
Limit any new credit applications to only what is essential (i.e. if applying for a balance transfer credit card).
⑤ Keep old accounts open
Don't close any old, unused accounts. Closing accounts can lower your average credit utilization.
Find the Right Credit Card
Most students will have a limited credit history comprising student loans only. Because of their limited payment history, many students won't qualify for most traditional credit cards. Fortunately,  there are two types of credit cards available to those with no credit history or very narrow credit history: student cards and secured cards.
Student credit cards are a subset of traditional credit cards designed with college students in mind. Student cards have lower credit requirements, making them easier for students with limited credit to receive. These cards have smaller credit limits but sometimes offer incentives, such as good grade discounts or rewards.
Here's what to look for in a student credit card:
| | |
| --- | --- |
| ① Rewards | While not common, there are plenty of good student rewards cards on the market. Many student credit cards feature lesser benefits in comparison to general rewards credit cards, but that's not always the case. |
| ② No annual fee | Generally speaking, signing up for a credit card without an annual fee makes financial sense. This rule doesn't apply, though, if the benefits that you earn while using the credit card are higher than the cost you're paying each year. |
| ③ Academic incentives | This is a perk unique to credit cards for students. Some cards offer cardholders account statement credits if their grades meet a certain threshold, such as meeting GPA minimums each academic school year. |
| ④ Debt forgiveness | When learning how to use credit cards and navigate debt, especially at a young age, it's essential to look for a card that offers debt forgiveness. You'll want a card with debt forgiveness to prevent your credit score from being negatively affected. |
Related Article: Best Credit Cards for College Students
While student cards are more accessible than many traditional credit cards, not all students will qualify. Those students with no credit history might struggle to find a student card, which is where secured credit cards come in. Secured cards require a deposit that acts as security for the line of credit and as the credit limit itself. Because of this deposit, lenders are more willing to approve those with no credit history. Make your payments on time and keep your account in good standing, and you'll get the deposit back when you close the account.
The security deposit with these cards opens a range of possibilities for students. Because the deposit acts as the credit limit, students can set their credit line as high – or low – as they choose. Additionally, some cards, like the First Progress Platinum Prestige Mastercard, feature interest rates below anything a student card can provide.
Here are some of the best secured credit cards to consider:

First Progress Platinum Elite Mastercard®

Best for: No Credit Check

The First Progress Platinum Elite Mastercard Secured Credit Card is a solid card to have if you've set your sights on credit building. With no upfront credit check or history required, there's no need to worry about hurting your score before you even get started. Instead, you can jump right in – after submitting your $200 security deposit, of course.


OpenSky® Secured Visa®

Best for: Building Credit

The OpenSky Secured Visa is a very enticing offer for those who want to boost their credit score quickly but are wary of the negative impact a hard inquiry might have. OpenSky gives everyone an opportunity to improve their credit with an 85% average approval rate for the past 5 years. Even better, you could be eligible for the OpenSky Gold Unsecured Card after as few as 6 months


Self Visa® Secured Credit Card

The Self Credit Builder Account and associated Secured Visa® Credit Card are an excellent combination for quickly building a positive credit history. Because the two accounts work together seamlessly, meeting the minimum requirements and paying on-time doubles the impact on your credit score.


Merrick Bank Double Your Line® Secured Credit Card

Best for: Graduating to Unsecured

The Merrick Bank Double Your Line® Secured Credit Card is a useful tool for boosting your credit score thanks to its Double Your Line® feature. Pay a one-time $200 deposit (which acts as the credit line), make on-time payments for each of the first seven months, and you'll automatically have their credit line raised to $400 – without the need for additional security deposits.
Become an Authorized User
Becoming an authorized user allows you to build your credit score through your loved ones. If they have a good credit score, ask to become an additional user on their account. This practice lets you build credit when they make their payments on time. Being an authorized user is an excellent way to boost credit in conjunction with your own credit card.
The college years are the foundation for many aspects of life – and credit is one. Making the right credit moves in your school days can set you up for a lifetime of lower interest rates, impressive signup bonuses, and the financial know-how to navigate the treacherous waters of daily life.
The process of building credit during college starts with a quality starter credit card, such as a student credit card or a secured card. Using those cards responsibly – and paying your balance on time – can quickly build up your credit score and lead to better opportunities down the line. Irresponsible spending and poor payment history, however, can lead to significant problems for years to come.
Editorial Disclosure – The opinions expressed on BestCards.com's reviews, articles, and all other content on or relating to the website are solely those of the content's author(s). These opinions do not reflect those of any card issuer or financial institution, and editorial content on our site has not been reviewed or approved by these entities unless noted otherwise. Further, BestCards.com lists credit card offers that are frequently updated with information believed to be accurate to the best of our team's knowledge. However, please review the information provided directly by the credit card issuer or related financial institution for full details.