Last updated on August 4th, 2022
It's June and that means Father's Day is upon us once again. Struggling to find the perfect gift for dad this year? Don't fret – the BestCards team has some credit card recommendations to help you save money and get dad the ideal present this year. Here are our best Father's Day 2021 credit card picks to help you find something just right for your dad.
The Best Credit Cards for Father's Day 2021
Here are our top Father's Day credit cards for 2021:
Dads love gadgets, and one of the best places to get the latest tech is Best Buy. The My Best Buy Visa Card is a retail credit card that offers unique rewards or financing options to cardholders shopping at the tech giant – both in-store and online.
The card earns 5% cash back on all Best Buy purchases or the option of flexible financing on purchases of $299 and up. That special financing is a great option for those looking to score the latest tech but not wanting to break the bank.
The Best Buy Visa also earns cash back rewards with other everyday purchases. Cardholders earn 3% back on gas station purchases; 2% back on dining, groceries, and takeout; and 1% cash back on all other purchases – all for no annual fee.
Alternative for Bad Credit
Have a low credit score but still want to finance a Father's Day gift at Best Buy? The Buy On Trust Lending program is a lease-to-buy account where cardholders can buy today and pay later with Best Buy.
Want to cut out the middleman and get Apple tech for dad? Why not consider the Apple Card?
Apple is one of the most popular brands for phones, tablets, computers, and more – and it's easy to see why. The Apple platform is nearly foolproof, making it popular with children, teens, and adults (including fathers!).
The Apple Card is a great tool to purchase the latest iPhone, iPad, Mac, or Air Pods for your father – and save some cash at the same time. The card, which requires an iPhone to apply, earns 3% back on purchases directly with Apple, 2% back anywhere Apple Pay is accepted, and 1% back everywhere else – all for no annual fee.
The Capital One Savor Rewards Card often features on our "best of" lists – and it's not a coincidence. The card is an excellent option to consider for those who want to maximize their rewards when dining out (or in) or entertaining.
The Savor is another great choice for Father's Day, as you can treat your dad to a delicious meal, a night out, or any other type of entertainment-related experience he is sure to love. The card earns 4% cash back on dining, entertainment, and popular streaming services; 3% back at grocery stores; and 1% back on all other purchases.
Since the coronavirus pandemic is beginning to show signs of ending, why not take advantage of the 6% back on tickets through Vivid Seats and take in a movie or game? The Savor really does hit many of the right notes for almost any occasion – including Father's Day!
The Bass Pro Shops® CLUB Card is another brand-specific retail card that is perfect for Father's Day. Bass Pro Shops makes earning points very straightforward; based on the CLUB member tier, cardholders will receive either 2X, 3X, or 5X points for every $1 spent at Bass Pro Shops, its associated restaurants and lodges, Cabela's, or Cenex® convenience stores; and 1 point for every dollar spent elsewhere.
New cardholders also receive up to $40 in Club points, which can help score exclusive Bass Pro Shops swag and merchandise. And, let's face it – dads love some of the great outdoors products found at Bass Pro Shops and Cabela's, so the Bass Pro Shops CLUB Card (or the Cabela's CLUB® Card) might just be a can't-miss new credit card for you.
The Amazon Prime Rewards Visa Signature® Card is an excellent Father's Day 2021 choice because it pulls double duty. The card, which offers impressive savings off Amazon.com purchases (and more), is ideal for getting dad a gift and then saving money on Prime Day the next two days (June 21 and 22, 2021)!
Earning rewards with the Amazon Prime Rewards Visa Signature is very easy. Cardholders earn 5% back on Amazon purchases or groceries at Whole Foods (both online and in-store). Cardholders also earn 2% back on gas station and restaurant purchases and 1% back on all other card purchases.
New accounts also enjoy an Amazon gift card upon approval. That reward is currently $150 for the Amazon Prime Rewards, meaning just getting the card before Prime Day can help you score dad an impressive present without shelling out a single penny!
Honorable Mentions
Want some more Father's Day credit card options to consider? Here are two cards that just missed out on our top spots: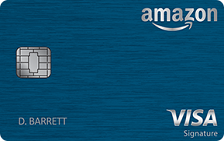 The Amazon Rewards Visa is the Prime-free version of the Amazon Prime Rewards Visa Signature. The card features no annual fee and does not need a Prime account to open. It also comes with an instant $50 Amazon gift card upon approval.
Why not treat dad to a coffee? A must-have for followers of the ubiquitous coffeehouse chain, the Starbucks Rewards™ Visa® Card is a retail rewards card that offers an easy and regular pathway to earning big through the Starbucks Rewards™ program.
Browse more of the "Best of" from BestCards