Last updated on July 18th, 2023
Advertiser Disclosure
close ×
Advertiser Disclosure – BestCards is an independent, Florida-based credit card comparison platform. Many of the card offers that appear on this site are from companies from which BestCards receives compensation. This compensation may impact how and where products appear on this site (including, for example, the order in which they appear). BestCards does not include all card companies or all card offers available in the marketplace.
Editorial Disclosure
close ×
Editorial Disclosure – The opinions expressed on BestCards' reviews, blogs, and all other content on or relating to the website are solely those of the content's author. They are not reflective of any card issuer or financial institution and have not been reviewed or approved by these entities unless otherwise noted. Further, BestCards lists credit card offers that are updated daily with information believed to be accurate to the best of our knowledge.
Valley Premier Rewards American Express® Card
14.49% to 23.49% variable based on creditworthiness and the Prime Rate

Regular Purchase APR

14.49% to 23.49% variable based on creditworthiness and the Prime Rate

Balance Transfer APR

23.99% variable based on the Prime Rate

Cash Advance APR
Best Benefits
Rates & Fees
Why Should You Apply?
Earn 4x points at restaurants

Earn 3x points with airlines

Earn 2x points at gas stations

Earn 1x points on uncategorized purchases

Global Entry/TSA PreCheck reimbursement

No foreign transaction fees

Annual fee waived the first year
Regular Purchase APR: 14.49% to 23.49% variable based on creditworthiness and the Prime Rate
Balance Transfer APR: 14.49% to 23.49% variable based on creditworthiness and the Prime Rate
Balance Transfer Transaction Fee: Either $5 or 3% of the amount of each transfer, whichever is greater
Cash Advance APR: 23.99% variable based on the Prime Rate
Cash Advance Transaction Fee: Either $10 or 4% of the amount of each cash advance, whichever is greater
Annual Fee: $0 for the first 12 months. After that, $99
Late Payment Penalty Fee: Up to $40
Return Payment Penalty Fee: Up to $35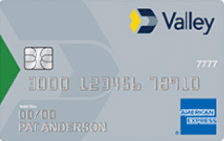 At a Glance
The Premier Rewards American Express Card from Valley National Bank has quite a bit to offer fans of this regional bank. Cardholders earn a wide array of rewards in different categories, including 4 points for dining, 3 for airline expenses and 2 for gas. Other travel perks like Global Entry/TSA PreCheck reimbursement make this a decent credit card for many travelers.
Ideal for Those Who:
Are able to spend $1,000 over the first 3 months for the rewards bonus
Want to earn the most rewards at restaurants, followed by airlines and gas stations
Will take advantage of all the American Express benefits to make up for the annual fee, like complimentary hotel amenities and early access to event tickets
Plan to sign up for either a Global Entry or TSA PreCheck membership to take advantage of the reimbursement
American Express®Premier Rewards Card Review
The Valley American Express Premier Rewards Card checks many of the boxes cardholders have when looking for a travel rewards card. Not only can you earn more points per dollar on dining and airline purchases, you also get benefits like travel insurance, Global Entry credits and other VIP perks. Most aspects of this card place it in the mid-tier category, with average rates and a manageable annual fee, making it an easy card to integrate into your wallet if you're interested in Valley National Bank.
Earning and Redeeming American Express® Premier Rewards
With the Premier Rewards American Express, your opportunities to earn rewards are plentiful. Foodies and travelers in particular will appreciate the spread of rewards from this card, outlined as follows:
4x points for dining
3x points with airlines
2x points on gas
1x points on all other expenses
These are on par with other mid-tier travel rewards cards. To earn the most points, it's important to note that your purchases must fall into the appropriate merchant categories. For example, gas stations associated with wholesale or warehouse stores may not have the fuel dispensary merchant code, and therefore don't earn 2 points.
To give you a jumpstart on your earnings, Valley provides 10,000 extra points if you're able to spend at least $1,000 in the 3 months from account opening. At about $330 per month, this spending requirement is pretty easy to meet and earns you about $100 worth of rewards. Beyond that, you have unlimited earning potential. However, you have to redeem within 5 years from the day you receive the points or they expire.
Unfortunately, Valley National Bank doesn't make it easy to determine the best ways to redeem your points. Like many smaller banks today, Valley keeps the rewards catalog private and therefore, you must apply for the card to see it. As with other American Express cards, you can likely redeem for gift cards, travel and merchandise, as well as cash back credits.
Amex Premier Rewards Benefits for Travel
As you might expect, this card offers more than just rewards for your purchases. It also comes with a variety of benefits that you can use to improve your travel experiences. From breezing through airport security to getting early access to event tickets, check out what else this card has to offer below.
Global Entry Reimbursement
As with the points redemption options, this card also keeps information about some of its travel benefits under lock and key. While you won't see anything about the Global Entry/TSA PreCheck reimbursement in the initial terms and conditions, it is a benefit that this card provides.
Both of these services can help speed up your commute through airport security, giving you a more hassle-free experience. Your Amex Premier Rewards card provides reimbursement for whichever you choose.
Tip: Global Entry actually includes TSA PreCheck services in its $100 fee, so it's the better option if you plan to travel internationally. Otherwise, TSA PreCheck ($85) is usually enough for domestic flyers.
Travel Insurance
When it comes to travel, encountering mishaps can be understandably stressful – not to mention expensive. To help alleviate some of this stress, Amex travel cards like this one include certain types of insurance coverage:
Worldwide inconvenience insurance provides reimbursement for lost, damaged or delayed bags, as well as cancellation or interruption of your trip
The rental car collision waiver provides coverage for any damage to vehicles rented in the U.S.
VIP Access
If you want the VIP treatment, your Premier Rewards Amex can help you get it. When you pay with the card, you gain access to perks like luxury amenities at certain hotels around the world. You also receive early access to tickets for the most popular events. If you need help with your bookings, you can get premium concierge service through the card as well.
APRs and Fees to Consider
The first feature you'll likely notice related to fees is the lack of foreign transaction fees. This is the only credit card Valley National Bank offers with this feature, further highlighting its status as a decent travel rewards card. With no additional fees on purchases while abroad, you can focus on calculating the conversion rates for the countries you visit.
There is an annual fee of $99, however. This is a pretty standard fee for a travel rewards card, especially given the Global Entry credit. As an added bonus, Valley waives this fee for your first year as a cardholder.
There's no introductory bonus, which you might find with other offers, but the regular APR starts on the lower end of average. While not technically a low-APR card, if you have solid credit score you can get a nice rate.
Should You Apply for the Premier Rewards American Express® Card?
Ultimately, if you're a fan of the Valley National Bank brand, the American Express Premier Rewards Card is the most rewarding credit card they have to offer – literally. The 4-3-2-1 cash back scale is a fairly generous one that allows you to get more rewards for what are often the most expensive spending categories. The more additional benefits you take advantage of (including the Global Entry membership credit), the easier it will be to make up for the $99 annual fee.
If you're open to other financial institutions, there are plenty of other travel rewards cards to choose from, some offering better interest rates, introductory APRs and a slew of other travel perks.
To earn 3x points across dining, travel, gas and streaming services, you can look to the Wells Fargo Propel American Express Card as a worthy alternative. You won't get the Global Entry or TSA PreCheck credit, but there's no annual fee.
Browse Other Card Offers: