Last updated on August 24th, 2023
If you have bad credit, the best credit card for you is one that helps you improve your financial standing. Though having poor credit is undesirable, it's not an insurmountable hurdle. Most of the effort to build your credit lies on your part, but the right credit card can help speed up the process.
How to Choose a Good Credit Card if You Have Bad Credit
With a less-than-perfect credit history, you will notice your options are limited when browsing credit card options. Normally you will find that these cards have higher than average purchase APRs, multiple fees, and limited rewards or benefits. Naturally, these terms are laid out as such because you have to prove to card issuers that you are not a risky borrower of their money.
However, these limitations don't necessarily have to intimidate hopeful applicants. As long as individuals make on-time payments and do not charge more than they can afford to pay back, a high interest rate or late fees should not be a big concern.
Ideally, you will want to choose a card that reports your activity to one or more credit reporting bureau. This factor is key towards developing an attractive credit score and polishing one's credit report.
You will also benefit from considering a card whose application will not perform a hard inquiry on your credit report. Avoiding this full credit check will spare your credit score from getting impacted by a few points. Thirdly, you should look to either secured credit cards or unsecured cards that specifically do not require perfect credit to apply.
The advantage of a secured card is that you set your own credit limit via a security deposit requirement. This process can help you build discipline in knowing how much you can spend on a credit card. An unsecured card will come with a pre-set credit line determined after your application is approved.
Don't expect that credit line to be in the thousands of dollars if your credit score is lacking. However, again, starting small is advantageous in the long run.
Credit Cards for Bad Credit to Consider
If you have poor credit and are looking for payment card solutions, consider the roundup below collected by the BestCards team of experts. Not only do these options give you the purchasing power to cover your financial needs; they may also help improve your credit score – provided that you exercise responsible use. And, with good financial habits you may be eligible for a higher credit limit in as little as six months.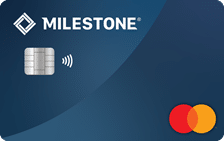 Pre-Qualify w/ No Credit Impact
Monthly payments reported to 3 major credit bureaus

No security deposit required – Your money stays in your pocket

A foundation you can build on
The Milestone Gold Mastercard is an unsecured credit card issued by The Bank of Missouri. Whether you have poor credit or are just starting on your financial path, Milestone is a worthy candidate. You can use the card at any merchant that accepts Mastercard, and the issuer reports to the major credit bureaus.
As a nice added touch, you can choose from several custom designs so you can show a bit of your personality. When you apply you will actually be considered for various Milestone Gold cards. The variations differ in annual fee and the card you are approved for will depend on your creditworthiness, among other factors – like your income.
Monthly payments reported to 3 major credit bureaus

No security deposit required – Your money stays in your pocket

Short and easy-to-complete pre-qualification form
The Indigo Platinum Mastercard is also an unsecured credit card, issued by Celtic Bank. When you apply for pre-qualification, you'll get a decision in less than a few minutes – and there's no hard inquiry on your credit report. Like the Milestone Gold Mastercard, the Indigo Platinum can be used anywhere Mastercard is accepted, including abroad. In addition, you have 24/7 access to your online account, where you can review your balance and transactions, make on-time payments, and more.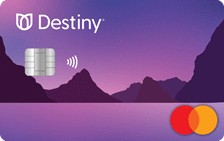 Less Than Perfect Credit Welcome
Accepted nationwide, wherever Mastercard is accepted

Simple and fast application process

An opportunity to build and access credit
The Destiny Mastercard doesn't care about your credit past. Instead, Destiny wants to be your go-to tool on your credit repair journey.
Like the Milestone Gold, the Destiny Card is an ideal option for those with bad credit – or even a bankruptcy in their past. The card offers a reasonable credit limit, regular reporting to the major credit bureaus, and the perfect platform for quickly raising your credit score.
Even better, the Destiny Mastercard has one of the lowest foreign transaction fees for a bad credit card – making it the perfect companion, both at home – and abroad!
Surge Platinum Mastercard®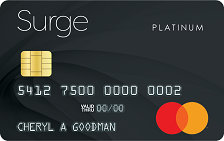 Earn Rewards While Building Credit!
Earn 1% Cash back Rewards on every purchase

Monthly reporting to the three major credit bureaus
The Surge Platinum Mastercard® is a credit card that offers rewards – and the ability to build credit – in one package. The card differs from most subprime cards on the market in that it earns 1% cash back rewards on every purchase and can help users build their credit score at most places in the United States where Mastercard is accepted.
That 1% cash back rewards places the card on a similar footing to the Discover It Secured card – a version of the bank's Discover It chrome Card. Having rewards and the ability to build credit however, is a great one-two punch towards establishing a positive financial history.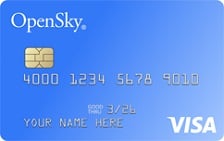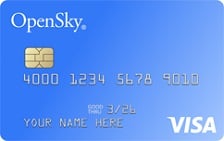 Build credit with on-time payments

Reports to the three leading credit bureaus
There are lots of credit cards on the market for people with bad credit or no credit. One of the more popular options, however, is the OpenSky Secured Visa. Perhaps the best reason to consider adding the OpenSky Visa credit card to your wallet is that it requires no credit check.
The application process with the OpenSky Secured Visa is straightforward and takes just a few minutes. Approval is equally quick, making the entire process as painless as possible. And, getting started without a credit check means there is no impact to your credit score – making it the perfect Visa for rebuilding credit.
Part of repairing damaged credit is learning the skills to use credit properly. OpenSky is great in this aspect, as they provide cardholders with free access to their knowledge base. The OpenSky knowledge base offers a range of articles on building credit. These topics include how to receive a free copy of your credit score, how credit scores are calculated, and tips on boosting credit.
Honorable Mentions
Want some more  credit card options for bad credit scores to consider? Here are a few extra card offers that just missed out on our top spots: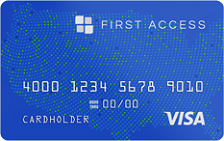 The First Access Solid Black VISA is an unsecured credit card that does not require perfect credit to apply. You can use it wherever Visa payment cards are accepted within the United States, and its application is also easy and quick to complete.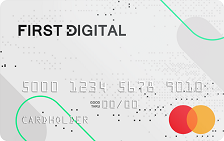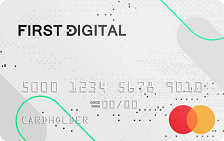 The First Digital NextGen Mastercard® is a sleek and straightforward credit card for people with bad credit scores. NextGen receives its name from its streamlines – and easy – application process, creating a new way to look at repairing damaged credit. Start with a respectable, $300 credit limit, and work your way towards a credit line increase with on-time payments and financial responsibility.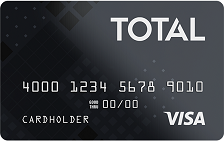 The Total Visa is another visa product for those with bad credit. The card prioritizes credit building over punishing those with a bad credit score, meaning even the worst credit scores can likely receive the card!