Last updated on July 18th, 2023
Advertiser Disclosure
close ×
Advertiser Disclosure – BestCards is an independent, Florida-based credit card comparison platform. Many of the card offers that appear on this site are from companies from which BestCards receives compensation. This compensation may impact how and where products appear on this site (including, for example, the order in which they appear). BestCards does not include all card companies or all card offers available in the marketplace.
Editorial Disclosure
close ×
Editorial Disclosure – The opinions expressed on BestCards' reviews, blogs, and all other content on or relating to the website are solely those of the content's author. They are not reflective of any card issuer or financial institution and have not been reviewed or approved by these entities unless otherwise noted. Further, BestCards lists credit card offers that are updated daily with information believed to be accurate to the best of our knowledge.
Stein Mart Platinum Mastercard®
26.99%, variable with the market based on the Prime Rate

Regular Purchase APR

28.99%

Cash Advance APR
Best Benefits
Rates & Fees
Why Should You Apply?
Earn 2 points per $1 spent at Stein Mart

Earn 2% back in Rewards for purchases

Enjoy exclusive shopping events and Bonus Points Days

Receive a $10 Stein Mart SMart Cash Reward with your new card in the mail as a thank you

Take 10% off your first purchase at Stein Mart with your new Stein Mart credit card

When you spend $500 or more each year, you're automatically upgraded to the Stein Mart Platinum Elite Mastercard, which doubles the rewards you can earn: 4 points per $1 spent at Stein Mart, and 4% back in Rewards for purchases
Regular Purchase APR: 26.99%, variable with the market based on the Prime Rate
Cash Advance APR: 28.99%
Cash Advance Transaction Fee: Either $10 or 4% of the amount of each cash advance, whichever is greater
Foreign Transaction Fee: 3% of each transactio
Late Payment Penalty Fee: Up to $39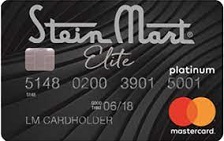 At a Glance 
Designed to reward avid Stein Mart fans, the Stein Mart Platinum Mastercard® offers exclusive discounts and rewards to supplement the perks that are available to members of the Stein Mart SMart Rewards program – all for no annual fee.
Ideal for Those Who:
Frequently shop at the over 100 stores of Stein Mart and want special discounts and bonuses for shopping with the retailer
Don't mind a higher APR because they plan to pay their balance in full to avoid interest charges
Want a special Stein Mart SMart Cash bonus just for opening an account
Want the ability to upgrade to an Elite card, with double the rewards of the Platinum Mastercard
Stein Mart Platinum Mastercard® Review
Individuals who frequent Stein Mart will get the most value from the Stein Mart Platinum Mastercard®, which rewards every dollar spent in-store with points that convert into savings. Additional perks and benefits are available – and cardholders who qualify for Elite status can double their rewards, too.
What Are Stein Mart SMart Rewards?
Stein Mart's SMart Rewards program is a free-to-join retail loyalty program. Designed for consumers who love Stein Mart enthusiasts, the Stein Mart Rewards program proffers insider perks – like senior discount days for members who are over the age of 55 – as well as other opportunities for discounts and a special birthday surprise each year for all members.
The Stein Mart Mastercard goes hand-in-hand with the SMart Rewards program, and it rewards members with extra perks. Cardholders can earn SMart Rewards points, which are not available to loyalty members without a Stain Mart Mastercard. Points are transferred into SMart Cash, which can be redeemed just like real cash towards any purchase made using a Stein Mart credit card. These points can only be redeemed in-store at this time.
Each point is valued at one cent. As such, 1,000 points is the equivalent of a $10 reward certificate. A value of $0.01 per point is average for a retail rewards program when compared to other retail cards.
SMart Cash Rewards are valid for 60 days, so cardholders and loyalty members who wish to capitalize on the rewards they earn will need to act quickly to redeem them. They're included in the monthly billing statement you'll receive in the mail.
It's important to note that even though your reward is included in your online statement – if you've registered for an online account – you must use the reward that is mailed to you via the USPS. Essentially, the mailing you'll receive acts as a coupon to redeem the rewards you get from monthly spending. The reward expiration date is printed on the front of each reward.
Introductory Bonus Offers
New cardholders who are approved for a Stein Mart Platinum Mastercard will receive a special bonus of $10 in Stein Mart SMart Cash when they receive their new card in the mail. This is the equivalent of 1,000 points and can easily cover the cost of a pair of fuzzy slipper socks or a crew neck T-shirt.
As an added incentive, new cardholders will also enjoy a one-time discount of 10% off the total of their first purchase made at Stein Mart using their new card. This discount is applied at checkout.
How to Earn SMart Cash Points with the Stein Mart Platinum Mastercard®
New Stein Mart Platinum Mastercard cardholders will enjoy all the benefits that SMart Rewards members receive, with the added benefit of earning points from purchases made directly at Stein Mart. They will also see a percentage of each spend credited back as rewards in their account. Stein Mart has included incentives that reward loyal cardmembers who spend extra money by automatically upgrading those who reach a spending threshold to an Elite version of their Platinum Mastercard.
To upgrade to the Elite version of this card, there is a required spend of $500 each year. This minimum is necessary for cardholders to qualify for Elite status. More importantly, this status resets at the beginning of each calendar year. Cardholders must reach the $500 threshold each year in order to maintain their Elite status.
Exclusive Platinum and Platinum Elite cardholder perks include the ability to earn points from purchases made directly with Stein Mart, as well as other great benefits.
There are several important distinctions that potential cardholders must be aware of. When it comes to these store-exclusive rewards, the Stein Mart Platinum Mastercard also earns 1 point per $1 spent on eligible purchases anywhere else Mastercard® is accepted. Points earned from purchases outside of Stein Mart will still count towards the cardholder's point total.
If a cardholder continues to spend at least $500 at Stein Mart using their Stein Mart credit card within a calendar year, they will maintain their Elite status. If $500 is spent in total, but a portion of the purchases that contribute to that total are made using other payment methods like cash or debit, those purchases will not count towards Elite status.
Free shipping is a benefit that is exclusively available to Elite cardmembers. In order to receive it, those cardmembers must create an account at the SteinMart website and also sign up for an online account management profile.
It's important to use the same email address for both accounts, otherwise free shipping will not be approved. Free shipping is valid for shipments within the United States only. Although Alaska and Hawaii qualify for free shipping, international orders will not benefit from this perk.
Managing Your Stein Mart Platinum Mastercard®
Your account is free, and it's a convenient (and easy) way to manage your payments, track spending, and much more.
Cardholders can add authorized users by calling the number on the back of their card, or by visiting their online account. Extra cards are free of charge and they earn rewards that accrue to the main account holder's points total. Authorized users will enjoy the same benefits and perks that accompany your card.
When it's time to pay your monthly statement, there are several options available. Making a payment is free via the toll-free number, 1-855-269-2139, and payments can also be made in-store (you can pay using cash, check, or debit) or online in your card management portal. In addition, payments can be mailed directly to the card issuer. Call the number on the back of your card for more details.
Should You Apply for the Stein Mart Platinum Mastercard® From Synchrony Bank?
The Stein Mart Platinum Mastercard® offers a strong set of exclusive perks that will appeal to folks who love to shop at Stein Mart. For cardholders who really prefer Stein Mart and are willing to spend $500 or more each year, the Elite upgrade essentially doubles those rewards.
The Stein Mart credit card's unique upgrade to Elite status for cardholders who meet the spending threshold stands out from some of the competition, although it isn't the only card that offers boosted perks for cardholders who achieve higher status levels. The Brooks Brothers Platinum Mastercard®, for instance, has three total membership tiers that earn rewards at different rates.
There are two major caveats to be aware of when it comes to the Stein Mart Platinum Mastercard®. First, its APR for purchases is higher than average for retail credit cards – more than double the interest rates that cards like the Dillard's American Express® Card carry. This means that potential cardholders must plan to pay down their entire balance each month, or as much as they can, if they want to avoid high interest fees.
Second, the Stein Mart Platinum Mastercard does not allow balance transfers, which are a useful feature that many other retail cards, like the Amazon Prime Rewards Visa Signature® Card, offer to cardholders. If you've accrued debt on another credit card, a balance transfer can help you to pay this debt down and save money, especially if the card you transfer the balance to has a lower APR and/or an introductory APR period.
Deciding if this retail credit card is the right fit for your wallet, however, requires careful consideration of several factors. There are many co-branded retail cards on the market. Some cards, like the Barnes & Noble Mastercard® and the Sephora Visa® Credit Card offer rewards to users who frequent these stores often and want to save money while making purchases they'd likely make either way.
The Marvel Mastercard® and the DC Power Visa® focus more on rewards that benefit lovers of entertainment and the fandoms they represent. If you are considering applying for one, you should look at how much you spend with the co-branded retailer each year and compare it to the rewards available to determine if the juice is worth the squeeze.
All told, there are a variety of retail credit cards that may be a better fit for most consumers who are looking to earn rewards from retail purchases. The Stein Mart Platinum Mastercard will appeal most to people who love to shop at Stein Mart, and who are excited to earn perks that are exclusive to the purchases they'll make at the store.
It holds the most value for cardholders whose annual spending at Stein Mart exceeds $500 every year, thanks to a beefed-up rewards structure once the Elite status has been achieved. Shoppers who are not likely to spend a lot of money at Stein Mart will most likely find better value with a different retail credit card.
Browse Other Synchrony Card Offers: