Last updated on February 23rd, 2023
Advertiser Disclosure
close ×
Advertiser Disclosure – BestCards is an independent, Florida-based credit card comparison platform. Many of the card offers that appear on this site are from companies from which BestCards receives compensation. This compensation may impact how and where products appear on this site (including, for example, the order in which they appear). BestCards does not include all card companies or all card offers available in the marketplace.
Editorial Disclosure
close ×
Editorial Disclosure – The opinions expressed on BestCards' reviews, blogs, and all other content on or relating to the website are solely those of the content's author. They are not reflective of any card issuer or financial institution and have not been reviewed or approved by these entities unless otherwise noted. Further, BestCards lists credit card offers that are updated daily with information believed to be accurate to the best of our knowledge.
16.99% to 17.99% variable based on creditworthiness and the Prime Rate

Regular Purchase APR

17.99%

Balance Transfer APR

17.99%

Cash Advance APR

0% for the first 15 months from account opening date

Intro Purchase APR
At a Glance
If minimizing the cost of carrying a credit card balance is at the forefront of your mind, consider the PenFed Gold Visa® Card which features PenFed's lowest APR, no annual fee, plus no interest on balance transfers for the first 12 months.
Best Benefits
Rates & Fees
Why Should You Apply?
Lowest APR of PenFed credit cards

No cash advance fees - ever

0% APR on balance transfer for 12 months
Intro Purchase APR: 0% for the first 15 months from account opening date
Regular Purchase APR: 16.99% to 17.99% variable based on creditworthiness and the Prime Rate
Intro Balance Transfer APR: 0% for the first 15 months from account opening date
Balance Transfer APR: 17.99%
Balance Transfer Transaction Fee: 3% of the amount of each transfer
Cash Advance APR: 17.99%
Penalty APR: 17.99%
Late Payment Penalty Fee: Up to $28
Return Payment Penalty Fee: Up to $25
You typically carry a credit card balance

You rely on cash advances to help make ends meet

You are able to spend $1,000 within the first 90 days of opening an account

You're already a PenFed member or are eligible to join the credit unio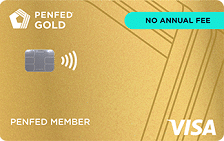 ​
PenFed Gold Visa® Card Review
The PenFed Gold Visa® Card is an unflashy low APR card that has one of the most competitive interest rates available on a national scale. Besides offering financial relief to those who tend to carry a balance on their credit cards, the PenFed Gold Visa has the potential to help applicants improve their finances in the long run as well. Although the PenFed Gold Visa® Card does not offer rewards for spending, cardholders will find that the savings on credit card fees or interest charges would outweigh any point or cash back earnings they might receive elsewhere.
An Impressively Low APR (Regardless of Credit Score)
The PenFed Gold Visa® Card was designed to be PenFed's lowest rate credit card – but these rates aren't just low when compared to their other offerings. Stacked up to similar cards from major issuers and credit unions alike, the PenFed Gold Visa® Card still had a significantly lower APR than its peers (and credit unions are known for having the most competitive rates available).
Perhaps even more impressive, however, is that rates on the high end of the PenFed Gold Visa® APR range are still competitive – great news for those with lower credit scores. Too often, credit cards that tout themselves as low APR options will lure applicants with an enticing rate only to pull a bait-and-switch, hitting less-than-stellar-scores with rates from the high end of their range (which can be upwards of 25%). In fact, according to U.S. News, individuals with Fair credit scores will rarely find a card with a rate lower than 24%. But with the PenFed Gold Visa®, both those with Excellent credit and not-so-great credit will secure a superb APR that's significantly lower than their respective (APR) averages.
Introductory APR for Balance Transfers
Cardholders looking to pay down debt at the best rates possible will be well-served with the PenFed Gold Visa® Card. New cardholders can enjoy 12 months of 0% interest on balance transfers – just keep in mind that the balance transfer fee is not waived.
$100 Statement Credit
A perk rarely offered by low APR credit cards, new PenFed Gold Visa® applicants will receive a $100 statement credit after spending $1,500 within the first 90 days of opening the card. Over this three-month period, the spend requirement breaks down to $500 per month which could be challenging since this card does not offer an introductory purchase APR. Once earned, the statement credit may take up to 4 weeks to post to the account.
Normally, it's recommended that cardholders only try and earn the signup bonus if they can pay their balance in full each month. In this case however, an exception can be made for two reasons. First, this $100 statement credit is the only form of a reward that cardholders will be able to receive with the PenFed Gold Visa®. Secondly, because it is a low APR card, even those with the highest interest rates would find themselves only paying a few dollars in interest (based on the $500 monthly spend). If cardholders can pay off the $1,500 in charges within the first few months, they'll still come out ahead with a net gain despite the interest fees.
No Fees on Cash Advances
One of the most unique features of the PenFed Gold Visa® is how cash advance-friendly it is. The card features one of the lowest cash advance APR rates seen in the industry and charges no fees for doing so – making the PenFed Gold card a handy alternative to payday advances or other short-term loans.
A credit card with no cash advance fee is a rarity, whether the card is from a major issuer or a super-localized credit union (although the PenFed Gold Visa® is not the only credit card from PenFed to do so). For the individual who has an irregular income or is suddenly hit with an unexpected expense, the PenFed Gold Visa® could make cash advances a much more affordable endeavor.
Should You Apply for the PenFed Gold Visa® Credit Card?
Applying for the PenFed Gold Visa® can be tricky as Pentagon Federal Credit Union is known for having strict underwriting criteria, triggering multiple inquiries within the same credit bureau, and inconsistencies with its credit approvals (although applicants with Fair scores near the 650s have reported being approved). Starting credit limits can fall on the small side, leaving potential applicants little to work with. Fortunately, PenFed is also known for having helpful customer service and either a denial or a small credit limit can be addressed by calling and speaking a PenFed loan officer.
Overall, the PenFed Gold Visa® is a strong option for anyone looking to find a financial tool for paying off existing credit card debt or simply handling life's everyday expenses. It's easily one of the best low APR credit cards available on the market today – even without offering any kind of rewards gimmick. Cardholders will surely be impressed by PenFed's commitment to bringing their customers a user-friendly and cost-effective financial tool. There is no annual fee, cash advance fee, or foreign transaction fee, which makes the PenFed Gold Visa® wonderfully low maintenance in addition.
Browse Other PenFed Card Offers: