by BestCards Team | Last updated on October 16th, 2023
Liberty Bank Visa® Platinum Card
19.24% to 29.24% variable based on creditworthiness and the Prime Rate

Regular Purchase APR

19.24% to 29.24% variable based on creditworthiness and the Prime Rate

Balance Transfer APR

29.99% variable based on the Prime Rate

Cash Advance APR

0% for 18 months from account opening date

Intro Purchase APR
At a Glance
The Liberty Bank Visa® Platinum Card features no annual fee. This card offers new cardholders a 0% introductory APR for 18 months on purchases. The same 0% APR also applies for 18 months on balance transfers you make within 186 days of opening a new account.
Best Benefits
Rates & Fees
Why Should You Apply?
No annual fee

0% introductory APR for 18 months on purchases

0% introductory APR for 18 months on balance transfers

Access to Visa® Perks, like extended warranty and auto rental coverage
Intro Purchase APR: 0% for 18 months from account opening date
Regular Purchase APR: 19.24% to 29.24% variable based on creditworthiness and the Prime Rate
Intro Balance Transfer APR: 0% for 18 months from account opening date
Balance Transfer APR: 19.24% to 29.24% variable based on creditworthiness and the Prime Rate
Balance Transfer Transaction Fee: Either $5 or 3% of the amount of each transfer, whichever is greater
Cash Advance APR: 29.99% variable based on the Prime Rate
Cash Advance Transaction Fee: Either $10 or 5% of the amount of each transaction, whichever is greater
Foreign Transaction Fee: Up to 3% of the transaction amount in U.S. dollars
Late Payment Penalty Fee: Up to $41
Return Payment Penalty Fee: Up to $41
You don't want to pay an annual fee

You prefer to have lower rates than earn rewards points

You would like to pay 0% interest on purchases for 18 months

You need to transfer a balance and plan to pay it off in 18 months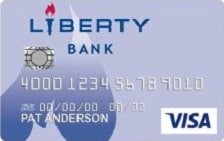 ​
Liberty Bank Visa® Platinum Card Review
The Visa® Platinum Card from Liberty Bank is one of the more basic credit cards that this bank offers its customers. It doesn't charge cardholders an annual fee to use this card.
However, this card doesn't include many fancy perks, like rewards points or cash back. It does, however, offer some of Liberty Bank's lowest interest rates.
Additionally, the Visa® Platinum Card is an ideal credit card for those who want to transfer a balance. New cardholders have 18 months to pay off their balances with 0% interest. That's three times as long as you'd get with this bank's Signature Card.
What's more, this introductory APR also applies to purchases. So, for 18 months none of your purchases will accrue any interest. Find out more about these features and how they can benefit you by reading the sections below.
No Fee Means More Money for You
The Liberty Bank Visa® Platinum Card is fee-free…well, almost. There's no annual fee involved to use this credit card. Now, you may think that's not such a big deal. But take a look at some of Bestcards.com's other reviews, and you'll see that many issuers do charge cardholders a fee.
Many cardholders may be alright paying an annual fee for a credit card that offers a truckload of glamorous perks, like airport lounge access and multiple points on your purchases. However, if you're looking for a basic credit card, you shouldn't have to pay extra just to have a convenient method of payment.
But although the Visa® Platinum card may not offer any of those fancy benefits, it's far from basic. This card offers cardholders two great features that can save them money in the long run. In addition, these features can also help cardholders reach their financial goals quicker.
0% APR on Balance Transfers
You may want to drop everything and apply for Liberty Bank Visa® Platinum Card if you're stuck with a balance on a high-interest credit card. For 18 months you can take advantage of 0% APR on a balance you transfer over to this card.
This 18-month promotional period begins the day that you sign up for this credit card. Be sure to keep this in mind, as you don't want to wait a year after opening an account thinking you'll still benefit from this feature.
Additionally, you must transfer a balance within 186 days (about six months) to take advantage of this deal. This can really be a breath of fresh air for many people who are looking for a balance transfer credit card.
Even Liberty Bank's other credit card options only offer six months of 0% APR on balance transfers. Many other issuers may offer a 12-month promotional period with 90 days for you to transfer a balance.
These other cards make it so that you have to transfer over a balance ASAP. This may limit your time to plan your finances and see whether you can pay off the balance in time. Additionally, these shorter-term zero-interest periods mean your monthly payments end up being higher.
Liberty Bank's Visa® Platinum card gives you time to figure out if you have a balance (or balances) to transfer over and how you'll pay it off. Additionally, the six extra months can remove some of financial strain if you have a limited cash flow.
To put it in dollars and cents, imagine you wanted to pay off a $6,000 balance once and for all. With Liberty Bank's other cards, your monthly payments would come out to $1,000 a month. That can be a significant chunk of your monthly income.
A 12-month 0% APR period will result in $500 monthly payments. However, this credit will enable you to make monthly payments of $333, which can be much more manageable.
Just keep in mind that zero interest doesn't mean free with this card. You're still responsible for paying a balance transfer fee. However, this fee is a fraction of what any bank will charge you in interest.
0% APR on Purchases
The Liberty Bank Visa® Platinum Card's savings don't end with balance transfers. New cardholders receive the same 0% APR period for purchases, too.
This means that anything you buy during the first 18 months accrues no interest whatsoever. This deal can help cardholders save loads of money in their first year.
For example, if you spend $15,000, you can save over $3,000 in interest charges. However, this card may be most advantageous for those who need to make a significant purchase.
Purchasing a new home is a major expense. However, many new homeowners are faced with additional expenses once they move in. You may need to remodel or repair some features of your new home. Many new homeowners also need to buy new furniture. This is just one example of when 0% APR on purchases for 18 months can be a financial lifesaver.
You can furnish your entire home and pay it off in a year and a half without having to pay anything extra. If you add in the fact that there is no annual fee with this card, it's almost like having a close friend letting you borrow some money.
Now, you should think carefully about how you're going to pay off that purchase. While the Visa® Platinum Card offers some of Liberty Bank's lowest interest rates, you don't want this deal to go to waste.
If you furnish your home for $15,000, that means your monthly payments will come out to over $800 if you want to avoid paying interest. Remember that you should pay your credit card off in cash to avoid falling into unmanageable debt. Figure out whether your monthly payments will be within your reach before you go on a spending spree with this card.
Should You Apply for the Liberty Bank Visa® Platinum Card?
This Visa® Platinum Card from Liberty Bank may only be an ideal option if you live in Connecticut, as this bank has no branches outside the state. Nevertheless, it offers one of the most competitive introductory interest rates around.
If you are looking to pay off a balance on a higher-interest credit card, this may be the card for you. Having six months to make a transfer and 18 months to pay it off can help you get out of a sticky financial situation. This is particularly true with some proper planning.
The introductory 0% APR on purchases is equally attractive. If you need to finance any sort of large purchase, this card can help you do that. What's more, you won't have to pay anything extra if remember to pay off your balance before the promotional period is up.
Browse Other Liberty Bank Credit Cards:
Editorial Disclosure – The opinions expressed on BestCards.com's reviews, articles, and all other content on or relating to the website are solely those of the content's author(s). These opinions do not reflect those of any card issuer or financial institution, and editorial content on our site has not been reviewed or approved by these entities unless noted otherwise. Further, BestCards.com lists credit card offers that are frequently updated with information believed to be accurate to the best of our team's knowledge. However, please review the information provided directly by the credit card issuer or related financial institution for full details.