Secured credit cards play an essential role in building credit. Secured cards work by requiring a cash deposit, which acts as both the credit line and security in case of late payments. This deposit makes them easier to get for those with bad credit scores. For some, however, raising the money for a deposit is unaffordable. Is there another option? Do you need a secured credit card if you have bad credit?
The answer to this question is an emphatic no. There is a wide selection of unsecured credit cards available to those with no credit history or a bad credit score they want to repair. Credit cards available to those with lower credit scores are known as subprime credit cards.
Credit Cards for Bad Credit
Subprime cards typically offer lower credit limits and a fixed APR. Fortunately, they don't require a deposit. They do, however, usually have an annual fee. For many, this is a fair price to pay for access to a tool that can quickly rebuild credit.
One of the more popular examples of a credit card for poor credit is the Milestone Mastercard. The card offers the chance to build credit while also providing the benefits of a Mastercard product. The card reports to the three major credit reporting bureaus, so paying in-full each month can significantly boost a person's score in as little as six months.
Our credit cards content is not loading right now. Please try again or contact the BestCards team.
The Indigo Mastercard is another option that attracts a lot of attention from those with poor credit scores. The card features the same fixed-rate APR as the Milestone, plus the same Mastercard benefits and global acceptance. Unlike the Milestone, however, Indigo allows cardholders to choose from several eye-catching card designs – giving cardholders the ability to build credit and express their personality at the same time.
Our credit cards content is not loading right now. Please try again or contact the BestCards team.
Credit Cards for No Credit
There are also several unsecured card options for people with no credit history. These cards differ from the Indigo and Milestone in that they don't partner with a payment network like Mastercard. Instead, these cards offer a credit line of $750 to shopping outlets.
One such example of this type of card is the Group One Platinum Card. The card offers a $750 limit, which applies towards the Horizon Outlet. That online store features a massive selection of products, including clothing, gifts, sporting goods, and more. The variety of items available means the card isn't just for building credit – it also offers access to great deals.
But building credit is something that the Group One Platinum Card does very well. The card reports activity to a major credit bureau (from Equifax, Experian, and TransUnion), meaning even those with no credit at all can quickly build a positive credit history. That, in turn, can mean better credit card offers in the future.
Other benefits of this type of cards include:
No employment checks
Fast and easy application processes
Decisions within minutes
No purchase APR
Our credit cards content is not loading right now. Please try again or contact the BestCards team.
Secured Credit Cards Still Offer Value
For those unsure if they want to leap to an unsecured credit card, secured credit cards provide the basis for learning to effectively use a credit card with a safety net. Secured cards allow cardholders to practice keeping their credit utilization low and get in the habit of paying their balance in full every month. These two habits are a sure-fire way to improve your credit score.
There are a considerable number of secured cards on the market, from major issuers like Capital One and Discover, all the way down to your local credit union. Some, like the Discover It Secured Card, even offer rewards. But while secured cards are easier to get, that doesn't mean everyone will be approved.
Being declined for a secured credit card can be tough for a person's self-confidence. And when you are struggling to repair your credit, positivity is key. Fortunately, there are secured cards that don't require credit checks. One such example is the OpenSky® Secured Visa® Credit Card.
The OpenSky card offers the purchasing power of a Visa credit card, plus a moderate annual fee. Many secured cards charge annual fees, with some rising as high as $100. With the OpenSky Card, this fee is $35, which is very reasonable. Plus, with minimum deposits of only $200, it's an affordable option.
One of the top highlights of the OpenSky Secured Visa, however, is the fact that there is no minimum credit required. That means this is a solid option to consider for those who are both building and rebuilding their credit. Decisions arrive in minutes, with high approval rates. And the issuer reports card activity to the major credit bureaus, providing an avenue for increasing one's credit score and reputation.
25.64% (variable)

Regular Purchase APR

25.64% (variable)

Cash Advance APR
At a Glance
The OpenSky® Secured Visa® is a secured credit card that offers requires a low minimum deposit and features no credit checks for approval. The card, issued by Capital Bank, provides an easy route to better credit by offering credit limits as low as $200, a moderate fixed-rate APR, and a reasonable $35 annual fee.
Best Benefits
Rates & Fees
Why Should You Apply?
Limited Time Offer: $51 funding voucher applied for all new accounts. Get a $200 credit line for $149. Click "Apply Now" to see additional terms and conditions.

No credit check to apply. Zero credit risk to apply!

Looking to build or rebuild your credit? 2/3 of cardholders receive a 48+ point improvement after making 3 on-time payments

Extend your $200 credit line by getting considered for an unsecured credit line increase after 6 months - no additional deposit required!

Get free monthly access to your FICO score in our mobile application

Build your credit history across 3 major credit reporting agencies: Experian, Equifax, and Transunion

Add to your mobile wallet and make purchases using Apple Pay, Samsung Pay and Google Pay

Fund your card with a low $200 refundable security deposit to get a $200 credit line

Apply in less than 5 minutes with our mobile first application

Choose the due date that fits your schedule with flexible payment dates

Fund your security deposit over 60 days with the option to make partial payments

Join over 1.2 million cardholders who've used OpenSky to build their credit
Regular Purchase APR: 25.64% (variable)
Cash Advance APR: 25.64% (variable)
Cash Advance Transaction Fee: Either $6 or 5% of the amount of each cash advance, whichever is greater.
Annual Fee: $35
Foreign Transaction Fee: 3% of each transaction in U.S. dollars
Late Payment Penalty Fee: Up to $40
Return Payment Penalty Fee: Up to $25
Minimum Deposit Required: $200
You're struggling to get accepted for other secured credit cards

You don't have a credit history

You have bad credit and want to improve your credit score

You have a large deposit and want a quick pick-me-up for their credit score

You want access to a useful knowledge base of credit information and resources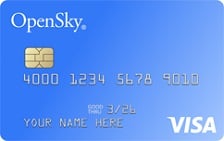 Secured Cards Aren't Just for Bad Credit
Secured cards like the OpenSky make great sense for those looking to boost their credit score quickly. This applies to those with fair or good credit scores, as well. Using the card to make a large deposit, you can instantly raise your credit limits as high as $3,000. Combined with the lack of a hard inquiry, it can push a cardholder's score up quickly – potentially helping them get better rates on future auto loans, mortgages, or personal loans. They may even be able to get their dream rewards credit card.
Related Article: Is It a Good Time to Apply for a Travel Credit Card?
Editorial Disclosure – The opinions expressed on BestCards.com's reviews, articles, and all other content on or relating to the website are solely those of the content's author(s). These opinions do not reflect those of any card issuer or financial institution, and editorial content on our site has not been reviewed or approved by these entities unless noted otherwise. Further, BestCards.com lists credit card offers that are frequently updated with information believed to be accurate to the best of our team's knowledge. However, please review the information provided directly by the credit card issuer or related financial institution for full details.