Continuing from the rollout of Mastercard's True Name feature on its card products, Citi is now launching a major marketing campaign for Trans Awareness Week, seeking to further advance the movement toward equality and inclusion.
New Citi Campaign Seeks to Highlight Inclusivity and Awareness
The new campaign is being launched in tandem with Trans Awareness Week, featuring real people from across the gender diversity spectrum – both in front and behind the camera. The 360-campaign encompasses print, broadcast, digital, and other ads – including at Citi Bike stations in New York City.
To fully celebrate Trans Awareness Week, Citi is ensuring individuals from across the gender diversity spectrum are fully represented. This inclusiveness includes examples like Bianca Cline – a trans cinematographer — who served as the director of photography for the broadcast spots and was crucial in authentically capturing the individuals portrayed in the ads.
Transgender representation in advertising has been virtually non-existent, with only 0.3% of advertising featuring transgender people. Citi's campaign aims to help the transgender and non-binary community feel recognized, accepted, and empowered – something the corporation feels is a meaningful extension of its commitment to advocating for LGBTQ+ equality.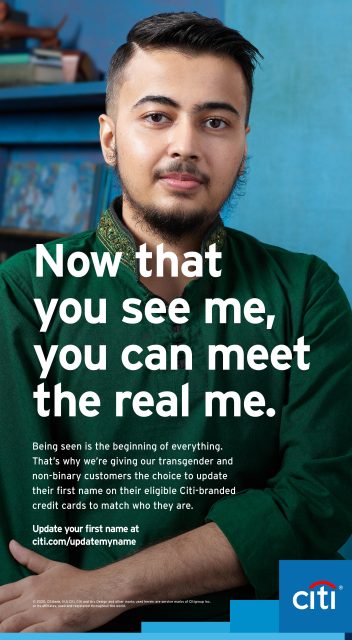 Mastercard's True Name Program
Citi's Trans Awareness Week campaign follows closely on the heels of the bank partnering with Mastercard's True Name™ program.
The Mastercard True Name™ feature allows all non-binary and transgender customers to place their chosen name, rather than their birth or legal name, on their card. Until now, cardholders have had no choice but to use their birth name, which is often a point of sensitivity for many who identify as non-binary or transgender. Only in instances of a legal name change were alterations permissible.
"I remember the first time I heard a stranger refer to me as he, and the first time I received mail with a Mr. in front of my name. It's so validating," said Asha Doucet, a trans actor starring in the aforementioned campaign's TV ad. "But the reality is that so many trans/non-binary people have yet to feel that validation. And it is a lengthy and often disheartening process to get a name or gender change on our government IDs. But the fact that Citi is allowing trans/non-binary people to get that validation and to feel seen by allowing name changes on their bank cards is amazing. Not much feels better than being acknowledged for who you are."
About Citi
Citi, a leading global bank, has approximately 200 million customer accounts and does business in more than 160 countries worldwide. Citibank is the fourth-largest bank in the U.S. by total assets – and the third-largest issuer of credit cards. Over 68 million Citi credit cards are currently in circulation, including co-branded credit cards with names like AT&T, Macy's, Bloomingdale's, American Airlines, and more.
Related Article: The Best Charity Credit Cards for Movember 2020