Advertiser Disclosure
close ×
Advertiser Disclosure – BestCards is an independent, Florida-based credit card comparison platform. Many of the card offers that appear on this site are from companies from which BestCards receives compensation. This compensation may impact how and where products appear on this site (including, for example, the order in which they appear). BestCards does not include all card companies or all card offers available in the marketplace.
Editorial Disclosure
close ×
Editorial Disclosure – The opinions expressed on BestCards' reviews, blogs, and all other content on or relating to the website are solely those of the content's author. They are not reflective of any card issuer or financial institution and have not been reviewed or approved by these entities unless otherwise noted. Further, BestCards lists credit card offers that are updated daily with information believed to be accurate to the best of our knowledge.
Last updated on December 29th, 2021
Credit lines available from $200 to $5,000. Low 13.99% variable interest rate on purchases - with no penalty rate

No minimum credit score requirements. We invite all credit types to apply. No processing or application fees

Helps strengthen your credit with responsible card use. Reports to three national bureaus

Fast, easy application process. Choose your credit line and open your Personal Savings Deposit Account to secure your line

Nationwide Program though not yet available in NY, IA, AR, or WI

See website for additional Oakstone Gold Secured Mastercard® details

Includes Free Real-Time Access to Your Credit Score and Ongoing Credit Monitoring powered by Experian

Get a fresh start! A discharged bankruptcy still in your credit bureau file will not cause you to be declined
Regular Purchase APR: 13.99% variable based on the Prime Rate
Cash Advance APR: 19.99% variable based on the Prime Rate
Cash Advance Transaction Fee: Either $10 or 3% of the amount of each cash advance, whichever is greater
Annual Fee: $39
Foreign Transaction Fee: 3% of the transaction amount in U.S. dollars
Late Payment Penalty Fee: Up to $40
Return Payment Penalty Fee: Up to $29
Minimum Deposit Required: $200
The Oakstone Gold Secured Mastercard® is a quality secured credit card that provides a highly competitive purchase APR, regular reporting to the three nationwide credit bureaus, and the purchasing power of a full-fledged Mastercard – all for a $39 annual fee. 
Have a limited credit history, damaged credit, or no credit history at all

 

Wish to repair or build their credit

 

Want a great low everyday APR

Are looking for a simple, everyday use credit card 
Oakstone Gold Secured Mastercard® Review
The Oakstone Gold Secured Mastercard® is a robust secured credit that provides the credit-building foundation you need, with a competitive APR for everyday use. 
A Highly Competitive APR on Purchases
One of the biggest headlines with the Oakstone Gold Secured Mastercard is the variable APR on purchases. The Gold's 13.99% APR is slightly higher than its sibling's, the Oakstone Platinum Card. However, the Gold features an annual fee $10 lower than the Platinum Mastercard's. 
The average APR for someone with bad credit is approximately 21.74%. This is significantly higher than the interest rate that Oakstone charges on either of its cards. And these low rates make them card an ideal option for someone who wants the versatility to build credit and carry a balance (if necessary) at the same time. 
No Minimum Credit Score or History Required
One of the best features of cards like the Oakstone Gold Mastercard is that people with no credit history can apply for the card. There are also no minimum credit score requirements, which will help those who are just starting on their personal finance journey.  
Build Credit with On-Time Payments
Oakstone and Synovus Bank (the card's issuer) report customer activity to the major credit bureaus – Equifax, Experian, and TransUnion – every month, making a card like the Oakstone Gold Secured Mastercard excellent for establishing a history of on-time payments. Payment history accounts for 35% of your FICO Score. This means paying your minimum amount due every month is critical for raising your credit score.  
Security Deposit Requirement
Secured cards are like any other credit card: they provide flexibility when paying, offer fraud protection, and help you establish a positive credit history with on-time payments. The only difference between a secured credit card and an unsecured card is that secured cards require a cash deposit. 
This security deposit acts as the collateral for the account and serves as the line of credit. With the Oakstone Gold, that refundable security deposit is a minimum of $200, with a maximum initial deposit of $5,000. This is on par with other secured card options (including the Oakstone Platinum Mastercard) and makes the card a solid choice for those who want a low rate and a modest initial deposit requirement. 
The Oakstone Gold Secured Mastercard offers additional benefits beyond a low interest rate and a pathway to a stronger credit profile. Other highlights include:
No penalty APR for late payments

A fast, easy application process with a decision in minutes

A very reasonable $39 annual fee

No monthly servicing fees or application processing fees

Can be used to make foreign transactions (although a 3% fee on purchases made outside the United States applies)

 
Not Available to All U.S. Residents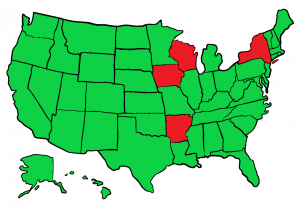 It is worth noting that Oakstone credit cards aren't open to applicants everywhere. Currently, the card is not available to residents in the following U.S. states:
Arkansas
Iowa
New York
Wisconsin
How does the Oakstone Mastercard stack up? Here are a selection of expert reviews for the card:
What is the Oakstone Gold Secured Mastercard® like to live with? Before deciding if the card is right for you, here's what our readers and members think about the card: Miguel
BestCards Member
Oakstone gave me a chance when no one else would.
Should You Apply for the Oakstone Gold Secured Mastercard®?
Oakstone – and card issuer Synovus Bank – have two great secured credit cards on offer with the Oakstone Platinum and Oakstone Gold Secured Mastercard. While the Gold version features a slightly higher purchase APR, the lower annual fee compensates for this discrepancy. The Gold Card's 13.99% variable APR on purchases is still highly competitive – and 8% lower than the national average interest rate for those with an imperfect credit score.  
The freedom to select a refundable security deposit that fits your needs and a fast, easy application process is also a great feature, as is the near-global acceptance of the Mastercard payment network.  
All told, the Oakstone Gold Secured Mastercard offers everyday value, strong purchasing power, and the foundation required to raise your credit score fast.
Browse Other Card Offers: