Last updated on July 18th, 2023
Advertiser Disclosure
close ×
Advertiser Disclosure – BestCards is an independent, Florida-based credit card comparison platform. Many of the card offers that appear on this site are from companies from which BestCards receives compensation. This compensation may impact how and where products appear on this site (including, for example, the order in which they appear). BestCards does not include all card companies or all card offers available in the marketplace.
Editorial Disclosure
close ×
Editorial Disclosure – The opinions expressed on BestCards' reviews, blogs, and all other content on or relating to the website are solely those of the content's author. They are not reflective of any card issuer or financial institution and have not been reviewed or approved by these entities unless otherwise noted. Further, BestCards lists credit card offers that are updated daily with information believed to be accurate to the best of our knowledge.
14.99%, 19.99%, 24.99% variable based on creditworthiness and the Prime Rate

Regular Purchase APR

29.99%

Cash Advance APR
Best Benefits
Rates & Fees
Why Should You Apply?
3% cash back on dining

3% cash back on entertainment

3% cash back at Marvel.com and official merchandise booth

1% cash back on all other purchases

20% off Marvel Avengers S.T.A.T.I.O.N. movie tickets (up to 4)

10% off merchandise from MarvelShop.com

Free shipping at MarvelShop.com certain times of year

Special discount for Marvel Universe subscription (current members)

3 months of free access to Marvel Universe (for non-member cardholders)

No annual fee
Regular Purchase APR: 14.99%, 19.99%, 24.99% variable based on creditworthiness and the Prime Rate
Cash Advance APR: 29.99%
Cash Advance Transaction Fee: Either $10 or 5% of the amount of each cash advance, whichever is greater
Foreign Transaction Fee: 3% of the transaction amount in U.S dollars
Late Payment Penalty Fee: Up to $37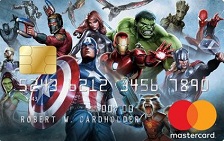 At a Glance
For fans of the Marvel Comics Universe (MCU), there is now a marvelous cash back credit card. The Marvel Mastercard® bestows exclusive perks and discounts, as well as up to 3% in cash back rewards for cardholders who love Marvel and its superheroes and supervillains.
Ideal for Those Who:
Are fans of comic books and Marvel movies & TV series
Would like to use a credit card that earns cash back rewards from everyday purchases
Want to show off their favorite Marvel superhero on the front of their card
Want to take advantage of discounts on Marvel merchandise that they already frequently shop for
Marvel Mastercard® Card Review
The Marvel fandom has a new hero – The Marvel Mastercard® – and its superpower is cash back. Cardholders who love Marvel, as well as seeing live entertainment, going to the movies and dining out, can earn up to 3% cash back rewards. They'll also be able to take advantage of exclusive discounts on digital comics, tickets to the Marvel Avengers S.T.A.T.I.O.N., and more. With the power of the Marvel universe in your wallet, this card will be a real-life hero to those who wish to fly their geek flags high.
How to Earn Cash Back with the Marvel Mastercard®
The Marvel Mastercard is designed to reward cardholders for their love of the Marvel universe. If you're a fan of Marvel, going to the movies, and dining out, you're in for a treat. Cardholders can earn cash back rewards based on eligible net spending with this card. Cash back is rewarded for the following:
3% Cash Back on Dining, Entertainment, and Marvel® Purchases: The Marvel Mastercard is meant to appeal to folks who are big fans of entertainment, in all its forms. Earn 3% cash back each time you dine out, buy movie tickets, or enjoy a live concert. Cardholders will also earn 3% cash back by using their card for all purchases made online at Marvel.com and at Marvel's Official Merchandise Booths. Marvel fans will be pleased to know they can earn cash back every time they purchase tickets to see their favorite Marvel motion picture or buy merch to show off their allegiances. Movie buffs earn extra rewards when they go to dinner and a movie just from swiping the Marvel card by combining dining and entertainment purchases. Whether it's date night or a group outing for the premiere of the latest superhero flick, the cash back rewards that accompany this card are worth considering. In fact, Marvel fans who spend a lot on entertainment and wish to earn rewards for the money they'll spend either way may find this perk to be not just good, but rather extra-Thordinary. Entertainment categories include:
Movie Theatres (tickets and refreshments)
Video rental and game rental stores
Theatrical and concert promoters
Amusement parks (includes zoos, circuses and aquariums)
Digital entertainment
Games and software
Music
Books and newsstands (and E-books)
Comics stores
Toys and hobby stores (excludes sporting goods retailers)
(As you can see, there are many easy opportunities to earn cash back from purchases that fall under the umbrella of "entertainment.")
1% Cash Back on Everything Else: Cardholders will earn 1% cash back for all eligible everyday purchases. Buying a pack of gum, filling your gas tank at the pump, picking up groceries for the week, or buying pet food will earn unlimited cash back.
Cash back is paid as a statement credit, applied to your account within two billing cycles.
Marvel Mastercard® Perks and Benefits
The Marvel Mastercard is accompanied by some super perks and cardholder benefits that cannot be found anywhere else.
As an introductory bonus, Synchrony Bank rewards cardholders for swiping their card for the first time by giving them $25 after the first purchase is made with the Marvel Mastercard. While $25 doesn't seem like a lot of money, this is a generous deal. Ordinarily, cardholders would have to spend approximately $834 within the 3% cash back categories, or $2,500 on everyday purchases, to earn the same amount of cash back. Earning a $25 reward for any purchase – you could buy a candy bar, and still receive this bonus – is a great incentive to use this card.
Marvel fans will also enjoy 10% off every purchase they make on MarvelShop.com. This discount applies to merchandise, and there is even free shipping during certain times of the year when the Marvel Mastercard is used at checkout. Comics lovers will also enjoy a special discount on Marvel Unlimited or Marvel digital comics.
If you're in Las Vegas, explore the Marvel Cinematic Universe and learn the history and scientific origins of The Avengers. Cardholders enjoy 20% off tickets to Marvel Avengers S.T.A.T.I.O.N. when using their Mastercard at the box office. You'll also receive 10% off merchandise purchased from Marvel Avengers S.T.A.T.I.O.N., so you can commemorate your visit with a keepsake.
There is no annual fee associated with all these perks, which means cardholders can enjoy their discounts and cash back rewards without having to worry about extra fees each year. Synchrony also makes it easy to manage your Marvel Mastercard account thanks to a convenient online portal. Logging in allows you to activate your card and view your current balance, pay bills, add authorized users, track your cash back rewards, view account history, and update your personal information.
Cash back rewards do not expire, unless your account is closed due to negligence or inactivity. As Uncle Ben told the inimitable Spider-Man, "With great power comes great responsibility." As such, here at BestCards we recommend that you demonstrate financial responsibility and avoid late or missed payments, as well as any other pitfalls that could see your credit score drop or your credit card account closed.
Customize Your Card
Many superfans choose to dress up as their favorite superheroes at comics conventions and movie premieres – but wearing a costume isn't always a practical way to show how much you love Marvel. Luckily, the Marvel Mastercard® is customizable; cardholders can choose from six different iconic Marvel card designs – including Black Panther, Iron Man, The Avengers, Captain America, and Spiderman – to show off their love for the Marvel universe. This is a good opportunity to stand out from the crowd with a cool card design that's guaranteed to get compliments every time you swipe it.
Should You Apply for the Marvel Mastercard®?
The Marvel Mastercard® is a cash back credit card that will appeal to anyone looking for a standard rewards card that rewards the spending that fuels their fandom. Designed specifically for Marvel enthusiasts, it rewards for spending on Marvel-related purchases, as well as broader entertainment and dining transactions. For those looking for an entertainment-centric card, there are various great choices across the credit card space.
One are lucrative in their own ways – but they don't showcase (or reward) a love for comics and movies. The DC Power Visa® is the closest competitor for comics lovers who prefer the DC Universe. In addition to a points-earning structure that focuses on entertainment and dining expenditures, it also proffers discounts on purchases that are related to DC Comics. Perhaps the biggest difference between the DC Power Visa and the Marvel Mastercard lies with the DC Power Visa's special themed rewards redemptions. Cardholders who earn enough points can redeem their rewards for once-in-a-lifetime experiences like getting drawn into DC Comic Art and making a cameo in a comic strip. Bear in mind that cardholders may need to spend beaucoup bucks to unlock these rewards.
You don't need to tie yourself to a particular pop culture universe to earn great rewards. If you aren't a die-hard Marvel or DC fan but would still like to earn rewards for dining and entertainment purchases, odds are a card like the Capital One® Savor® Cash Rewards Card might be a better fit. In fact, it features a higher cash back rate than the Marvel Mastercard for purchases made on dining and entertainment. However, it does charge a moderate annual fee after the first year of use. Another entertainment rewards credit card with comparable rewards and – and no annual fee – is the Capital One® SavorOne® Cash Rewards Card. The sister card to the Savor Card, it features a slightly pared-down rewards structure that is very similar to that of the Marvel Mastercard – and it also rewards for purchases on groceries in addition to dining and entertainment. When deciding between the Marvel Mastercard and similar entertainment card offers, consumers should consider:
Whether they want to pay an annual fee, and how high of an annual fee they're willing to pay. It can be a great idea to choose a card with an annual fee when the rewards – particularly the introductory bonuses – are lucrative enough.
Whether they want discounts on Marvel products. If you know you'll be spending lots of money on Marvel memorabilia, this card will certainly help to save money thanks to its exclusive discounts. If you don't plan to add to your collection, a different entertainment card may be a better fit for you.
How big of an introductory bonus they would like. Different cards offer different introductory bonuses, and it is important to carefully consider what you want to achieve with the credit cards you apply to. With the right planning, an introductory bonus can certainly help cardholders reach their financial goals.
Whether they want an introductory APR period. This is particularly useful for folks who plan to make a large purchase or transfer existing debt to their new card. (An introductory APR is not available with the Marvel Mastercard, although it is an option with other entertainment cards.)
It's worth noting that the two cards mentioned above from Capital One are lucrative in their own ways – but they don't showcase (or reward) a love for comics and movies.
The Marvel Mastercard® still offers a great way to earn rewards. And unlike Deadpool, you won't need to expend "maximum effort." This card makes it easy to earn cash back rewards from spending your funds on the things you love most – the Marvel universe, movie tickets, entertainment, and dining. Exclusive discounts on Marvel products simply sweeten the deal.
Browse Other Synchrony Card Offers: