Last updated on September 23rd, 2023
Advertiser Disclosure
close ×
Advertiser Disclosure – BestCards is an independent, Florida-based credit card comparison platform. Many of the card offers that appear on this site are from companies from which BestCards receives compensation. This compensation may impact how and where products appear on this site (including, for example, the order in which they appear). BestCards does not include all card companies or all card offers available in the marketplace.
Editorial Disclosure
close ×
Editorial Disclosure – The opinions expressed on BestCards' reviews, blogs, and all other content on or relating to the website are solely those of the content's author. They are not reflective of any card issuer or financial institution and have not been reviewed or approved by these entities unless otherwise noted. Further, BestCards lists credit card offers that are updated daily with information believed to be accurate to the best of our knowledge.
Comerica Secured Visa® Card
20.99% variable based on the Prime Rate

Regular Purchase APR

20.99% variable based on the Prime Rate

Balance Transfer APR

23.99% variable based on the Prime Rate

Cash Advance APR
Best Benefits
Rates & Fees
Why Should You Apply?
No penalty APR

Enjoy a fixed-rate APR on purchases, balance transfers,and cash advances

Build a positive credit history with regular, on-time payments
Regular Purchase APR: 20.99% variable based on the Prime Rate
Balance Transfer APR: 20.99% variable based on the Prime Rate
Balance Transfer Transaction Fee: Either $5 or 3% of the amount of each transfer, whichever is greater
Cash Advance APR: 23.99% variable based on the Prime Rate
Cash Advance Transaction Fee: Either $10 or 4% of the amount of each advance, whichever is greater
Annual Fee: $35
Foreign Transaction Fee: 2% of the transaction in U.S. dollars; 3% of the transaction in foreign currency
Late Payment Penalty Fee: Up to $39
Return Payment Penalty Fee: Up to $35
Minimum Deposit Required: $300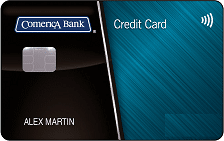 Comerica Secured Visa® Card Review
Secured credit cards come in many shapes and sizes. The Comerica Secured Visa is a generic addition to this pack, offering a decent fixed-rate APR and a satisfactory annual fee.
A Fixed APR That Offers Value Versus Larger Issuers
The best way to evaluate the Comerica Secured Visa® Card is by comparing it to offers from larger issuers. The Comerica Secured Card has an APR that is higher than what you'd find with a credit union secured card, but lower than that of offers from Discover and Capital One. In fact, the Comerica Card is approximately 4% lower than the Capital One Secured Mastercard, which is one of the most popular options in the secured card space.
The APR with the Comerica Secured Visa isn't great but is preferable to other options for those that plan to carry a balance. While carrying a balance – particularly with a secured card – isn't ideal, it is a reality for many who are early in the credit rebuilding journey.
Related Article: What Are the Easiest Credit Cards for Bad Credit to Get?
Comerica Secured Visa® Card Requires a Higher-than-Normal Minimum Deposit
Secured cards require a deposit that acts as the "security" for the credit line. This deposit also serves as the credit line. With the Comerica Secured Visa® Card, that minimum deposit is $300, with a maximum deposit of $5,000.
The $300 minimum with the Comerica Card is on the higher- end of the spectrum, as the Capital One Secured Card only requires a $200 deposit. Discover requires the same with its Discover It Secured Card. While $300 isn't a huge increase, it might be the difference between being able to fund an account or not. This is especially true for those on a delicate financial footing, who lack the necessary liquid assets.
The $5,000 maximum credit limit, however, is an excellent option for those who want a bigger credit line. This limit is significantly higher than other options, including Discover, which limits accounts to a maximum of $2,500.
Why would someone want a higher credit limit – especially if it requires a bigger deposit? A higher limit can significantly decrease a person's credit utilization ratio, which ideally should be kept below 10% to build credit. With a $5,000 limit, a cardholder can carry a balance of up to $500 to stay below that 10% threshold.
An Average Annual Fee
Annual fees aren't uncommon with secured credit cards. Some quality options don't charge these fees (like Discover or Capital One), but many do. Comerica falls in line with the latter, charging an annual fee of $35.
The fact that the card charges an annual fee isn't great, but the cost isn't high enough to warrant outrage. Typical yearly fees for this type of card range from $25 to $99, so $35 is fair enough. Still, if an annual fee irks you, there are other options available.
No Penalty APR
The Comerica Secured Visa® Card lacks a penalty APR. Lower-quality secured cards and fie with these fees, which punish account holders for financial miscues. Penalty APRs are particularly devastating for those who are still learning financial best practices.
While stating, "make all your payments on time" is easy enough, it isn't a reality for many. Those recovering from bankruptcies or barely making the rent may struggle to develop these habits.
The lack of a penalty APR with this secured card doesn't pile on the pain for those who are struggling to develop the proper financial habits. That doesn't mean they should neglect to learn these skills – it just means Comerica is more lenient.
No Activation Fees
The Comerica Secured Visa® Card also lacks activation fees. Secured cards from unscrupulous secured cards are rife with these fees. The activation fees punish those trying to rebuild their credit.
Visa Cardholder Perks and Protections
The card also comes with Visa Platinum perks and protections. These include Visa's Zero Fraud Liability, which comes with all Visa products. The card also includes Auto Collision Damage Waiver for additional coverage for rental cars, and Visa extended warranty protection – two items that you don't typically find on secured cards.
Should You Apply for the Comerica Secured Visa® Card?
The Comerica Secured Visa® Card is a decent card for those who have an existing relationship with Comerica Bank. The $35 annual fee isn't great, but the APR is competitive when comparing it to other options from Capital One and Discover.
Unfortunately, the card is let down by its lack of perks, something that Discover offers in droves with its Discover It Secured Card. That card provides cashback on every purchase, Discover's Cashback Match after the first year, and no annual fee.
The Comerica Card may have a lower APR, but as a total package, the Discover offers better value – and is worth consideration. For the loyal Comerica Bank customer, however, the card is a reliable option.
Read Also: What are the best secured cards of 2020?
Browse Other Secured Credit Card Offers: