Last updated on September 12th, 2023
Advertiser Disclosure
close ×
Advertiser Disclosure – BestCards is an independent, Florida-based credit card comparison platform. Many of the card offers that appear on this site are from companies from which BestCards receives compensation. This compensation may impact how and where products appear on this site (including, for example, the order in which they appear). BestCards does not include all card companies or all card offers available in the marketplace.
Editorial Disclosure
close ×
Editorial Disclosure – The opinions expressed on BestCards' reviews, blogs, and all other content on or relating to the website are solely those of the content's author. They are not reflective of any card issuer or financial institution and have not been reviewed or approved by these entities unless otherwise noted. Further, BestCards lists credit card offers that are updated daily with information believed to be accurate to the best of our knowledge.
BB&T Bright Secured Credit Card
17.24% variable based on the Prime Rate

Regular Purchase APR

17.24% variable based on the Prime Rate

Balance Transfer APR

22.24% variable based on the Prime Rate

Cash Advance APR
Best Benefits
Rates & Fees
Why Should You Apply?
Build your credit as you pay for your purchases

Earn cash back with BB&T Deals

Earn interest on your security deposit in a BB&T Secured Credit Card Savings account

Visa® Zero Liability unauthorized purchase protectio
Regular Purchase APR: 17.24% variable based on the Prime Rate
Balance Transfer APR: 17.24% variable based on the Prime Rate
Balance Transfer Transaction Fee: Either $10 or 3% of the amount of each balance transfer, whichever is greater
Cash Advance APR: 22.24% variable based on the Prime Rate
Cash Advance Transaction Fee: Either $10 or 3% of the amount of each cash advance, whichever is greater
Annual Fee: $19
Foreign Transaction Fee: 3% of the transaction amount in U.S. dollars
Late Payment Penalty Fee: Up to $38
Minimum Deposit Required: $400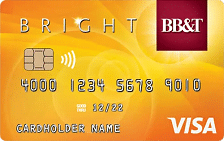 At a Glance
If you're interested in rebuilding your credit or establishing it in the first place, the BB&T Bright Secured Retail Credit Card is a great tool to help get your finances back on track. The card is an excellent resource for those who want to jump-start their credit, as well as those looking to establish credit for the first time.
Ideal for Those Who:
Have $400 for the minimum deposit
Have bad credit or no credit and want to improve your rating with a low APR card
Are interested in a suite of customizable account and credit monitoring features
Want protection from unauthorized purchases if your identity or card is stolen
BB&T Bright Secured Credit Card Review
Signing up for a new credit card can be a frustrating experience, particularly if you have a history of missing monthly payments leading to lots of declined applications. You'll likely have better luck with the BB&T Bright Secured Credit Card, as this low-interest card requires no credit to apply. You can use the card to establish responsible financial habits, which over time could improve your credit score.
Speaking of, the BB&T Bright Card empowers you with customizable account functions that do everything from tracking your spending to managing your receipts and sending alerts right to your mobile device. You can also monitor your credit with VantageScore®, provided by Equifax®, which provides regularly updated credit score reviews, and in turn, peace of mind. 
To get the most out of this type of credit card, it's best to use it with care. This means:
Making payments on time each month. Payment history is the most important factor when it comes to your credit report, which means missed payments can really hurt your score.
Paying off the entire balance in full. This frees up your credit line for the next month and thus keeps your credit utilization ratio down. Plus, you'll avoid activating that high-interest rate.
Using the card for smaller purchases. This will help you avoid maxing-out the credit line and make your payments easier to meet.
Should You Apply for the BB&T Bright Secured Visa Card?
Secured cards aren't the most exciting cards on the market – and the BB&T Bright certainly fits this billing. The card is a decent secured credit card that is designed to help users build a positive credit history. For those looking for rewards, the BB&T Spectrum Travel Rewards Credit Card and Spectrum Cash Rewards Secured are two other quality options for bad credit scores.
Related Article: What Are the Best Secured Cards for Building Credit?
For more information on bad credit or secured credit cards, visit our Comprehensive Secured Card Reference Page, featuring the best-secured card offers, detailed advice, and tips to help you build your credit history.
Browse Other Secured Card Offers:
Browse Other BB&T Credit Cards: