Last updated on March 18th, 2021
When it initially launched, one of the strange features of the Apple Card was that it only reported to one credit bureau: TransUnion. Now, however, the card appears to be reporting to all three major credit bureaus regularly. Here's what you need to know about the Apple Card and its reporting changes to the major credit bureaus.
Apple Card Reporting to Experian, Equifax, and TransUnion
The Apple Card has been a resounding success for the tech giant since its launch last year. The card, which Apple issues through Goldman Sachs, works through an iPhone's digital wallet and its proprietary Apple Pay system. The card works wherever Apply Pay is accepted – and for those merchants that don't accept Apple Pay, the physical titanium card comes in handy.
The digital payment focus of the Apple Card is a notable quirk of the product, but not its only peculiarity. Another curiosity of the Apple Card is that up to now it only reported one credit bureau: TransUnion. It seems that has now changed. The addition of regular reporting to all three credit bureaus is good news for cardholders who are looking to improve their credit score.
Monthly reporting to all the credit bureaus can help establish a record of on-time payments and low credit utilization for those willing to put the work in. This, in turn, will boost their credit score and approval odds on future credit card applications, regardless of the credit report the bank pulls. In addition, the update makes it more accessible when it comes to lenders that prefer using Equifax or Experian.
How Can You Tell Which Credit Bureau Your Credit Reports To?
Knowing which credit bureau your credit card reports to is a fairly simple process. Most credit cards offer complimentary credit scores each month – either through FICO Score or VantageScore. Closely monitoring your credit score can indicate where your credit cards are being reported.
Credit monitoring services will also detail where your credit cards are reported – especially when opening a new account. Check for changes, such as new account alerts, which indicate that your new credit card will be reported to that particular credit reporting bureau.
The CreditPulls database, created by CreditBoards is another useful resource. The free service lets users check to which credit bureaus their cards will report before they apply.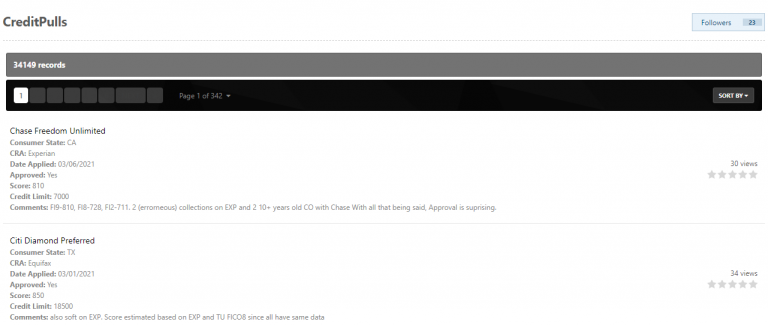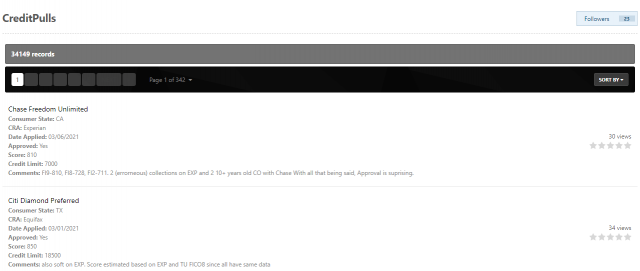 When Do Banks Report to Credit Bureaus?
Beyond finding out what credit bureaus your credit card issuers report to, knowing when they report is also a valuable bit of information. Unfortunately, there is no set day of the month when your credit card habits are reported to the three major bureaus.
Reporting times depend on the bank. Most credit card issuers report to credit bureaus (usually more than one) every month, but some may report quarterly bi-monthly or even weekly.
However, using the once-a-month average makes it easier to gauge when your credit card balance is reported to either Experian, Equifax, or TransUnion (or a combination of those bureaus). Most banks will report on the statement balance closing date. This closing date refers to the minimum payment due date on your credit card statement, as well as the grace period (usually around 15 to 25 days).
More About the Apple Card
Apple Card Application and Credit Reporting and Score FAQS
Should You Apply for the Apple Card?
With the addition of regular reporting to all three credit bureaus, is the Apple Card worth getting for those on the fence?
The Apple Card is a quality cash back credit card for the Apple enthusiast who both has an iPhone and plans to stick within the Apple ecosystem. Getting an Apple Card requires an iPhone, as this is the only way to apply. And while there is also a physical, titanium credit card for purchases outside of Apple Wallet, those purchases only earn 1% cash back. Purchases through Apple Pay, on the other hand, earn 2% back – and purchases of Apple products receive 3% back.
If you are an Apple fanatic, however, the Apple Card's lack of fees is an enticing proposition. Equally enticing is the card's slick, laser-etched metal card, which will be the envy of all who look upon it. For all those who fall outside of the Apple sphere of influence, however, there are plenty of other cash back credit cards that offer far richer rewards.
Related Article: Best Credit Cards for Gym Memberships of 2021
Featured photo by JESHOOTS-com/ PixaBay