Last updated on March 16th, 2022
Alliant Credit Union is looking to poke fun at the popular image of millennials and avocado toast. The union is offering a $200 prepaid Visa for eligible new checking or savings accounts through March 4, 2022. Here are the full details of Aliant's avocado toast and coffee gift card offer:
Alliant Offers Avocado Toast Themed Gift Card for New Accounts
Millennials and avocado toast are seemingly a match made in heaven. At least that is what some believe – and they cite is a reason why so many young Americans are priced out of homeownership. Alliant Credit Union is now mocking this absurd belief with a new avocado toast and coffee gift card for the first 1,500 eligible applicants who become a member and open a checking and savings account.
Between February 15th and March 4th, the first 1,500 eligible applicants who become an Alliant member and open a checking and savings account will receive one of the avocado toast prepaid cards. These prepaid debit cards can be spent at the local coffee shop or trendy brunch spot of their choice without undermining their savings efforts. In fact, users don't need to splurge on the millennial treat at all.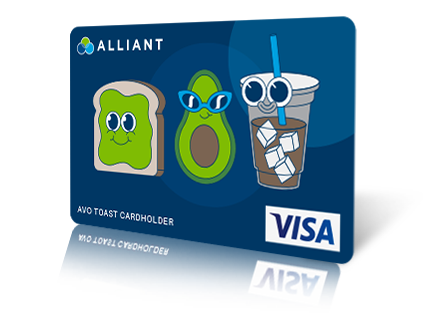 Mocking a False Narrative
Alliant says they're doing this because of the absurd belief that avocado toast is why millennials can't buy a home – obviously a false narrative:
"The reality of soaring student debt, rising housing costs, and banks with absurd fees and low rates of return have a lot more to do with Millennials' saving challenges than their breakfast choices. In welcoming new members to take advantage of Alliant's great interest rates and no overdraft fees, we hope to keep more money in their pockets for life's big plans and small comforts," said Norm Buchanan, VP and chief product and experience officer at Alliant.
Who Is Eligible for Alliant Credit Union Membership?
Alliant Credit Union is a Chicago-based financial institution. Despite this, the credit union has members nationwide.
Membership in Alliant Credit Union is open to current or retired employees of businesses or organizations that partner with Alliant, those who live or work in one of the 20 Illinois communities served by Alliant, or immediate family of current Alliant Credit Union members.
Membership is also open to members of the Foster Care to Success (FC2S) organization. Even better, Alliant will pay the $5 membership fee for you.
Beyond the credit union's checking and savings accounts (both of which are award winning), Alliant also offers a full suite of other banking products, including credit cards. The union's Alliant Cashback Visa Signature Credit Card is one of the best cash back credit cards on the market today, offering up to 2.5% cash back with no categories to keep track of.
Related Article: Americans Resolve to Save Money, Build Credit in 2022