There are lots of credit cards on the market for people with bad credit or no credit. One of the more popular options, however, is the OpenSky Secured Visa from Capital Bank. What is it about this card that potentially makes it a better choice than others? Here are seven reasons why you should consider the OpenSky Secured Visa credit card:
No Credit Check
Perhaps the best reason to consider adding the OpenSky Visa credit card to your wallet is that it requires no credit check. Most credit cards – including secured cards – require a credit pull. These credit checks can keep applicants with bad credit from getting approval – even for a secured card.
OpenSky, on the other hand, only requires some necessary information to decide an applicant's eligibility. This information includes:
Full name
Current address
Contact information, such as email and phone number
Social Security Number
Financial information, including income and monthly housing payments
No credit check dramatically improves the odds of being approved for the OpenSky Card, making it an ideal option for those who struggle to find an issuer willing to extend a line of credit.
Simple Application Process
The application process with the OpenSky Secured Visa is straightforward and takes just a few minutes. Approval is equally quick, making the entire process as painless as possible.
Set Your Credit Limit
Secured cards allow applicants to set their own credit limits through the security deposit these cards require. With the OpenSky Secured Visa, the minimum deposit is $200, while the maximum deposit is $3,000. This allows applicants to put as much – or as little – money into their deposit as they'd like within the specified range, letting them decide how much credit they'd like to have.
Quickly Repair Your Credit
Secured cards are an excellent way to raise your credit score. With on-time payments and only using the card for smaller purchases, users can put their bad credit days behind them and build a positive credit history. Repairing credit isn't an overnight process. That said, with continual practice and smart use, the OpenSky Secured Visa can help users boost their credit score significantly in as little as three months.
Increase Your Credit Limit
While security deposits won't appeal to everyone, the deposit, plus no credit check, make the OpenSky Secured Visa card an excellent option for people with average credit who want to boost their credit score quickly. Thanks to no hard inquiry on their credit report, a person on the cusp of a "good" credit score can open an OpenSky Visa account, make a large deposit, and instantly increase their available credit. This new credit line will also significantly reduce their credit utilization, raising their credit score with no adverse effects.
Free Educational Tools
Part of repairing damaged credit is learning the skills to use credit properly. OpenSky is great in this aspect, as they provide cardholders with free access to their knowledge base.
The OpenSky knowledge base offers a range of articles on building credit. These topics include how to receive a free copy of your credit score, how credit scores are calculated, and tips on boosting credit.
OpenSky also provides a collection of inspirational stories to help boost morale – and confidence – of those with imperfect credit. While this feature may seem like a bit of a gimmick, for those who feel that their credit history will never improve, a confidence boost can go a long way.
Use It Anywhere
Even though it's a secured card, the OpenSky Secured Visa Card is a genuine Visa credit card. The Visa payment network is the largest in the world, currently accepted in over 200 countries. This means that wherever your travels take you, your OpenSky Visa will likely be accepted.
Related Content: OpenSky® Secured Visa® Review
25.64% (variable)

Regular Purchase APR

25.64% (variable)

Cash Advance APR
At a Glance
The OpenSky® Secured Visa® is a secured credit card that offers requires a low minimum deposit and features no credit checks for approval. The card, issued by Capital Bank, provides an easy route to better credit by offering credit limits as low as $200, a moderate fixed-rate APR, and a reasonable $35 annual fee.
Best Benefits
Rates & Fees
Why Should You Apply?
Limited Time Offer: $51 funding voucher applied for all new accounts. Get a $200 credit line for $149. Click "Apply Now" to see additional terms and conditions.

No credit check to apply. Zero credit risk to apply!

Looking to build or rebuild your credit? 2/3 of cardholders receive a 48+ point improvement after making 3 on-time payments

Extend your $200 credit line by getting considered for an unsecured credit line increase after 6 months - no additional deposit required!

Get free monthly access to your FICO score in our mobile application

Build your credit history across 3 major credit reporting agencies: Experian, Equifax, and Transunion

Add to your mobile wallet and make purchases using Apple Pay, Samsung Pay and Google Pay

Fund your card with a low $200 refundable security deposit to get a $200 credit line

Apply in less than 5 minutes with our mobile first application

Choose the due date that fits your schedule with flexible payment dates

Fund your security deposit over 60 days with the option to make partial payments

Join over 1.2 million cardholders who've used OpenSky to build their credit
Regular Purchase APR: 25.64% (variable)
Cash Advance APR: 25.64% (variable)
Cash Advance Transaction Fee: Either $6 or 5% of the amount of each cash advance, whichever is greater.
Annual Fee: $35
Foreign Transaction Fee: 3% of each transaction in U.S. dollars
Late Payment Penalty Fee: Up to $40
Return Payment Penalty Fee: Up to $25
Minimum Deposit Required: $200
You're struggling to get accepted for other secured credit cards

You don't have a credit history

You have bad credit and want to improve your credit score

You have a large deposit and want a quick pick-me-up for their credit score

You want access to a useful knowledge base of credit information and resources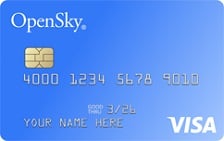 Editorial Disclosure – The opinions expressed on BestCards.com's reviews, articles, and all other content on or relating to the website are solely those of the content's author(s). These opinions do not reflect those of any card issuer or financial institution, and editorial content on our site has not been reviewed or approved by these entities unless noted otherwise. Further, BestCards.com lists credit card offers that are frequently updated with information believed to be accurate to the best of our team's knowledge. However, please review the information provided directly by the credit card issuer or related financial institution for full details.