If you want to fix your credit, you need to know where you stand.  There are several reasons why you may be dealing with bad credit. You might have missed numerous credit card payments. Maybe you recently filed for bankruptcy.
You may have applied for a lot of credit cards, resulting in multiple hard inquiries. Or perhaps your credit profile is in its infancy and you're still building your score.
Whatever the case may be, building or trying to repair your credit is not an impossible task – as long as you're equipped with the right tools. Below are some of the best strategies you can employ to confidently set you on your way towards a good credit score and a robust credit report.
Know What Your Credit Score Is By Getting Your Free Credit Report
Understanding where your credit score stands is one of the first steps you should take. This will help you build your strategy towards a higher score.
Services like CheckFreeScore.com not only provide you with a free copy of your FICO credit score; they also give you a fresh credit report from the three major credit bureau: Experian, TransUnion, and Equifax. Plus, they offer monitoring so you can stay informed whenever new activity takes place on your credit.
Your credit report will provide insight into all your credit accounts, including any collection accounts, from collection agencies, open revolving accounts, and other details. Closed accounts and late payments continue to feature on your credit report for seven years.
Checking all items on your credit report for each of the credit bureaus allows you to dispute errors and begin fixing your credit score.
Improve Your Credit Score with a New Credit Card
Having less-than-perfect credit limits your options when applying for new types of credit, like a new credit card, but there are a number of offers that are specifically for people on the rebuilding path. As long as you practice responsible spending and always pay back your balance on time (at least the minimum amount, though the full statement balance is preferable), you should see positive outcomes like a higher credit score, higher spending limits, and a wider pool of card offers that you may be eligible for.
Prequalify for an Unsecured Credit Card
Applying for a new credit card often comes with a hard inquiry on your credit report, which will slightly lower your score. Unfortunately, there is no guarantee that you'll get approved, and that hard inquiry will stay on your report for two years. However, you can take pre-emptive measures and pre-qualify for a credit card so you can know ahead of time whether you're likely to get approved or not.
The Milestone® Gold Mastercard® is a great option that gives you a pre-qualification decision almost instantly – with no impact to your credit score. Plus, applying takes just a few minutes. Once you're approved, your responsible card use is reported to the three major bureaus, so you can increase your chances of raising your score.
Our credit cards content is not loading right now. Please try again or contact the BestCards team.
The Indigo® Platinum Mastercard® is another recommended pre-qualification choice. Like the Milestone, this issuer reports your card's use for a potential boost to your credit score. Because it's a Mastercard, it's accepted at thousands of merchants around the world (more than 200 countries, to be exact). And, as an added incentive, you can choose your card's design once you're approved.
Our credit cards content is not loading right now. Please try again or contact the BestCards team.
Consider a Secured Credit Card
An alternative to an unsecured credit card, a secured card usually has higher approval odds. The main difference is that you supply your own credit limit via a security deposit. Our pick is the OpenSky® Secured Visa®.
One of its biggest advantages is that it requires no minimum credit, so you're bound to see an approval, even if you have no credit history at all. The amount of money you put down as your security deposit serves as your credit line. And, like any good card should, it reports your activities to the top bureaus, helping you fix your credit.
25.64% (variable)

Regular Purchase APR

25.64% (variable)

Cash Advance APR
At a Glance
The OpenSky® Secured Visa® is a secured credit card that offers requires a low minimum deposit and features no credit checks for approval. The card, issued by Capital Bank, provides an easy route to better credit by offering credit limits as low as $200, a moderate fixed-rate APR, and a reasonable $35 annual fee.
Best Benefits
Rates & Fees
Why Should You Apply?
Limited Time Offer: $51 funding voucher applied for all new accounts. Get a $200 credit line for $149. Click "Apply Now" to see additional terms and conditions.

No credit check to apply. Zero credit risk to apply!

Looking to build or rebuild your credit? 2/3 of cardholders receive a 48+ point improvement after making 3 on-time payments

Extend your $200 credit line by getting considered for an unsecured credit line increase after 6 months - no additional deposit required!

Get free monthly access to your FICO score in our mobile application

Build your credit history across 3 major credit reporting agencies: Experian, Equifax, and Transunion

Add to your mobile wallet and make purchases using Apple Pay, Samsung Pay and Google Pay

Fund your card with a low $200 refundable security deposit to get a $200 credit line

Apply in less than 5 minutes with our mobile first application

Choose the due date that fits your schedule with flexible payment dates

Fund your security deposit over 60 days with the option to make partial payments

Join over 1.2 million cardholders who've used OpenSky to build their credit
Regular Purchase APR: 25.64% (variable)
Cash Advance APR: 25.64% (variable)
Cash Advance Transaction Fee: Either $6 or 5% of the amount of each cash advance, whichever is greater.
Annual Fee: $35
Foreign Transaction Fee: 3% of each transaction in U.S. dollars
Late Payment Penalty Fee: Up to $40
Return Payment Penalty Fee: Up to $25
Minimum Deposit Required: $200
You're struggling to get accepted for other secured credit cards

You don't have a credit history

You have bad credit and want to improve your credit score

You have a large deposit and want a quick pick-me-up for their credit score

You want access to a useful knowledge base of credit information and resources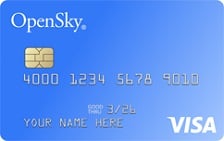 Related Article: What are the best secured cards of 2020?
Keep an Eye on Your Credit Report
If you're aiming to build credit, you also need to protect it. Credit fraud and identity theft are dangers for both novice and veteran borrowers. Luckily, the big three credit reporting bureaus do more than compile your credit report. They also provide monitoring and protection tools of their own.
TransUnion, for instance, offers Instant Alerts whenever a lender requests your report. This grants you a clear layer of visibility so you can stay on top of your report's progress – especially in spotting activity that wasn't made by you.
Bottom Line on How to Fix Your Credit
Fixing your credit takes time, but there are ways to make the journey easier. Opening a new card account so you can prove your budgeting and repayment skills is a wise move, and being armed with credit reporting and monitoring tools regularly keeps you in the know about the health of your credit. As long as you stay consistent, make payments on time, don't spend more than you can afford, and remain vigilant of your finances, you'll be on your way to achieving a successful credit overhaul.
Related Article: How to Fix Your Bad Credit to Buy a House
Editorial Disclosure – The opinions expressed on BestCards.com's reviews, articles, and all other content on or relating to the website are solely those of the content's author(s). These opinions do not reflect those of any card issuer or financial institution, and editorial content on our site has not been reviewed or approved by these entities unless noted otherwise. Further, BestCards.com lists credit card offers that are frequently updated with information believed to be accurate to the best of our team's knowledge. However, please review the information provided directly by the credit card issuer or related financial institution for full details.