Last updated on February 22nd, 2023
Are you thinking of getting a new business credit card for your company? Before you click on another ad showing you the same tired card offers check out these four lesser-known options for the best credit card for your business:
| | | |
| --- | --- | --- |
| Divvy Credit Card | Earn up to 7X points with seamless software integrations and no fees | |
| Ramp Visa Card | Manage employee spending easily while earing 1.5% back on all purchases and paying no hidden fees | |
| GM Business Card | Maximize your business' car fleet by earning GM Rewards points towards new cars | |
| Revenued Business Card Visa® | Don't let no credit keep your business from earning 3% back on all purchases | |
Other Business Cards to Consider
Business credit cards are an essential tool for small business owners and entrepreneurs. They offer a range of benefits and features that can help you manage your business finances and make the most of your spending.
Choosing a new business credit card can be tricky. With so many available options, how can you separate the best from the rest? Tired of browsing the same old list of business cards? Here are four lesser-known options for the best credit card for businesses:
Spend Management and Business Cards Made Simple
No contracts, hidden fees, or obligations
The Divvy Card is a corporate business card for companies and business owners who want a corporate card's flexibility and the rewards of a traditional business rewards card. With Divvy, companies can anticipate credit limit increases as their cash reserves grow through seamless integration with Divvy expense management software – meaning more credit for the things your business needs.
Because the card operates through expense management software, system administrators can issue multiple employee cards (including unlimited virtual cards) and then set strict spending limits per employee and card.
Divvy's Simple & Powerful Expense Management Tools
View expenses in real time
Automatically categorize transactions
Review Expenses
Seamless integrations with accounting software
Protect Yourself from Fraud
Easily reimburse employees
Beyond the exceptional expense and business management tools, Divvy also provides accelerated rewards that earn more rewards with the promptness of your monthly payment. Companies earn rewards based on their repayment schedule, with shorter payment cycles returning greater rewards:
Weekly payments
7X on dining
5X on hotels
2X on recurring software subscriptions
1.5X on everything else
Semi-monthly payments
4X on dining
3X on hotels
1.75X on recurring software subscriptions
1X on everything else
Monthly payments
2X on dining
2X on hotels
1.5X on recurring software subscriptions
1X on everything else
Not sure if the Divvy Credit Card is right for your business? Here's a quick breakdown of the pros and cons of the Divvy corporate card:
| | |
| --- | --- |
| Pros | Cons |
| ✔️ No personal guarantee required | ❌ Must pay balance in full each month |
| ✔️Up to 7X points on eligible purchases | ❌ Some integrations are tough to link |
| ✔️ Complimentary employee cards | ❌ No sign-up bonus |
| ✔️ No annual fee | |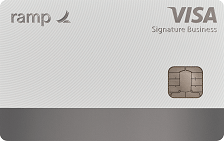 No Personal Credit Check or Founder Guarantee
No fees – including foreign transaction, setup, or replacement fees

Use everywhere Visa is accepter worldwide
The Ramp Corporate Card is another great business credit card for anyone who wants seamless integrations and unlimited cash back rewards. If your company struggles with expense reports, reimbursements, and receipts, Ramp might be just what you were looking for.
The Ramp Card differs from a traditional business credit card in that it provides up to 20X the capital of a standard card. Unlike other cards, Ramp doesn't require a personal credit check or personal guarantee to receive. Instead, Ramp determines credit limits based on the drawable reserves in the bank accounts linked to Ramp.
Ramp also provides an impressive suite of accounting tools to ensure companies get the most out of their corporate card. The Ramp program offers seamless integration with QuickBooks, Xero, Sage, Slack, NetSuite, and more. These integrations include access to Ramp Savings, a helpful tool that identifies areas where the company can save more. 
Businesses earn unlimited 1.5% cash back on all eligible purchases, with no confusing bonus categories or aggravating rewards caps. Rewards are easily redeemable for statement credits through the Ramp interface. Just log in and request a statement credit – it's that easy.
Not sure if the Ramp corporate card is right for your business? Here's a quick breakdown of the pros and cons of Ramp:
| | |
| --- | --- |
| Pros | Cons |
| ✔️ No personal guarantee required | ❌ Must pay balance in full each month |
| ✔️Up to 20X the typical credit line | ❌ Rewards aren't spectacular |
| ✔️ Superior software management | ❌ No sign-up bonus |
| ✔️ No annual fee | ❌ Requires $75k+ in US bank account to open |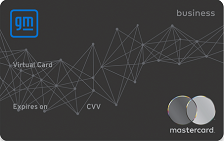 Get the Business Card that Turns Purchases into Eatnings
0% Intro APR on purchases for the first 12 months

No annual fee, no foreign transaction fees or cash advance fees.
What if you don't want a charge card but want to earn versatile rewards? In that case, a business credit card like the GM Business Card™ makes sense. The GM Business Card is an auto rewards credit card whose earnings can only be applied toward purchasing or leasing a GM vehicle from a dealership.
Businesses that spend heavily on their fleet of vehicles can benefit from the GM Business Card. This is partly thanks to its 5% back on parts, service, and accessories at authorized GM Dealers, 3% back at gas stations, restaurants, and office supply stores, and 1% everywhere else. And as those rewards build up (there is no point expiration), redeem them for the lease or purchase of a GM vehicle (no more than 30 at a time).
One feature that makes the GM Business Card a great bet is its lack of fees. There is no foreign transaction fee, for instance. Additionally, there is no annual membership fee or cash advance fee — and complimentary employee cards at no extra cost.
Here's a brief look at what we love about the GM Business Card – and a few drawbacks:
| | |
| --- | --- |
| Pros | Cons |
| ✔️ Can carry a balnce | ❌ Rewards categories are narrow |
| ✔️0% Intro APR | ❌ Only one reward option |
| ✔️ Quick Preapproval | ❌ No balance transfers allowed |
| ✔️ No hidden fee | |
Revenued Business Card Visa®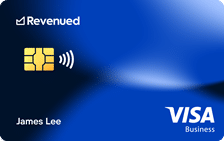 No Credit Check and No Fees to Apply
Receive $500 in cash back after spending $5,000 on your card in the first 3 months

Earn 3% cash back on every purchase
But what if your business has no credit – or is recovering from an adverse financial event? In that case, the Revenued Business Card Visa® is an interesting option. Because the Revenued Business Card Visa® is a prepaid debit card tied to an existing business checking account, it's much easier to get than a traditional business credit card while still providing lucrative rewards.
Businesses earn 3% cash back on all eligible purchases, with no caps or confusing categories. That rewards rate is superior to many business credit cards, making a prepaid card even more enjoyable with everyday use. Revenued offers a welcome bonus of $500 cash back after spending $5,000 on eligible purchases within your first three months of card membership. Given that the card has no annual fee and simplified approval requirements, that introductory bonus offer is exceptional.
Revenued also provides a selection of tools for companies. These tools include an overdraft calculator and a cash flow meter, which provide the knowledge companies need to identify spending trends and locate savings. Gaining access to tools like these, with no hidden or membership fees, makes Revenued an enticing prepaid card for companies who want rewards and tools – but not a hassle.
Here's a quick breakdown of everything to love (or dislike) about Revenued:
| | |
| --- | --- |
| Pros | Cons |
| ✔️ No credit check | ❌ Doesn't build credit |
| ✔️No fees | ❌ Cannot carry a balance |
| ✔️ 3% cash back on all purchases | |
What to Look for When Choosing a New Business Credit Card
Now that you've seen a handful of unique business card offers, how can you best compare the cards as your company continues to scout for its ideal business card? Here are the top three things to look for:
One of the most important features of a business credit card is its rewards program. A good business rewards program can help you earn cash back or points on your business expenses – rewards that are redeemable for travel, merchandise, or statement credits.
When looking for a business credit card with rewards, always consider the rewards offered and the categories you spend the most on. For example, if you frequently travel for business, you may want to look for a card that offers rewards for travel expenses. If you have a lot of business-related dining expenses, you may opt for a card that offers dining rewards.
Another thing to consider is the value of the rewards. Some business credit cards offer more rewards per dollar spent than others, so it's important to compare the value of the rewards programs before choosing a card.
Another key feature of a great business credit card is its employee benefits. Many business credit cards offer benefits such as additional cards for employees, account management tools, and spending reports.
Additional cards for employees can benefit businesses with multiple employees who need to make business purchases. With employee cards, you can monitor and control spending and earn rewards on your employees' purchases.
Account management tools and spending reports can also be incredibly helpful for keeping track of your business finances. These tools allow you to simply see where your money is going, set spending limits, and track expenses.
Finally, it's critical to consider the software integrations a business credit card offers. You can streamline your business finances and simplify your accounting with the right software integrations.
For example, many business credit cards integrate with accounting software such as QuickBooks or Xero. This can help you easily import transactions and categorize expenses, saving time and reducing the risk of errors.
Another practical integration is with expense management software. With this integration, you can easily track and manage your business expenses and automate the expense reimbursement process for your employees.
Finding your ideal business card can be challenging – especially if you are tired of seeing the same ten offers from big banks and brands. But by paying close attention to the features, your business needs – and not gimmicky rewards and bonus offers – you can easily find your best business credit card. Take advantage of the more than 1,000 impartial reviews and find your best card today.
Related Article: 4 Reasons to Get a New Business Credit Card
Featured image by AhmadArdity/PixaBay