Refer a Friend
Refer your friends via email to become BestCards Members!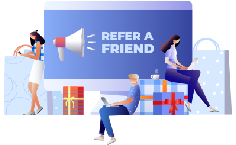 Your Tracking Link
https://www.bestcards.com/register/?RID=0
How Does it Work ?
Send Invite Links
Invite others to become Members using your unique referral link.
Invited Members Sign Up
You can keep track of your referrals and their status in the Referral Activity section below.
Receive Bonus Rewards
You will earn an additional percentage of the rewards accumulated by your referred Members.
Referral Activity
| Referral ID | Name | Email | Invited Date |
| --- | --- | --- | --- |
| Referral ID | Name | Email | Sign Up Date |
| --- | --- | --- | --- |