Last updated on September 18th, 2023
Advertiser Disclosure
close ×
Advertiser Disclosure – BestCards is an independent, Florida-based credit card comparison platform. Many of the card offers that appear on this site are from companies from which BestCards receives compensation. This compensation may impact how and where products appear on this site (including, for example, the order in which they appear). BestCards does not include all card companies or all card offers available in the marketplace.
Editorial Disclosure
close ×
Editorial Disclosure – The opinions expressed on BestCards' reviews, blogs, and all other content on or relating to the website are solely those of the content's author. They are not reflective of any card issuer or financial institution and have not been reviewed or approved by these entities unless otherwise noted. Further, BestCards lists credit card offers that are updated daily with information believed to be accurate to the best of our knowledge.
BOK Financial Visa® Business Rewards Plus Card
13.99% to 22.99% variable based on creditworthiness and the Prime Rate

Regular Purchase APR

13.99% to 22.99% variable based on creditworthiness and the Prime Rate

Balance Transfer APR

23.99% variable based on the Prime Rate

Cash Advance APR
Best Benefits
Rates & Fees
Why Should You Apply?
3x points on the category you spend the most on: cell phone, hotel, or airline

1.5x points on all other purchases

20,000 bonus points after you spend $2,000 in the first 3 months

Annual fee waived your first year
Regular Purchase APR: 13.99% to 22.99% variable based on creditworthiness and the Prime Rate
Balance Transfer APR: 13.99% to 22.99% variable based on creditworthiness and the Prime Rate
Balance Transfer Transaction Fee: Either $5 or 3% of the amount of each transfer, whichever is greater
Cash Advance APR: 23.99% variable based on the Prime Rate
Cash Advance Transaction Fee: Either $10 or 4% of the amount of each cash advance, whichever is greater
Penalty APR: 28.99% variable based on the Prime Rate
Annual Fee: $0 for the first 12 months. After that, $99
Late Payment Penalty Fee: Up to $39
Return Payment Penalty Fee: $35
Over Limit Penalty Fee: $39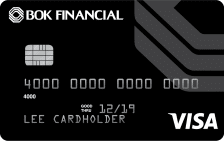 At a Glance
The BOK Financial Visa® Business Rewards Plus Card earns you 3x points on the purchase category you spend the most on – hotels, airlines, or cell phone service. You also earn 1.5x points for every other purchase. New cardholders get 20,000 bonus points in their first three months, and the annual fee is waived for the first year.
Ideal for Those Who:
Spend the most money on cell phone services, hotels, or airfares for their business
Want to earn extra points on the types of purchases they make the most
Still want to earn points on all other purchases
Plan to spend at least $2,000 in the first 3 months
BOK Financial Visa® Business Rewards Plus Card Review
This rewards card from BOK Financial offers the most rewards out of this bank's business cards while still giving business owners flexibility with how they can earn points. Cardholders earn BOK's basic 1.5 points for every dollar they spend.
On top of that, you can earn three points on the category of purchase you spend the most on. New cardholders can kick start their earnings with a signup reward valued at $200.
What's more, you don't have to pay an annual fee for the first year that you have this card. Keep reading to learn more about this credit card's features.
More Points for What You Spend the Most On
The standout feature of the BOK Financial Visa® Business Rewards Plus Card is that you earn the most amount of points for the things you buy the most. This card rewards you with three points for every dollar that you spend whichever purchase category you spend the most money on.
However, this feature only applies to three categories: cell phone services, hotel reservations, and airline purchases. As such, this benefit serves certain types of business owners better than others.
While many (if not most) business owners will need to pay for cellular phone service for their businesses, these expenses may only be a fraction of what it costs to book airline tickets and hotel stays.
Business cell phone service plans average about $82 per month without figuring in the cost of hardware (i.e. the phones). One round trip airfare and a single night at a 3-star hotel can cost you several times that amount.
While you can earn about 246 points a month paying for cell phone service, you can earn at least 900 points in the same period if you travel only once a month. That being said, this card is the most rewarding for business owners who travel a lot.
How Your 3x Points Are Calculated
One of the most appealing aspects of the BOK Financial Visa® Business Rewards Plus Card's points system is that you're not locked into earning extra points on a single category of purchases. Some rewards cards that advertise a customizable points system require that you pick a spending category when you sign up for your card.
By contrast, this card calculates what you spent the most on each month. If you spent the most on cell phone service in January, you'll get 3x points for those net purchases when you receive your monthly billing statement. If your biggest expense in March was buying airline tickets, then you will automatically earn 3x points for those purchases.
You don't have to modify your spending to earn the most rewards. The Business Rewards Plus Card rewards you for using your card as you need to use it.
Earning Points on Everything Else
You're probably thinking that not all your business expenses involve travel, cell phones, and accommodations. How can you make points from other types of purchases?
Well, the BOK Financial Visa® Business Rewards Plus Card earns you 1.5 points for every dollar you spend on almost anything else. This excludes financial transactions, like balance transfers and cash advances. Additionally, you can't earn points on gambling transactions, including the purchase of lotto tickets and casino chips.
This ratio of points to dollars spent might seem a little meager compared to the 3x points mentioned in the previous section. However, it is better than the bare minimum that some credit cards reward cardholders. In essence, you earn 50% more than the most basic rewards cards, and that's not something to balk about.
Redeeming Points
The BOK Financial Visa® Business Rewards Plus Card gives you a lot of options for redeeming your points. The only problem is that you won't know what all those options are until you actually get approved for this credit card.
That's right, good reader. This is one of those rewards cards that believes in secret catalogs. This makes it frustrating to know what your points can earn you before signing up (and having BOK Financial run a credit check). You also can't determine how many points you need to redeem anything.
You can earn an unlimited number of points with this card. However, your points do expire after five years. So, use them or lose them.
Converting Your Points to Cash Back
BOK Financial does let potential applicants know the cash back value of its points, though. Each point is worth one cent. So, 2,500 points can earn you $25 in cash back.
2,500 points is also the minimum amount you can redeem, as this card only issues cash rewards in increments of $25. If you've earned 4,000 points, for instance, you can only redeem 2,500 for cash back. The remaining 1,500 points will remain on your account until you have earned an additional 1,000 points.
To get your cash back, you can opt for a statement credit or a cash deposit. You'll need to have a checking or savings account with BOK Financial to accept cash deposits. But you don't need one of these accounts in order to receive a statement credit.
The option to receive cash back is a plus for the BOK Financial Visa® Business Rewards Plus Card. Redeeming points for merchandise and gift cards can appeal more to personal credit cardholders.
Business owners may prefer to receive cash and have the freedom of applying it to whatever they need. Even if you do find an item in the secret rewards catalog you may need for your business, you may find that same item for much less through another source.
Earn 20K Bonus Points
The BOK Financial Visa® Business Rewards Plus Card lets new cardholders earn a huge points bonus when they first sign up for this card. There is a spending requirement, however.
If you spend $2,000 in the first three months from the date of opening an account, you automatically qualify for this bonus. You'll receive these points in addition to the regular points you'll earn on your purchases
If you make $2,000 in travel, hotel, or cell phone purchases you can earn a total of 26,000 points. In effect, each dollar will earn you 13 points, which is four times the regular exchange.
Employee Access to Your Account
Some businesses have several employees who may all need to make purchases using the company credit card account. The BOK Financial Visa® Business Rewards Plus Card allows business owners to have multiple cardholders on a single account. What's more, you don't have to pay any additional fees to get extra cards.
Accountholders have several billing options available to them if they need extra credit card users on an account. The default is to have a central bill in which the primary accountholder receives one bill with everyone's charges on it.
You can, however, opt for individual bills that are issued to each card user. These bills require each user to pay an individual monthly bill. The primary cardholder doesn't receive a consolidated statement if he or she selects this billing method.
The middle ground between these two options is to select a central bill with memo statements. This option issues a central bill with all the consolidate charges on it. All credit card users also get memos with their own individual charges, although these memos are not bills.
0% APR on Purchases
If you need more of an incentive to meet the $2,000 spending requirement to earn the bonus points, this is it. The BOK Financial Visa® Business Rewards Plus Card offers new cardholders 0% interest on their purchases for six months from the date that they open an account.
This is a great opportunity to make some large purchases for your business early on while having the ease of paying it off over time without any extra cost to you. In fact, if you pay off your balance in six months, it's almost as if this card is paying you to use it.
0% APR on Balance Transfers
This credit card also offers a 0% introductory interest rate on balance transfers for six months. However, this may not be as great of a deal as the other perks.
All balance transfers – even those you make during the promotional period – require you to pay a fee. This can be several hundred dollars depending on the amount of the balance.
Having such a limited time in which to pay off an existing balance may also put unneeded strain on your cash funds. If you are trying to pay off a $10,000 balance, you'll have say goodbye to over $1,600 in cash a month. If you are a new business owner, that may not make the most sense to you.
Should You Apply for the BOK Financial Visa® Business Rewards Plus Card?
This credit card is the only BOK Financial business card that charges a fee. However, that fee is waived for your first year. With all the additional perks that this card provides new cardholders, your first year of having this card can be your most rewarding.
But the rewards can keep coming in years to come, too. The flexible 3x points system is a great feature, especially for businesses that require their employees to travel frequently. While it may still reward other types of businesses, they may not be getting the most out of this card. There are also similar options of the same card from Liberty Bank and the Bank of Missouri.
Browse Other BOK Financial Card Offers: