Last updated on September 21st, 2023
Advertiser Disclosure
close ×
Advertiser Disclosure – BestCards is an independent, Florida-based credit card comparison platform. Many of the card offers that appear on this site are from companies from which BestCards receives compensation. This compensation may impact how and where products appear on this site (including, for example, the order in which they appear). BestCards does not include all card companies or all card offers available in the marketplace.
Editorial Disclosure
close ×
Editorial Disclosure – The opinions expressed on BestCards' reviews, blogs, and all other content on or relating to the website are solely those of the content's author. They are not reflective of any card issuer or financial institution and have not been reviewed or approved by these entities unless otherwise noted. Further, BestCards lists credit card offers that are updated daily with information believed to be accurate to the best of our knowledge.
BOK Financial Secured Visa® Card
20.99% variable based on the Prime Rate

Regular Purchase APR

20.99% variable based on the Prime Rate

Balance Transfer APR

23.99% variable based on the Prime Rate

Cash Advance APR
Best Benefits
Rates & Fees
Why Should You Apply?
No credit or poor credit are okay to apply for this card

Build your credit history

Up to $5,000 credit limit

Visa perks, like extended warranty coverage
Regular Purchase APR: 20.99% variable based on the Prime Rate
Balance Transfer APR: 20.99% variable based on the Prime Rate
Balance Transfer Transaction Fee: Either $5 or 3% of the amount of each transfer, whichever is greater
Cash Advance APR: 23.99% variable based on the Prime Rate
Cash Advance Transaction Fee: Either $10 or 4% of the amount of each cash advance, whichever is greater
Annual Fee: $35
Foreign Transaction Fee: Up to 3% of the transaction amount in U.S. dollars
Late Payment Penalty Fee: Up to $39
Return Payment Penalty Fee: Up to $35
Minimum Deposit Required: $300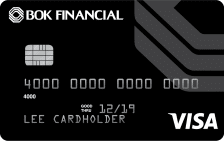 At a Glance:
The BOK Financial Secured Visa® Card offers a flat interest rate to all cardholders. This Bank of Oklahoma (BOK) credit card requires a minimum $300 security deposit in order to open an account. It provides cardholders a lower fee and some limited perks from Visa.
Ideal for Those Who:
Don't have any credit history and cannot get approved for another type of card
Have poor credit and need to repair their credit
Already bank with BOK Financial
Want to avoid getting into debt
Don't mind if you don't earn rewards points
BOK Financial Secured Visa® Card Review
A secured credit card may be an ideal option for you if you have no credit history or have a poor credit rating. The BOK Financial Visa® Secured requires a $300 security deposit in a secured savings account that earns you interest. All the while, you'll be building up towards a good credit rating if you pay your credit card bills on time.
That being said, this credit card doesn't offer many perks other than the privilege of having a credit card. If you use your Secured Visa® wisely, you can soon apply for a regular credit card that provides you with more benefits. Keep reading to learn more about BOK Financial's secured credit card.
Related Article: What Are the Easiest Credit Cards for Bad Credit to Get?
How Does This Secured Credit Card Work?
If you've ever seen those commercials that say, "Bad credit? No credit? No Problem!" that applies to secured credit cards. The reason why they're called secured credit cards is that applicants are required to pay a security deposit in order to get approved.
Most people who apply for secured credit cards don't have a track record of using credit cards or paying back their debts on time. As such, the card issuer has no way of knowing whether they can trust these cardholders.
Other consumers who have a history of paying back loans or responsibly using their credit cards have proven themselves as creditworthy. This term means that the credit card companies can trust them to keep their balances low and consistently pay back their debts.
Because secured card applicants typically aren't creditworthy, a cash security deposit puts the issuer at ease. If for any reason the cardholder cannot pay off his or her credit card debt, the issuer uses that deposit to cancel the debt and close the account.
Security Deposit = Credit Limit
The security deposit you submit with opening a BOK Financial Secured Visa® Card account essentially becomes your credit limit. Or rather, the amount of your security deposit equals the credit limit you have.
If you submit the minimum $300 security deposit, then you can only spend up to $300 with your secured credit card. If you max out your secured card and default on payments, the issuer can use your security deposit to pay off the debt.
If this happens, however, it can end up hurting your credit rating, even though you won't really be in debt. Don't use the security deposit feature as a free pass. Especially if you are brand new to credit, defaulting on your secured card payments can land you in a worse spot than when you applied for this card.
Earn Money on Your Security Deposit
One of the benefits of the BOK Financial Secured Visa® Card is that your security deposit isn't just a check that the bank holds onto. That money goes into a special savings account that earns interest.
So, while you are building your credit history and making yourself more creditworthy, you're actually making a little bit of money, too. If you make the minimum deposit, you might not earn that much.
However, if your deposit is much larger, you'll end up earning a lot more in interest. Keep in mind, though, that the savings account interest rate is always going to be much, much lower than the secured card's APR. Don't expect to make up your credit card interest with what you earn on your security deposit.
When you finally close your account, you will receive your security deposit back plus any interest you've earned. Of course, you must have paid off your balance to have the deposit returned to you.
The longer you've had the BOK Secured Visa® the more interest you'll earn. However, there is a drawback to having a secured card account for longer than necessary.
Fees and Interest Rates
You shouldn't get too excited about racking up interest on your security deposit. It's certainly not a selling point of this card but more of a consolation for people who can't get approved for other credit cards.
The annual fee and APR for the BOK Financial Secured Visa® Card are higher than those of many competing secured credit cards. Many other secured cards offer interest rates that are nearly 10 percentage points lower than this card. And many of these cards are from some of the biggest banks in the U.S.
It's true that the longer you keep your BOK Secured Visa account open, the more interest you'll earn on your deposit. However, you will end up paying more in interest on your credit card over time.
Remember the purpose of a secured card: to build and/or repair your credit. You should plan to pay off your balance and close the account as soon as you can qualify for a credit card with better terms.
Visa Perks
BOK Financial doesn't really offer any perks to people who have the Secured Visa® Card. However, cardholders do have access to a few Visa card member benefits.
For instance, you can add up to a year's worth of warranty coverage to an existing manufacturer's warranty at no extra charge. You'll need to have purchased the warrantied item with your secured Visa in order to take advantage of this perk, though.
You also have access to Visa's travel assistance. You can call a toll-free number anywhere in the world for help replacing lost tickets and to obtain referrals for medical or legal assistance.
Should You Apply for the BOK Financial Secured Visa® Card?
If you already bank with BOK Financial and need to build your credit, this may be a good secured credit card for you. Earning interest on your security deposit is a nice touch.
However, this benefit isn't big enough to warrant this card's high interest rate and its annual fee. The perks Visa offers cardholders are available in almost every single Visa card, and Mastercard also offers similar benefits.
Overall, if you are looking for a secured credit card, you have a lot of options with no annual fees and lower APRs. You shouldn't have to pay more money than necessary to gain a strong financial footing.
Read Also: What are the best secured cards of 2020?
Browse Other Card Offers: