Last updated on September 7th, 2021
The Marvel Mastercard® is a popular credit card option for fans of the Marvel Universe. Unfortunately, Synchrony, the card's issuer, is discontinuing the Marvel Mastercard in May, according to an email sent to current cardholders. Here is when Synchrony is discontinuing the Marvel Mastercard and what this means for existing account holders.
Synchrony Discontinuing Marvel Mastercard
Synchrony Bank issues a wide variety of credit cards from popular brands. One of those co-branded cards is the Marvel Mastercard®. The card, a popular option for Marvel Universe enthusiasts everywhere, earns 3% cash back on dining, entertainment, and Marvel.com or official merchandise booth purchases. The card also earns discounts on officially licensed merchandise from Marvel, movie tickets, and more.
Synchrony is now notifying current Marvel credit cardholders that their accounts will close on 5/27/2021. Cardholders will continue to make purchases with their Marvel Mastercard until the date they are discontinued.
Here is the message that Synchrony is sending to Marvel Mastercard holders regarding the card's discontinuation: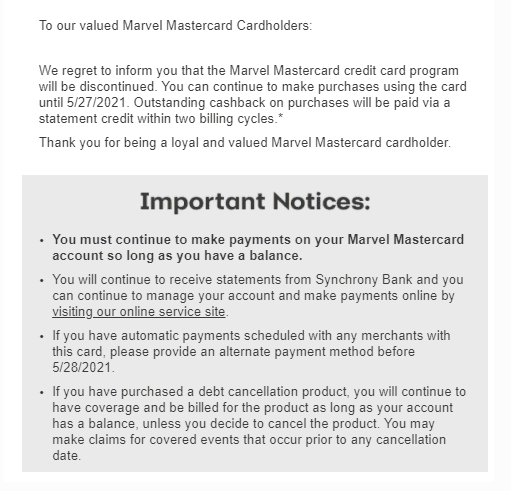 Cardholders will need to keep making payments on their card if they maintain a balance on the discontinuation date. Any cash back rewards will be returned via a statement credit within two billing cycles after the 5/27/2021 closing date. Anyone with existing automatic payments will need to update their payment methods before 5/28/2021 to ensure no payment errors and missed payments.
Other Superhero Credit Card Options to Consider
While the Marvel Mastercard's closure will frustrate existing cardholders, there are other superhero credit cards available. The no-annual-fee Disney® Visa® from Chase, for example is ideal for Star Wars fans.
Related Article: New Funko Pop! Batman Credit Card from DC Comics